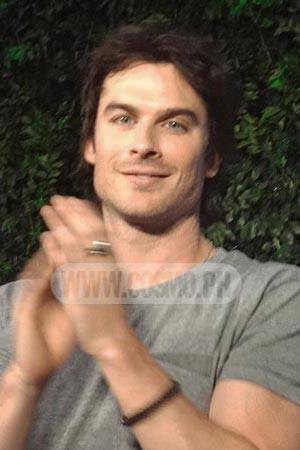 For the past three years, girls around the world have been infatuated with Ian Somerhalder's smoldering bad boy character Damon Salvatore on the hit American show The Vampire Diaries. This week, Pinay fans got to see the actor in the flesh when he visited the country for his latest project involving a Filipino brand.

The actor (who was one of Cosmopolitan US's Fun, Fearless Male Awardees for 2011) is the newest endorser for Penshoppe, joining the likes of Hollywood hunks such as Ed Westwick and Zac Efron, who have each lent their swoon-worthy sizzle to the casual clothing brand. But this time, Penshoppe is taking their collaboration even further by partnering with the Ian Somerhalder Foundation (ISF) in support of the environment and animal rights.

Ian had a jam-packed week soon after setting foot in Manila last Saturday. He flew out to El Nido, Palawan for a beach photo shoot and, just yesterday, met thousands of his die-hard fans at the SM Mall of Asia! We got to take a closer look at the star during his press conference at the The Peninsula Manila last May 23. Read highlights from his Q&A and presscon, which was hosted by Paolo Bediones, below:

How does it feel to be chosen as the endorser for a Filipino brand?

I feel as though I'm part of something very special here, and this partnership is very rare. It's something I think we can all be proud of, that is going to produce real results and really great things. I'm really, really proud to be here and I appreciate absolutely everything.

How would you describe your personal style?
It's about comfort. Men shop for comfort--that is our go-to. Women put fashion before comfort, and I'm like, "What are you talking about?!" I'm a typical guy, [so I wear] jeans and T-shirts that are super comfortable. And I think that's the lifestyle Penshoppe [promotes]: youthful, comfortable, bright, airy, and confident.

Can you tell us about your trip to Palawan?

Well, running around on a secluded tropical island--actually, several of them--drinking out of coconuts, hanging out under palm trees, and getting your picture taken by phenomenal photographers surrounded by incredible people is not the worst thing you could do. Waking up at 5 o'clock every morning because of jet-lag and watching the tides come in, and just seeing the change of nature; what it does to you is incredible... The first chance you get, [you should] get on a plane, get to a boat, and go explore the islands. You're incredibly lucky [to have them].

It's strange, because I wasn't aware that there are over 7,000 beautiful islands in the country. When you look at it on a map, you can't quite grasp exactly what you're gonna see. El Nido is probably one of the most beautiful places on the face of the planet. Everyone has been so profoundly wonderful, and beautiful, and intelligent, and soulful... It's been such a phenomenal experience and I'm really happy to be here. Thank you for the warm welcome and all the wonderful thoughts--and screams!

Are the screaming fans something you ever get used to?

Oh, it's wonderful. It's energy!

What were the particular looks that you wore at the Penshoppe shoot?

Oh, I didn't wear any clothes. (Laughs) No, the looks varied. I think we covered up until Fall 2045! There were a lot of bright colors, a lot of fun, simple, soft fabrics that were really comfortable.

Some people didn't know that you actually have a foundation and you are a lover of nature. Can you talk about why you decided to start the ISF?

By virtue of the fact that The Vampire Diaries has a younger audience, what I realized was that to use that exposure for the greater good could actually educate the youth which, mind you, is the most underused, underappreciated, and undervalued group of people in the world. And I think that we are doing ourselves a great disservice if we don't put the wheels of education in motion, and actually empower people to be smarter consumers, to be aware of conservation and preservation. If we start doing all that, I think we're gonna see major, major change.

Events like these are very important because now fans see a different aspect of your personality than they usually see on television.

Well, yeah, because I'm usually ripping people's heads off [on the show]. This is pretty great but, you know, ripping people's heads off and seducing women is also not the worst thing in the world. I'm just saying!

Will we be seeing you on the big screen anytime soon?

I would like that to happen as quickly as possible. This hiatus, I couldn't find the right film to sort of sink my teeth in, no pun intended. I can't believe I said that! Hopefully soon, yes. There are some things in the works that would be very, very, very cool.

You started modeling when you were 10 years old--what's it like to return to the front of the camera in that way?

There's no separation for me, oddly enough, between a still camera and a moving camera. I've been in front of cameras for 20-something years now. I mean, we all have, our parents have been sticking cameras in our faces since forever, but I've been doing it professionally for 20 plus years, and that's crazy.

Can you comment on the issue of whether there should be an age limit for young models?

I think that there should absolutely be a way to limit how young these girls are. I remember when I was 16 years old in the fashion business, these girls that were literally labeled supermodels were 14 years old. It's a very strange thing that you have a 14-year-old girl who's maybe 5'11" and looks like she's 25 selling high-end clothes to adult women.

How does a 45-year-old woman [who's] already beautiful and wonderful and agonizing over why she looks so old compare to this model? I totally disagree with how that works, but it's been going on for many years, so maybe we can be the agents of change. I tell you what: Photoshop is what destroyed us. I mean, how do you compete with that little mouse?

What can you say about the obsession with staying young-looking?

I woke up on my thirtieth birthday and was like, "I made it! I'm an adult!" I'm 33 now and I have more energy and more ability to reason with myself than I had when I was 18 or 20, and I feel so much better about myself. There's something amazing about aging, and it's definitely an American thing, for sure, to feel like you need to stay at a youthful age. I think it does things to society that we can work on.

What are you going to tell your friends and family back home about the Philippines?

Don't go there, man. They will kill you with kindness. I'm telling you, I've been so surprised. I've always heard about the Philippines from my father who's obsessed with this country. He came here many, many, many years ago. But I've been so blown away and humbled by your generosity, and the beauty of this place. The sheer, stunning beauty, and how progressive you guys are. It's incredible. So when I go home, I'm going to say, "...You have to go check this place out and raise awareness for this place."


Can't get enough of Ian Somerhalder? Launch the gallery to see photos from his presscon!
Continue reading below ↓
Recommended Videos
2000
EXPLORE COSMO