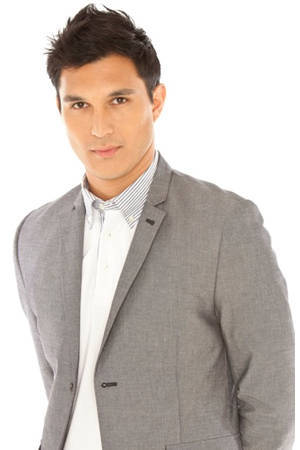 In honor of the recently held Mother's Day weekend, we present to you a hottie you can surely bring home to mom: Fil-Am football player and former Hunk of the Month Nate Burkey!

From scoring goals to winning the hearts of countless fans, Nate has used his celebrity status to shed light on pressing issues, making him a true champion in our book.

Read our Q&A with Nate below, where he fills us in on his football history, his ideal girl, and the cause that is closest to his heart.

Where are you originally from? Do you miss home despite your success here?

I was born in Washington D.C. and grew up in Alexandria, Virginia. I am based now here in the Philippines and, yes, I do miss home from time to time, but mainly just my family, friends, and loved ones.

You seem so levelheaded and grounded, even spiritual. Was that how you were raised? How do you remain grounded despite the fame your work has brought you?

Well, after the passing of my father, my mom raised me and my older brother alone. So growing up, it was always the three of us looking after one another. As I got older, I would say I became more spiritual due to life experiences.

I remain grounded with a lot of prayer and also with a lot of moral support from family and loved ones all over. I am constantly reminded of how blessed I am simply by someone telling me how proud they are of me.

How did you get involved in Philippine football?

I first heard about the Philippine National Football team from my college coach [in the U.S.] back in 2006. Then I reached out to players and people from the Philippine Football Federation in order to find the best way to try out. Finally, in 2011 my mom traveled home to the Philippines and got in touch with Dan Palami, PPF's manager. From there I was invited to the tryouts in May 2011.

Knowing I would be traveling to the Philippines, I contacted the United Football League via email stating my interest in playing for a team, and Kaya FC was the only team that got back to me. So when I arrived, I was fortunate enough to make both teams.

You've done some fashion shows and a few modeling stints. Did you ever think you would become a local celebrity?

I don't really think of myself in that way. I feel very honored and blessed to be able to do what I love and to get the support I get from people.

What is the biggest misconception about you?

I think the biggest misconception about me is that I am a snob or suplado. Anyone who may think that hasn't taken the time to get to know me or even talk to me. I am very down to earth and will have a conversation with anyone.

Name two things most people don't know about you.

I like to sing and I am kind of sensitive.

In your profession, tons of girls must throw themselves at you! Which do you prefer: girls who go after you or the ones who are more conservative and let you pursue them?

I prefer girls who can carry a conversation, who are interested in the same things, and who will be open to exploring new places, art, and restaurants together. I like honest, generous, sensitive, sincere, and kind girls. I like girls who can eat a lot!

What do you like about Filipinas?

I try not to generalize, but since you're asking, I do find that Filipinas are mostly carinyosa, hospitable, and family-oriented.

What are your turn-offs and turn-ons?

A turn-off for me is someone who is not confident with who they are and does not respect themself. A turn-on is someone who is confident and can hold a good conversation.

Describe your ideal girlfriend. Does she have to be interested in sports, too?

My ideal girlfriend is my best friend, someone I can talk to about anything and whom I can have a deep connection with. My girlfriend doesn't have to love sports--just football, ha ha!

You're a supporter of the "No To Racism" movement. How have you used your status to promote goodness in society? Why are you passionate about this cause?

This is a global cause that has recently been brought up in the Philippines. My friend (and teammate) Jonah Romero and I thought it would be a good idea to make the cause public and to take a stand against racism. So, we printed a bunch of shirts saying "No To Racism" for players, fans, and whomever to purchase and take a stand with us.

I am passionate about it mainly because I took offense when someone recently made a remark that affected me directly. Like I said, this is a global issue that is often brought up in the game of football. I wanted to do what I could do to get my voice heard along with as many people as possible.

How can your fans support this cause?

People can help primarily by thinking with an open mind. We are on this planet not to hate one another. And if anyone would like to purchase a shirt, they can do so at the UFL games.

We're sure your fans want to see you in action! Where can they catch you playing and practicing?

All of our games this season for the UFL are being played at the University of Makati.
Continue reading below ↓
Recommended Videos