Actor James Reid was recently accused by a netizen for allowing bashers to hurl foul words against his girlfriend Nadine Lustre, according to Rachelle Siazon on PEP.ph. The netizen said, "[James] doesn't care at all [about] the foul words being hurled at Nadine. He's trying to prove that he really is careless."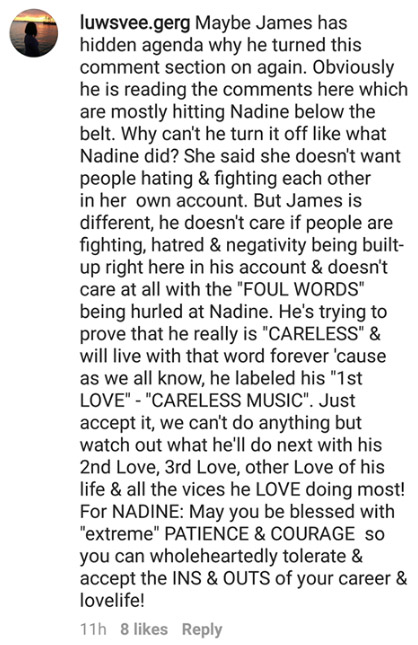 James responded to the comment with, "You sound crazy. You have no idea how strong Nadine is. It takes more than foul words to bring her down."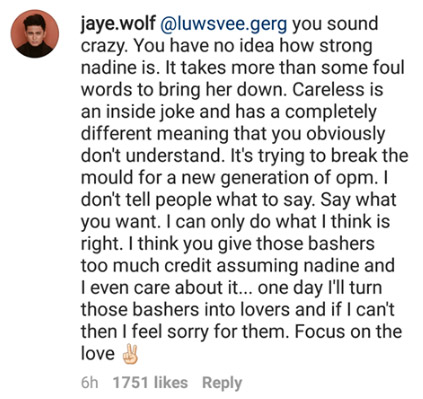 Continue reading below ↓
Recommended Videos
Meanwhile, another commenter maliciously asked why James doesn't seem affectionate towards Nadine in public.
James explained, "Nadine trusts me with anyone. She has nothing to feel jealous of. Sounds like you're more jealous than her. Don't get mad if Nadine and I [don't do] PDA. You obviously don't know that Nadine hates that. We like to keep those moments to ourselves because for so many years we've kissed and hugged for everyone to see on TV and [the] movies. Is privacy too much to ask for? [The] way you see my life and relationship says more about [you than me]."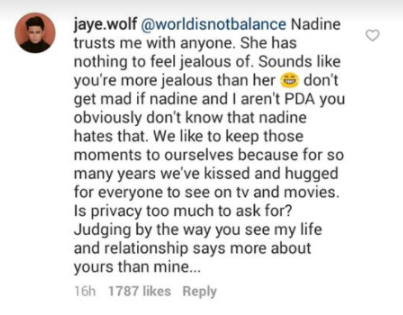 EXPLORE COSMO