In a world where almost everything seen on social media is more edited than unfiltered, it's rare to see a celeb post photos of their visible "imperfections." But Jasmine Curtis-Smith does just the opposite.
During her stay in Siargao over the weekend, some of her followers asked why a picture of her paddle boarding had an area on her thigh that was blurred out. Some even maliciously said she was covering up her stretch marks.
Jas' friend and stylist Tracy Ayson came to her defense and said that the case of their GoPro was wet. But Jas, on her part, responded to a follower and said she is all for being proud of her stretch marks:
Continue reading below ↓
Recommended Videos
"I don't mind my stretch marks. They are part of who I am. No need for me to cover them up!"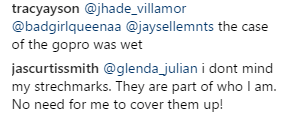 *clap clap clap*
Apart from her artista glam shots and #ad posts, Jasmine keeps it as real as ever with her personal photos. The actress, who has been beach bumming all summer long, also recently posted two swimsuit pics with her hips visibly showing her ~*beautiful*~ tiger stripes!
You do you, Jas! Proud of you! 
Follow Jacinda on Instagram.