It's the four-day anniversary of Brad Pitt and Jennifer Aniston reuniting (in public!) at the SAG Awards, and while Jen is over here hoping Hannah Brown will just "stay home" and leave her exes alone, some insiders are revealing all about her ex of 15 years.
Now that we've all had time to fully process the photo of Brad lightly gripping Jen's wrist in an affectionate don't-want-this-moment-to-end kind of way, a People source is here to explain what went on backstage.
According to a source who shall not be named, "Jen was happy for Brad," which I think we all gathered from the pics. But they also added that even though Jen slipped her index finger under Brad's lapel as he held her arm, it wasn't as intimate as we all thought because they just "congratulated each other" and "that was it." The source continued to rub salt in the wound and added, "It was an emotional night...[Jennifer] is not dating Brad."
ADVERTISMENT - CONTINUE READING BELOW ↓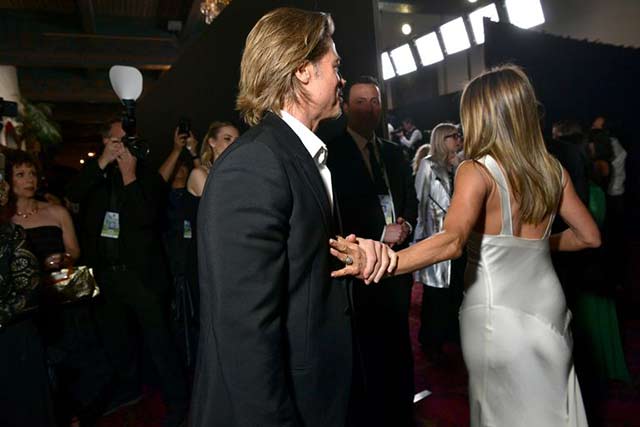 Oh, you thought the pain was over? LOL, sorry, babes. Check out this other blow to the heart: "They are friends and happy for each other. They want nothing but happiness for each other. She is happy to have Brad back in her life as a friend, but that's it."
ADVERTISMENT - CONTINUE READING BELOW ↓
Recommended Videos
That was brutal. If you're still in denial, just remember what body-language expert Blanca Cobb said about the possibility of them forming a relationship at a later date. Cobb explained, "A touch doesn't automatically mean it's a romantic gesture. However, Jennifer and Brad's touches lingered just a bit, which implies that there's a connection. Love can reignite over time."
***
This article originally appeared on Cosmopolitan.com. Minor edits have been made by the Cosmo.ph editors.
EXPLORE COSMO