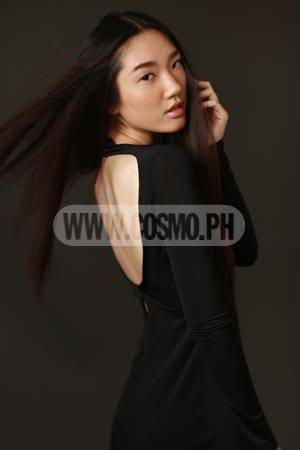 Taiwanese Jessica Yang is one of the hottest young models in the industry today. You've probably seen her pictures along EDSA after she was voted the Hottest Jag Push Ups Online Ambassador and featured on the tallest LED billboard in Asia. Or maybe you remember her from this year's Plains & Prints Spring/Summer nature-inspired ad campaign. Wherever it was that you first glimpsed her, we're sure you were immediately captivated by her delicate chinita features and enigmatic gaze.

We recently met the alluring model in person at the Summit Studio for her "Cosmo's 8 Sexiest" shoot, seen in the November issue. She's just as stunning in the flesh as she is in her photos, and we instantly wanted to know all about her life as a model. Luckily, we got a chance to do just that after her shoot when she shared with us how she got into modeling as well as her fashion and beauty secrets. Read our full interview with her below.

How did you get into modeling?

It was four years ago. I was in school and my professor actually told me to go to a Fashion Week casting. He is now a bag designer, but before, he was just my I.T. professor. [I thought] that's not my thing, I didn't want to do it, but he kept telling me to [try it] and they liked me. That's how I started.

What do you think makes you different from other models?

I think here in the Philippines, definitely it's my look 'cause I'm Chinese-looking. I have long, black hair and white skin--I think that's what they like about the Oriental look.

What's your best modeling experience so far?

A few months ago, I went to Dubai for a campaign shoot and that's really cool because I never knew I [was] gonna be there. It was a really good experience.

What's the most challenging modeling experience you've ever had?

That must be now 'cause I just [flew] back from Hong Kong. I'm gonna stay there for three months and it's really hard for me because they all look like me. [That's] my advantage here; I got a lot of jobs because of my looks, and when I'm there it's so difficult 'cause I have to look better. I have to work extra hard [to stand out from] everybody else.

Which type of modeling do you prefer--ramp or print?

Both--it's a different feeling. When you do ramp, there's the exciting feeling that's in you when the music starts and you just feel like you own the moment. I love print also because you get to see the result, and every time you can be a different person in the shoot.

What is the biggest misconception about models?

That they party a lot [and] they don't eat. People think modeling is equal to beauty, but for me, that's not true 'cause with modeling sometimes you're a great model but you're not the prettiest woman. You've got the personality, you've got this character that people will notice and remember you [for].

What was your biggest insecurity and how did you overcome it?

I eat a lot. Before, I gained weight and got out of shape. Not really [that much], but the photographer can always tell. [One told me,] "Jess, I think you gained weight," and that's when I started to go to the gym and watch my diet.

How do you stay in shape?

Definitely [through] exercise 'cause I love to eat. I love sweets so I have to go to the gym. And when I'm in Hong Kong, I aways walk.

What's your tip for girls who want to pursue modeling?

Modeling is not about you looking pretty, it's [about] how you present a designer's clothes. That's what you have to really take care of. Let's say, you do ramp. It's not about yourself; you have to show the clothes and you have to know how to present the designer's collection and make people like the clothes.

What are your plans for the next five years?

Hopefully, I will earn enough and I will travel 'cause I really want to taste food [from] all over the world. That's like my final goal: I just wanna go around and enjoy life.

How do you take care of your skin?

Because models always have heavy makeup...you have to know how to clean your skin. Usually when I get home, I remove my makeup twice. After that, I will put [on] a Tea Tree mask and relax [my] skin.

What are every model's three must-have beauty products?

The thing that I use is a Tea Tree mask and I really recommend it--it's from The Body Shop. Another thing is eye cream--I think it brings out your eyes every time you have a shoot. And also deodorant, because we always have to use designer clothes and sometimes they don't even wash it [before] the other models wear it. So if you have body odor, it's really not polite. You always have to take care of your skin.

How would you describe your personal style?

It's very simple, comfy, and just relaxed. I don't like to wear a lot of layers--it's not comfy enough for me. Usually, I just wear a sweater with shorts. It's simple and easy to move around in.

What's your favorite trend right now?

Color-blocking, because...I'm not into colors. I'm insecure [about] colors; most of my clothes are white, black, and gray. But the color-blocking thing came out, and that's why I have colorful shoes, heels, and bags to add to the boring colors in [my closet]. 'Cause when you see the runway, the clothes with color-blocking styles [are] just so happy. It looks so fresh and young--that's why I like it.

Name five things every woman should have in her closet.

Well, for me, I think a scarf, because you can use it as a scarf or use it as an accessory and belt. That's very useful. [And] I just love sweaters 'cause you can wear them as is or you can mix and match. A tank top--it's basic. Wedges, because they're so comfy to walk around in and they make your legs [look] longer. Plus, a good pair of sunglasses, because sometimes [after] you wake up, you just wanna go around without makeup and that's the best cover-up.

Where do you shop?

I like Zara, H&M, and Topshop. I actually like to go ukay-ukay, but I'm not good at that, so I have to bring a friend. I mostly [shop] online 'cause it's cheaper and you get to see how models wear it. I usually get my shoes, my heels online. But don't get a dress online because when they do shoots they pin it [back] to fit the clothes on the model. A jacket or sweater--those loose items will surely fit you.


Launch the gallery to see Jessica's behind-the-scenes photos from her "Cosmo's 8 Sexiest" shoot! Don't forget to grab a copy of Cosmopolitan Philippines' November 2011 issue with Carla Abellana on the cover to see the entire fashion editorial--you have two more days!

ADVERTISMENT - CONTINUE READING BELOW ↓
1668
ADVERTISMENT - CONTINUE READING BELOW ↓
Recommended Videos
EXPLORE COSMO