It's like a week doesn't go by without Jessy Mendiola not replying to her haters on Instagram. You gotta give props to her, though, for handling all the online negativity like a ~kween~.
In one of Jessy's most recent Instagram posts, user @hellowinnieme bashed the actress for getting an alleged nose job. She wrote: "Mas gusto ko ['yung] mukha mo dati. Hindi ko type pagkagawa ng ilong mo. Sana 'di mo na pinagalaw. Nag-mature ka tuloy. Just saying."
Ok, for one, it's none of her business if Jessy did or did not get plastic surgery. And two, giving unsolicited advice is sooooo passe. C'mon guys, it's 2018.
Anyway, Jessy went on to respond in the classiest way ever—with actual respect. She said, "Hindi po ako nagpagawa ng ilong. *laughing emojis*" The IG user then questioned Jessy's stance to which she replied, "Yup, very sure. I won't lie about it naman if ever."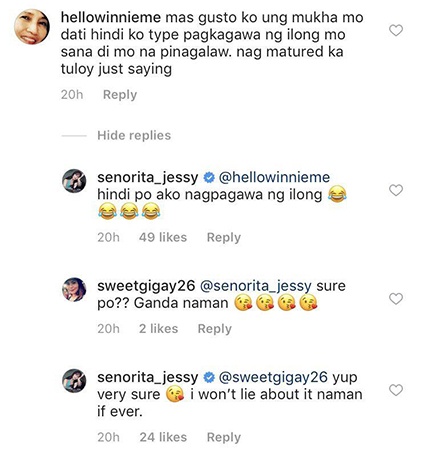 Continue reading below ↓
Recommended Videos
Follow Jacinda on Instagram.