Emily Blunt and John Krasinski were one of Hollywood's most beloved couples even before they co-starred in A Quiet Place (which John directed and co-wrote). Now they're beloved and co-starring in a box-office hit. To celebrate, here is a timeline of their blessed romance.
June 2006
Emily stars in a little movie called The Devil Wears Prada. John, somewhere in Scranton, Pennsylvania, sees the movie for the first of about 75 times and, like the rest of America, falls in love with her. Years later after the two were married, John, a bonafide superfan, opened up about the time Emily asked him if he had actually seen the movie.
"I said, 'Yes,' and she said, 'How many times?' And I said, 'A lot.' She said, 'What's a lot?' And I said, '75 times,'" he told Glamour. "I'm lucky enough that she stayed with me and didn't realize that she had really married her stalker!"
November 2008
John and Emily meet through a mutual friend at a restaurant in Los Angeles. You can watch Emily adorably recount the story to Seth Meyers below:
Meanwhile, John says he knew that Emily was it for him as soon as he met her.
Continue reading below ↓
Recommended Videos
"It was one of those things where I wasn't really looking for a relationship and I was thinking I'm going to take my time in L.A.," he told Ellen DeGeneres just after the two got married. "Then I met her and I was so nervous. I was like, 'Oh god, I think I'm going to fall in love with her.' As I shook her hand I went, 'I like you!'"
I mean, truly, that's exactly how all of us would react if we ever met Emily.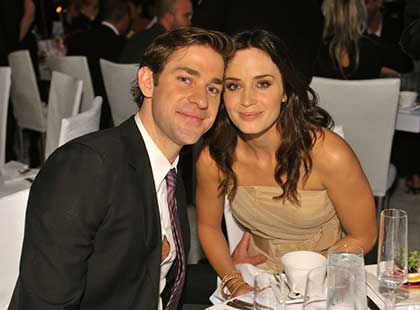 August 2009
John proposed to Emily in L.A. and, according to him, there were "unicorns and oceans and clouds." All joking aside, John told Access Hollywood  that the proposal was super chill and that they were both crying at the end.
"She did cry after I cried and we cried and then everyone around us was crying. Then, I think people weren't really sure what was going on, but they were crying because we were crying. But it was great. At the end of the day, she said yes which is great. It's a big part of this whole thing."
July 2010
Your favorite couple got married at George Clooney's estate in Lake Como, Italy with all their famous friends. NBD.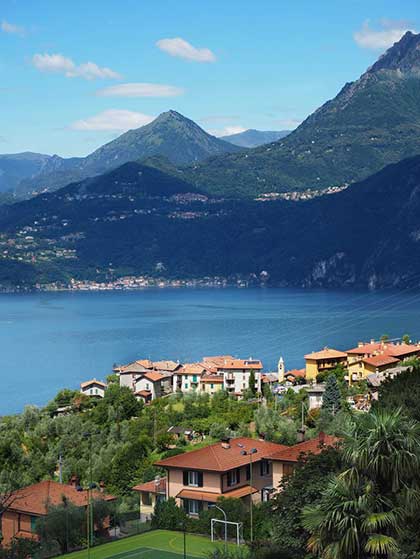 May 24, 2012
Emily covers MANHATTAN magazine and opens up about being married to John, which is an "effing blast," of course. "This is what I find difficult about talking about my marriage: It's hard to sum up something that's so vital and means everything to you in a sound bite. Do you know what I mean?" she remarked. "All I can say is that it's an effing blast. It's just great, and I'm so happy."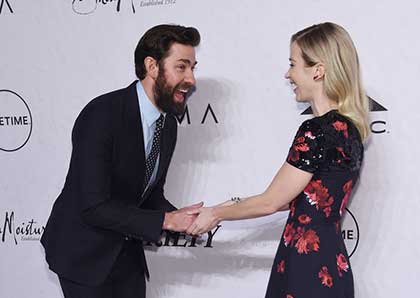 April 2013
In her cover shoot for the May 2013 issue of InStyle, Emily straight up said that meeting John changed her life. "When I feel the support that I have from him, I feel invincible. There's someone behind you on your good days, and someone in front of you on your bad days." :')
September 2013
News breaks Emily is pregnant with the couple's first child. A spokesperson tells Us Weekly that the pair "couldn't be more excited." This was truly a happy day for everyone. 
January 4, 2014
This picture of a pregnant Emily walking hand-in-hand with John in Los Angeles after seeing a movie together comes out and the world smiles in unison.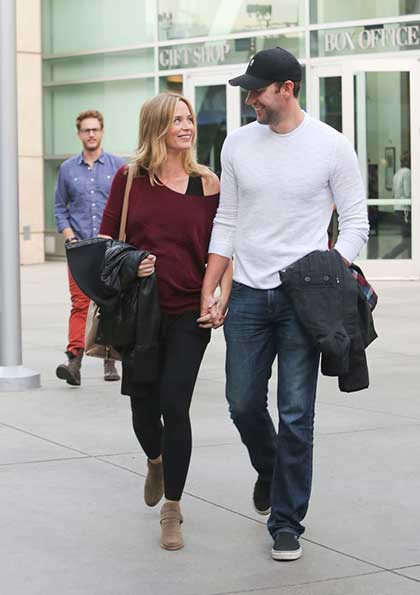 February 16, 2014
John announces the birth of baby Hazel Grace on Twitter by writing, "Wanted to let the news out directly. Emily and I are so incredibly happy to welcome our daughter Hazel into the world today! Happy bday!"
May 13, 2014
John gives the world a glimpse of Hazel. She has already mastered her Jim Halpert stare.
That same day, Emily appears on The Ellen Show and says what we're all thinking after that pic: "She's just stinkin' cute."
August 2014
Ah, Summer 2014. Surely you remember the Ice Bucket Challenge? Well, John took it upon himself to challenge an unsuspecting Emily, and she's definitely surprised. Please, lol forever at this:
December 16, 2014
The world finds out about the couple's prank war with Jimmy Kimmel.
January 15, 2015
Emily wins Best Action Movie Actress at the 20th Annual Critics Choice Award for her work in The Edge of Tomorrow. She begins her speech only to be interrupted by a super proud John running from backstage to give her a hug on national television and I'm not crying, you're crying:
August 2015
"It's really that we just got lucky," John told People of their relationship. "It's one of those things, I'm having more fun now than the day I met her, and it's pretty wild."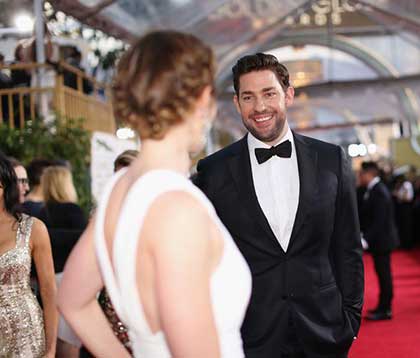 January 2016
The couple announces that Emily is pregnant with their second childright after John sits down with The Daily Beast and says this beautiful thing:
"The best days of my life started when I met my wife—that's the truth, it's not just me saying it because it sounds nice on a card. She's one of the coolest people, she's so talented, she's beautiful, and she's certainly out of my league. And so all of a sudden all of the things I loved, I got to find someone who loved that about me. There was a lot of my life that she hadn't experienced and a lot of her life that I hadn't experienced, so all of a sudden we got to start doing things that we liked."
June 2016
Violet's born and now Hazel's a big sister and it's all too cute and too much to handle:
August

 

2016
In case you don't remember, John Krasinski got ~ripped~ a couple years ago for 13 Hours and Emily was super into it. In the September issue of ELLE, John opened up about their sex life when asked point blank if it was different now that he has a solid eight-pack. "Absolutely," he told the magazine. "And again, totally selfishly, it is so much better for me being jacked because you feel so much more confident and you see yourself as this much more sexual person, which is really fun." 
October 15, 2016
Emily graces the Saturday Night Live stage as host and John literally cannot contain his excitement on Instagram:
March 15, 2017
News breaks that the brilliantly talented couple are finally going to work together on A Quiet Place, with both of them starring and John also writing and directing. John confirms with what is one of the best Instagram captions ever:
September 17, 2017
This Instagram happened:
January 2, 2018
We kicked off the new year with Emily covering Vanity Fair and John telling the magazine that he "just immediately wept" the first time he heard Emily sing at a recording session for 2014's Into the Woods. We also get an inside look into what it was like for the two of them to work together. Well, really, what it was like for John to admire her while she does her thing:
"The air changes in the room when she starts doing what she does... It's so honest and so pure and so powerful. It's like a superpower that she can just unlock and do so specifically with not many attempts. For me, I love acting, and I'm so lucky to be doing it. But she's on another plane. This weird intersection happened while filming where I totally forgot I was her husband. I was just watching her performance and was lucky enough to be in the front row."
Damn. 
All of 2018 so far
Honestly, their entire press tour for A Quiet Place has been truly amazing. Below, some of the funniest, cutest, and heart-melting interviews.
There's that time Emily forced John to cast her as his wife in the movie and John said A Quiet Place is the best collaboration of his career on The Graham Norton Show:
And then we all believed in love again when John told Jimmy Fallon that he's super aware he married way up:
Here, Emily spoke to Today about how their marriage actually got stronger from working together:
This whole interview they did together is just glorious:
You've truly made it as a married couple when you have a secret language:
And here's Emily dishing on John's directing skills:
I'm going to leave you all with this wonderful photo because, idk, it's just so cute: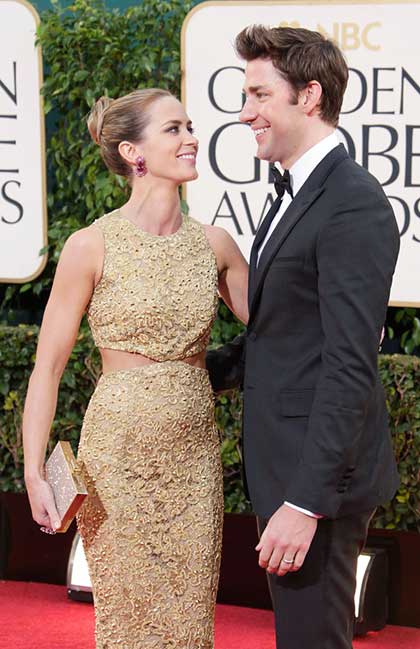 Follow Sarah on Twitter and Instagram.
***
This article originally appeared on Cosmopolitan.com. Minor edits have been made by the Cosmo.ph editors.