Jordan Fisher may not be the *original* John Ambrose McClaren (Jordan Burtchett played the role in the end credits of To All The Boys I've Loved Before), but he absolutely swept us off our feet in P.S. I Still Love You. He plays John Ambrose with the eloquence and quiet confidence that made the character so lovable in Jenny Han's book series—and a true match to Noah Centineo's Peter Kavinsky.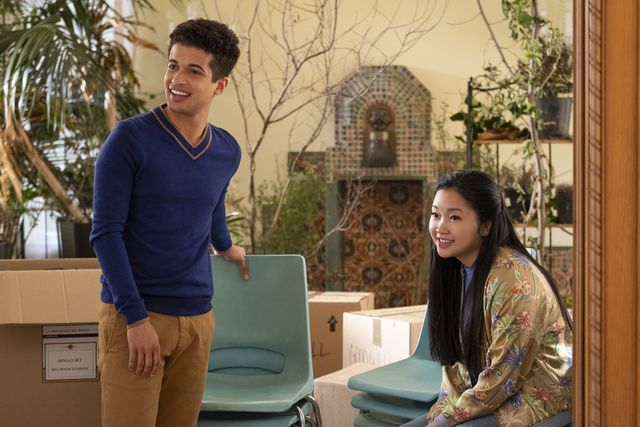 ADVERTISMENT - CONTINUE READING BELOW ↓
It's no surprise when you look at Jordan's impressive background. His slow dancing with Lana Condor's Lara Jean is but a hint of his moves—he won the Mirror Ball with Lindsay Arnold on Dancing With The Stars in 2017. That scene where he has *the talk* with Lara Jean and plays piano at the same time? Just a sample of his musical skills—he currently stars in Broadway's Dear Evan Hansen and he's been part of musicals like Hamilton, Rent, and Grease.
Jordan clearly has an eye for good storytelling and a knack for bringing out the best in the characters he plays. In John Ambrose's case, there's an extra special connection for Jordan because he was just like the character growing up—an old soul with a kind heart.
Cosmo was lucky enough to chat with Jordan recently about filming the movie and working with real-life friends. Spoiler alert: He's just as charming as John Ambrose!
What did you know about the movie and book series and its huge fan base before auditioning for the role? Take us through the audition process.
I knew that the book series and the first film with massive. I watched the first film, actually, on my way back home to Los Angeles from New York, where I was finishing up a project, and knowing that I was flying to Vancouver the next day to meet with the director and read with Lana.
I talked to the director on the phone, Michael Fimognari, who is wonderful, and we had a soul connection from the moment we met. I flew to Vancouver for literally a day to meet with Michael and the producers and read with Lana, and then flew back to LA and found out that night that it was moving forward.
John Ambrose seems very kind, mature for his age, and easy to fall for. What was your thought process when you were playing the character? 
ADVERTISMENT - CONTINUE READING BELOW ↓
So much of the help in playing the character is in the text, honestly. Jenny Han did such a beautiful job of creating these characters and creating—especially where John Ambrose is concerned—a character that's sophisticated and well-rounded and an old soul. It was ultimately leaning into the dialogue and how he is constructed as a character. He's so likable and so lovely, so that was really just a matter of turning on the charm and being the person that Jenny created.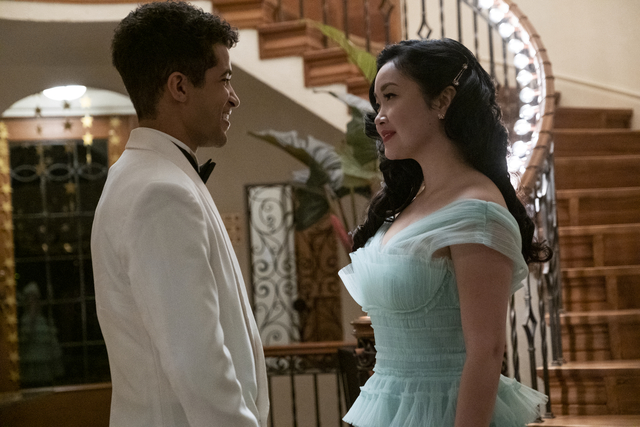 ADVERTISMENT - CONTINUE READING BELOW ↓
John Ambrose plays the piano when he and Lara Jean have *the talk*. Was it you playing the piano the whole time? Was it difficult to stay in character?
Yes, it was me playing the piano. I actually had to come up with something kind of on the spot that couldn't be interpolated or wasn't a sample of anything else to be unique to the film.
The scene was difficult to shoot just because I am playing the piano and acting. It was a very awkward and hard moment for John Ambrose and Lara Jean, but it was a lot of fun to do. It was very late at night and it was improv on the piano—and it was a lot of fun. I'm glad that it turned out as well as it did.
How did you build that chemistry with Lana Condor? What was it like working with her?
ADVERTISMENT - CONTINUE READING BELOW ↓
Having chemistry with Lana is just the easiest thing in the world. She's so sweet and so warm and a great lead, and it was fantastic to have somebody like that as number one on the set. I mean, she's just a ray of sunshine, right? So, building the chemistry was easy.
I definitely like to spend one-on-one time with my castmates to get to know them because then it's easier to really trust each other on set. Lana and I both love oysters so we went to this little oyster shack in Vancouver and spent hours just talking and getting to know each other while downing oysters and Bloody Marys—it was so much fun. She was just a joy to work with and I adore her.
What was it like to act with your real-life friends, Noah Centineo and Ross Butler? What sort of fun things did you do on and off set?
ADVERTISMENT - CONTINUE READING BELOW ↓
I've been friends with Ross and Noah for a very long time. Ross and I actually hadn't worked together since Teen Beach 2 and that was quite some time ago, so it was really fun to work with him again. Noah and I have been friends for even longer. We had a lot of game nights and movie nights. We would go for walks all over the city and get food and shop and hang all the time.
Which character in the series can you relate to the most and why?
Definitely John Ambrose! I was the nice guy with an old soul growing up. I really prioritized intelligence and sophistication and art and people over most things. I think there's something really grounding about that.
The whole story started because of Lara Jean's handwritten letters. Why do you think handwritten letters have so much magic in this increasingly digital world?
ADVERTISMENT - CONTINUE READING BELOW ↓
Just like wine made in an old vineyard with farmers and harvesters and distillers and oak barrels, it takes hundreds of hands to really make one bottle of wine, and I think it's the same notion where handwritten letters are concerned. There's something extra special about receiving it. It takes more time to write, put it together, put it in an envelope, and mail it.
The series has fans of all ages. What do you think makes it so universally lovable?
I think the demographic window for this film is so wide because there is something for everybody here. Where the film is concerned, when you have honesty that is the foundation that's poured into the nature of the film, it's easy for everybody to watch and relate and feel good.
Follow Dyan on Instagram.