***Warning: This article contains INTENSE spoilers for Love Alarm Season 2.***
Love Alarm's Jo-jo (Kim So Hyun) has made her choice: and her ultimate love is Hye-young, played by Jung Ga Ram! Sorry, Sun-oh stans. I know many people were rooting for Sun-oh (played by Song Kang), but Jo-jo and Hye-young were legit my end game from the start. Sweet, softspoken, and dedicated Hye-young just SPEAKS to me, and for a few scary episodes, I was afraid he would become another reason for my intense second lead syndrome. I couldn't imagine a better actor to play the role, so let's get to know him better! 
Here are 15 things you need to know about Jung Ga Ram: 
1. Jung Ga Ram is currently 28 years old. 
His birthday is on January 23, 1993 (now is the time to check if your zodiac signs are compatible)!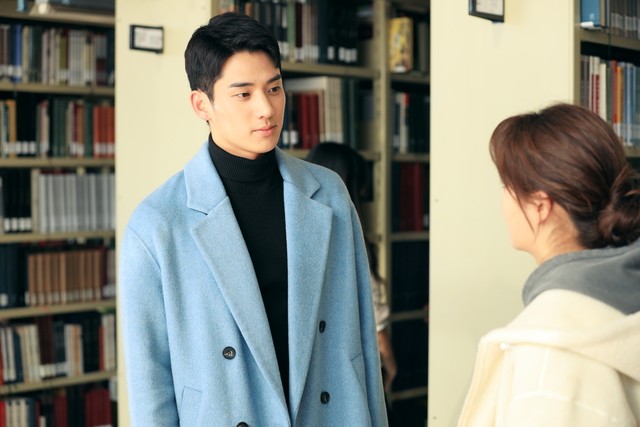 ADVERTISMENT - CONTINUE READING BELOW ↓
2. Jung Ga Ram is six feet tall!
183 centimeters, to be exact. 
3. His current agency is Management SOOP. 
It is also the home of Gong Yoo, Gong Hyo Jin, Nam Joo Hyuk, Suzy, Choi Woo Shik, and maaany more. You can read Jung Ga Ram's official artist profile here. 
4. He didn't plan on becoming an actor at all. 
In an interview with Arirang K-Pop, Ga Rang said: "I didn't think of becoming an actor since I was young. I saw a lot of movies and dramas when I was in high school back then, as I saw movies I wondered what it would be like to be on the silver screen. So, I decided that I should try it for myself and thought being an actor was very attractive as I can lead diverse lives if I do a variety of productions. That was very attractive to me so I thought I really want to do it." 
5. Jung Ga Ram has received several acting awards.  
According to his agency, Jung Ga Ram won Best New Actor at the 8th Korean Journalist Association For Film Awards in 2017 and Best New Actor at the 53rd Grand Bell Awards in 2016.  
6. Where did we see Jung Ga Ram before Love Alarm? 
Jung debuted as a teen actor in the comedy-drama series High Kick: Revenge Of The Short Legged in 2011, where he had a supporting role. He was also in the dramas The Heirs (2013) and When The Camellia Blooms (2019). He was cast as Love Alarm's Hye-young in 2019 and he reprised his role in 2021. And yup, he was the leading lady's ultimate choice!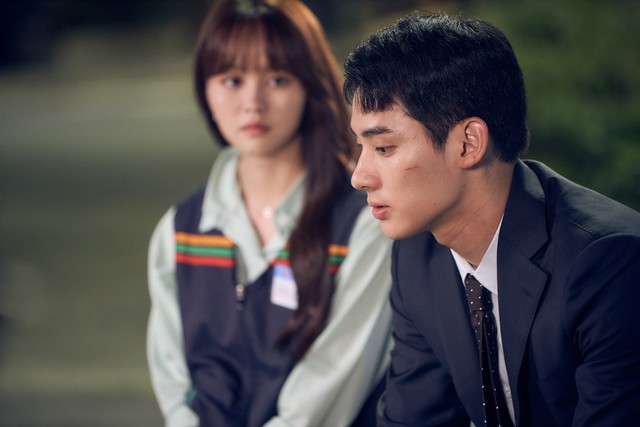 ADVERTISMENT - CONTINUE READING BELOW ↓
Jung Ga Ram also has many movies under his belt, including The Poet And The Boy (2017), a film where "a middle-aged writer is suddenly, inexplicably struck by the beauty of a young man and finds his whole life upended because of it." 
He also had a main role in the comedy The Odd Family: Zombie On Sale (2019), where he plays a zombie! It looks like he had a romance with a human, too. It reminds me of Warm Bodies, but more hilarious. 
He starred in the comedy + crime-thriller Beast Clawing At Straws (2020), where "the destinies of hard-luck lowlifes slowly converge and come crashing down." 
7. Where did he study for college? 
Jung Ga Ram reportedly graduated from Hanyang University's Department of Theater and Film. Hanyang is a private university located in Seoul, South Korea. Coincidentally, it's also Kim So Hyun's current school!
8. On Jung Ga Ram's military enlistment: 
According to the IB Times, Jung Ga Ram quietly enlisted in the military in October 2020. This is the reason why he was absent during press conferences and interviews for the second season of Love Alarm. 
ADVERTISMENT - CONTINUE READING BELOW ↓
9. He LOVES A Star Is Born. 
In an interview with Management SOOP, Jung Ga Ram said he's watched it more than twice! He said: "The feeling lasts for a while, and I love the music. The movie itself is very touching and heartbreaking, so I want to feel it again." 
10. He's been to Boracay more than five times already. 
In 2020, Jung Ga Ram shared that it's his favorite travel destination outside Korea. "I recommend Boracay for overseas. Since I love the water so much, I saw beautiful [oceans] in Boracay. I did scuba diving and hopping. Maybe...I've been there more than five times. I want you guys to visit there at least once." Among all the domestic travel destinations in Korea, he loves Jeju Island. 
11. His 2020 hobby? Drawing! 
Aww, how adorable. Jung Ga Ram said he started drawing because he really wanted to concentrate on something. He adds that it helps him find "inner peace."
ADVERTISMENT - CONTINUE READING BELOW ↓
12. If he could eat just one type of food for a week, it would be kimchi stew. 
Ga Ram once said: "I feel sad if there is no kimchi when I travel abroad. I think I can eat only kimchi stew with rice all week." His favorite is pork kimchi stew with ramen! You can learn more about his favorite things in the vid below: 
13. His co-stars are his favorite part about working on Love Alarm. Aww! 
In 2019, he told Cosmo.ph: "Working with a cast around my age was great. We talked a lot about our concerns and hung out and I enjoyed that a lot."
14. On whether he'd download the Love Alarm app IRL: 
It's a yes for him! "Confessing your feelings for someone is a difficult thing to do. But if you think about it, the app can help you deliver your true feelings so I think it's good." 
ADVERTISMENT - CONTINUE READING BELOW ↓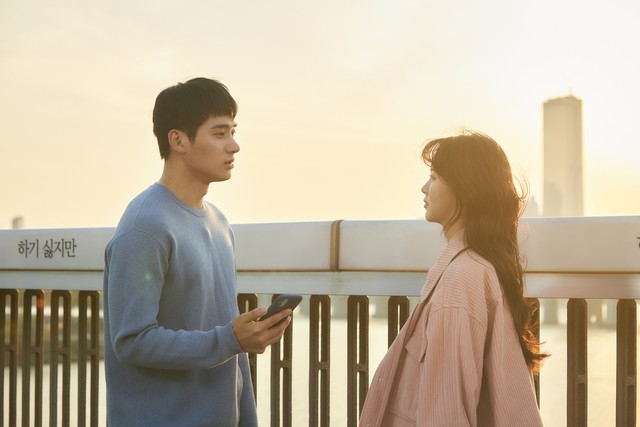 15. Kim So Hyun once chose him over Song Kang. Coincidence? I don't think so! 
In a Netflix game called Charm Battle, Song Kang and Jung Ga Ram had a contest and fought to ~win Kim So Hyun's heart~. Check out his super-realistic drawing of her below: 
***
ADVERTISMENT - CONTINUE READING BELOW ↓
We're officially on Viber! Be part of our growing community and subscribe to Cosmopolitan Philippines now!
Follow Lily on Instagram.