If you innocently signed onto Instagram today and entered a world of ?!?!?!?!, you are not alone. Taylor Swift just called out celebrity manager Scooter Braun for bullying her in a lengthy Tumblr post, where she also name-checked Justin Bieber, Kanye West, and Kim Kardashian.
In the post, Taylor makes some very justifiable points about how unfair it is that she doesn't own her music and ran down the list of the ways Scooter has allegedly manipulated her.
"I learned about Scooter Braun's purchase of my masters as it was announced to the world. All I could think about was the incessant, manipulative bullying I've received at his hands for years," she wrote. "Like when Kim Kardashian orchestrated an illegally recorded snippet of a phone call to be leaked and then Scooter got his two clients together to bully me online about it. (See photo)"
She then shared this photo from Justin's Instagram: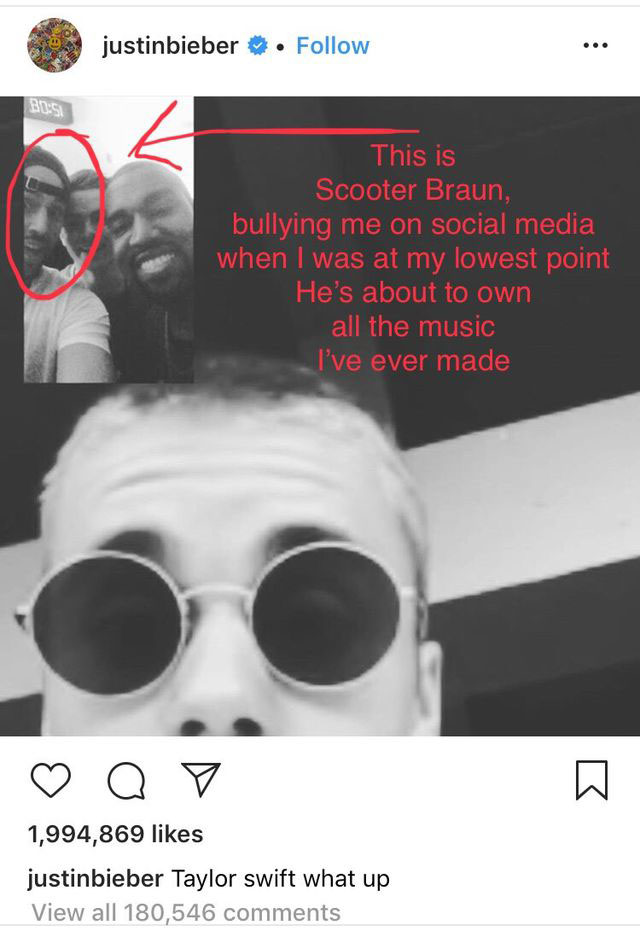 Continue reading below ↓
Recommended Videos
Justin has since responded to Taylor, apologizing for the "hurtful" post before launching into a defense of both himself and Scooter. Not only did Justin claim Scooter was actually the one who told him to remove the post, he said it wasn't "fair" for her to "take it to social media" and get people to "hate" on him. "What were you trying to accomplish by posting that blog?" Bieber wrote. "Seems to me like it was to get sympathy. U also knew that in posting that your fans would go and bully Scooter."
Bieber ended his post by saying that Taylor had crossed the line, and accused her of trying to "deface" Scooter. She hasn't responded to his Instagram post, but Hailey Baldwin went ahead and chimed in to call Justin a "gentleman."
Say it with me: YIKES @ ALL THIS.
***
This article originally appeared on Cosmopolitan.com. Minor edits have been made by the Cosmo.ph editors.