Justin Bieber and Hailey Baldwin just played a prank on the entire internet for April Fool's day.
Naturally, Justin's fans were freaking out about it.
Alright, guys. Today is April Fool's Day in the US, and because of that, certain celebrities on the internet think it's sOoOoo funny to play pranks on their fans. Justin Bieber is one of those people.
He just randomly posted a picture of a sonogram on his Instagram, without a caption. Most people figured out right away that it's an April Fool's joke because (1) It's April 1st, duh, (2) the baby in the picture is, like, fully formed and would be basically ready to be born and (3) the date on the sonogram is February 2.
Some fans, however, didn't pick up on the joke. Some highlights from the comments section include:
"UM WHAT I HOPE THIS IS REAL"
"SHUT UPPPPPPPP"
"please say sike"
"Noooo!"
"THIS BETTER BE APRIL FOOLS ."
"I'm not ready"
"IS SHE PREGNANT?!"
"Idk if this April fools or to scream my life out lol"
"whaaatttt nooo waayyy???"
"OH MY GOOOOOOOOOD WAT?????????"
"BROOOO THAT WAS UNEXPECTED IT CAN'T BE AN APRIL FOOOOL PLEASE"
"WAIT IS THIS TRUE?"
"I HATE YOU YOU MADE ME AN HEART ATTACK"
FYI, Hailey commented on the pic in a very "rolling my eyes" kind of way. Husbands! Lol!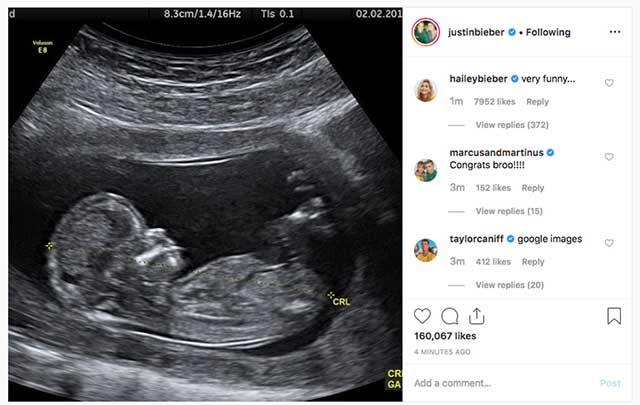 @CommentsByCelebs grabbed a screenshot of the Instagram to post, and some people in their comments section are saying that it's insensitive to play a prank about pregnancy/fertility when some people really struggle with that process.
"I'm all for today's jokes but baby and pregnancy ones aren't funny and can be insensitive to some," one person wrote.
Another said, "When will people realize this is the lamest April fools day bullshit. Ugh." And another wrote, "Pregnancy jokes can be really insensitive, gotta be careful when you have a big platform."
Update 4/1/19 4:35 pm:
Justin and Hailey seem to be taking this whole "surprise, we're expecting and announcing the news on April 1st" thing to the next level. Justin posted a follow-up Instagram after the fake sonogram with the caption, "If U thought it was April fools."
Oh, and Hailey liked it. While the sonogram pic is definitely fake (it's a stock photo), the comments on this one are a lot more split about whether or not it's real. Guess we'll have to wait until April Fool's Day is over to find out...
Update 4/1/19 5:15 pm:
To put an end to this absurd/bizarre saga, Justin just posted this Instagram to confirm that the whole thing was, in fact, a joke.
Happy April Fool's Day, everyone!! 
Follow Emma on Instagram.
***
This article originally appeared on Cosmopolitan.com. Minor edits have been made by the Cosmo.ph editors.
Recommended Videos