People say that high school is one of the ~best~ chapters of our lives. Though we don't really beg to differ, there's also something about our college years that makes them special, if not more meaningful. It's that age when we're old enough to actually start adulting—whether by force or not, LOL—and young enough still to be allowed to have fun.
When it comes to realistic representation, K-dramas about college life do a pretty good job in showcasing the subject. There might be some cultural differences here and there, but at the end of the day, these shows tell us one thing—that oppa or no oppa, we are all dealing with the same dramas anyway.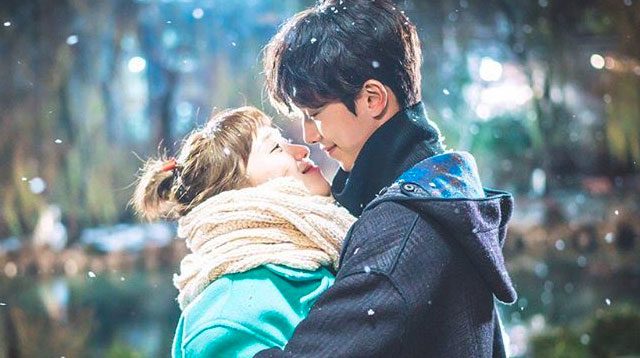 ADVERTISMENT - CONTINUE READING BELOW ↓
Below, six college K-dramas that perfectly portray what university life is all about.
1. Cheese In The Trap (2016)
You'll find this webtoon-turned-drama totally relatable if you've ever felt too small and insecure in college. Hong Sul (Kim Go Eun), a hard-working third-year business major, hates conflicts. Because of this, some people take advantage of her when it comes to academics—something she lets pass just for the sake of avoiding an argument. All her efforts to keep a low profile were challenged when a handsome senior Yoo Jung (Park Hae Jin) starts taking interest in her. The unwelcome attention starts when Hong Sul noticed a side of him that's very different from the friendly facade that's made him popular on campus.
One of the great things about Cheese In The Trap is that, while it does have an interesting story, it's executed so well that you sort of forget that these are not real people that you are watching. You feel a connection with them because of how well they show the common struggles of college students—from peer pressure to financial struggles. The plot flows naturally even with all the K-drama elements injected here and there and flawlessly showcases the strengths and weaknesses of each character.
2. Weightlifting Fairy Kim Bok Joo (2016 to 2017)
One of the best things about this show is that it doesn't have the heavy frills and drama of a complicated plot. The series is all about Kim Bok Joo's (Lee Sung Kyung) life in Haneol Sport University where she is part of the weightlifting team. Here she meets Joon Jun Hyung (Nam Joo Hyuk), her former childhood schoolmate who is now part of the university's swimming team. The show follows the pair as they try to accomplish their ambitions and settle their feelings for each other.
What makes Weightlifting Fairy Kim Bok Joo great is that while it is still a rom-com, the plot remains faithful to its college setting. It's not just a backdrop for the characters, it actually drives the story. It does a great job in showcasing the topic of academic fatigue and shows how sometimes, even the best of us can get burned out while trying to pursue a dream. 
ADVERTISMENT - CONTINUE READING BELOW ↓
3. My ID Is Gangnam Beauty (2018)
In a country like Korea where beauty standards can be impossible, a show like My ID Is Gangnam Beauty is not only refreshing, it's also very brave. After being bullied for most of her life, freshman Kang Mi Rae (Im Soo Hyang) made the big decision to undergo plastic surgery before starting university in the hopes of building a new chapter for herself. She crosses paths with Do Kyung Seok (Cha Eun Woo), a former classmate who recognized her despite her new appearance. The two struggle with their own personal issues, Mi Rae with the new-found attention that came with her new face, and Kyung Seok from family lies that have been holding him back.
My ID Is Gangnam Beauty is proof that our college years can be just as transformative as high school. It talks about self-confidence in a way not a lot of Korean dramas do and shows how being with the right crowd during this stage in your life can influence you for the best.
ADVERTISMENT - CONTINUE READING BELOW ↓
4. Age Of Youth (2016)
Now here's an underrated drama that definitely deserves all the love. College students Eun Jae (Park Hye Soo), Ye Eun (Han Seung Yeon), Yi Na (Ryu Hwa Young), Jin Myung (Han Ye Ri), and Ji Won (Park Eun Bin) all live together in the Belle Epoque house. Even with their very distinct personalities, the five form a sisterly bond as they all try to make each other a better version of themselves.
College is one of those moments in your life where you get to meet lifelong friends. Age Of Youth shows that with its characters who, though very different from each other, are all relatable in some way. There's Eun Jae who needs a bit of prodding to get out of her shell, confident Yi Na who's secretly dealing with her own insecurities, Jin Myung who can be selfless to a fault, and eccentric Ji Won who tends to drive people away with her quirks. While the show does have its own romantic sub-plots, they don't take away from the real focus of the show: a one-of-a-kind friendship you only get to experience in college.
ADVERTISMENT - CONTINUE READING BELOW ↓
5. Reply 1994 (2013)
When it comes to love triangles, there is nothing quite the one you find in Reply 1994. The relationship between the three main cast members was so good that #TeamWars erupted on the internet during its time of airing. The story follows a flashback-type format which shows the progression of the relationship of a group of friends who first got together in college. There's an element of "guess who's the husband in the story," too, as female lead Na Jung (Go Ara) builds different dynamics with her male acquaintances in the show.
College is a very colorful time to date around, right? You're young and free and there's really nothing that's stopping you from falling in love with someone—or maybe marrying them in the future. Reply 1994 is great because it follows the development of its characters from their carefree selves in the past to their present-day personas. Even more, the show talks about the fact that while there are some things that time will definitely change, there are also those that will stay with us forever.
ADVERTISMENT - CONTINUE READING BELOW ↓
6. Go Back Couple (2017)
Do you ever wish you could go back to college when everything was less complicated? That's exactly the plot of Go Back Couple which tells the story of unhappily married pair Ma Jin Joo (Jang Na Ra) and Choi Ban Do (Son Ho Joon). Feeling beaten down by their current reality, the couple is given a chance to relive their college days. Here they meet old friends, rediscover things that adulthood has made them forget, and in the process, decide on the future they want for themselves.
Go Back Couple's plot may seem like your run-of-the-mill slice-of-life story, but it actually does a good job in encouraging the audience to think about serious questions about identity and relationships. It doesn't glorify the college experience as something that's better than adulthood. Rather, the show frames it as a stepping stone for the adults we become.
MORE K-DRAMA CONTENT RIGHT THIS WAY: 
ADVERTISMENT - CONTINUE READING BELOW ↓
Here's What The Cast Of 'Weightlifting Fairy Kim Bok Joo' Is Up To Now
Miss The Cast Of 'It's Okay, That's Love'? Here's What They're Up To Now
Here's What The Cast Of 'Prison Playbook' Is Up To Now
***
We're officially on Viber! Be part of our growing community and subscribe to Cosmopolitan Philippines now!