Summer may have come and gone, but that doesn't mean we've totally forgotten all the crazy sh*t that happened during those three critical months for romance and breakups. As everyone on earth knows, Miley Cyrus and Liam Hemsworth decided to break up in the middle of August. The very same day the breakup news hit the internet, Miley and her now-ex-girlfriend, Kaitlynn Carter, were spotted kissing on a boat in Italy, and the rest was history.
In a personal essay for Elle.com, Kaitlynn admitted that she was actually in love with Miley when they were together and that being in a relationship with Miley allowed her to discover critical parts of her identity.
"This past July, I went on vacation with a female friend; the next thing I knew, I was in love with her," Kaitlynn wrote. "Until that trip, it had never crossed my mind that I was even capable of loving a woman the way I loved her."
After spending August with Miley traveling all over the world, Kaitlynn confessed that her and Miley's bonding over their dissolved relationships (Kaitlynn divorced from Brody Jenner over the summer) turned romantic and caused her to wonder why she ignored her feelings with Miley for so long.
Continue reading below ↓
Recommended Videos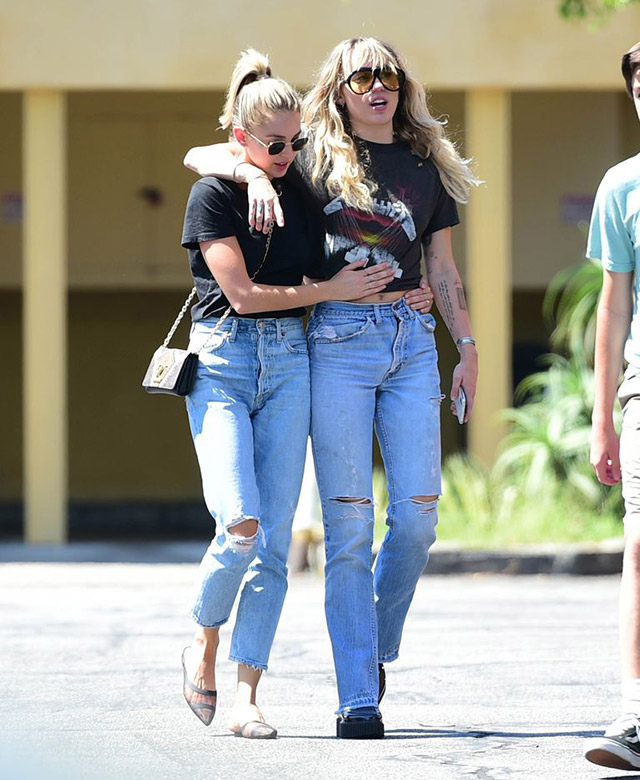 "As my friend and I spent that August traveling through Europe together and trying to move past our respective breakups, my first and only romance with a woman was born," Kaitlynn continued. "Reflecting back on our three-year friendship, I realized I'd always been drawn to her in a way I wasn't with other friends, but until that trip, it had never crossed my mind to think of her in a romantic sense." 
Miley's relationship with Kaitlynn progressed pretty darn quickly. Miley got a Kaitlynn-inspired tattoo and they even started living with each other for a bit...until things between them fizzled.
After six weeks of dating, Miley and Kaitlynn broke up because things between them were moving too fast. People reported that Miley wasn't in the mood for anything serious and was spooked it was heading in that direction with Kaitlynn.
Although Kaitlynn's relationship with Miley allowed her to gain a better understanding of herself, she is still exploring her sexuality and using her experience to grow. She concluded:
"Although the relationship with my friend was often referenced in the media as merely a 'summer fling' or a 'same-sex affair,' it was so much more than that. This was a profound journey of self-discovery. For the first time, I listened to myself, forgot about the 'norm,' and lived. I hope that everyone, when given the chance, takes the time to understand who exactly their most authentic selves are, untethered from what we may have been taught to believe. Remain curious. Know that there are many layers within you—and they just might be the most invaluable ones."
***
This article originally appeared on Cosmopolitan.com. Minor edits have been made by the Cosmo.ph editors.