Kaitlynn Carter posted a quote on her Instagram Story that may reference her former relationship with Miley Cyrus.
Spoiler alert: The quote is totally shady!
Welp, it looks like Kaitlynn Carter is out here trying to make her voice heard. Ever since she and Miley Cyrus called their brief (six weeks, to be exact) relationship quits, it's been eerily silent on Kaitlynn's end of things despite the fact that their relationship ended amicably. Well, until now, anyway.
Earlier today, Kaitlynn's BFF—The Bachelor's Becca Tilley—used her podcast, Scrubbing In, to imply that Miley is being kinda disrespectful toward Kaitlynn by being so public with Cody Simpson. "Yeah, I don't know. I'm friends with Kaitlynn, so," Becca said. "I think when you're in a relationship or, like, seen with anyone, like, out of respect to that person, it's maybe, like...."
"Obviously, Miley shouldn't have to date in her home," Becca continued. "But it's like, you know there's photos everywhere, you know?" IDK, but I feel like it's highly unlikely that Becca would talk about Miley on her podcast without Kaitlynn's permission! My BFF's thoughts are usually my thoughts too, juuust saying.
Continue reading below ↓
Recommended Videos
Now, just hours after Becca's words, Kaitlynn finally decided to throw some sh*t in the game. Taking a page from Kylie Jenner and Khloé Kardashian's book, Kaitlynn posted a quote by columnist Ann Landers (also known as Eppie Lederer) to her Instagram Story. It seriously sounds like it's referring to Miley or, alternatively, shading Miley's relationship with Cody.
"Love is friendship that has caught fire. It is quiet understanding, mutual confidence, sharing, and forgiving," the quote said. "It is loyalty through good and bad times. It settles for less than perfection and makes allowances for human weaknesses." Hmmm...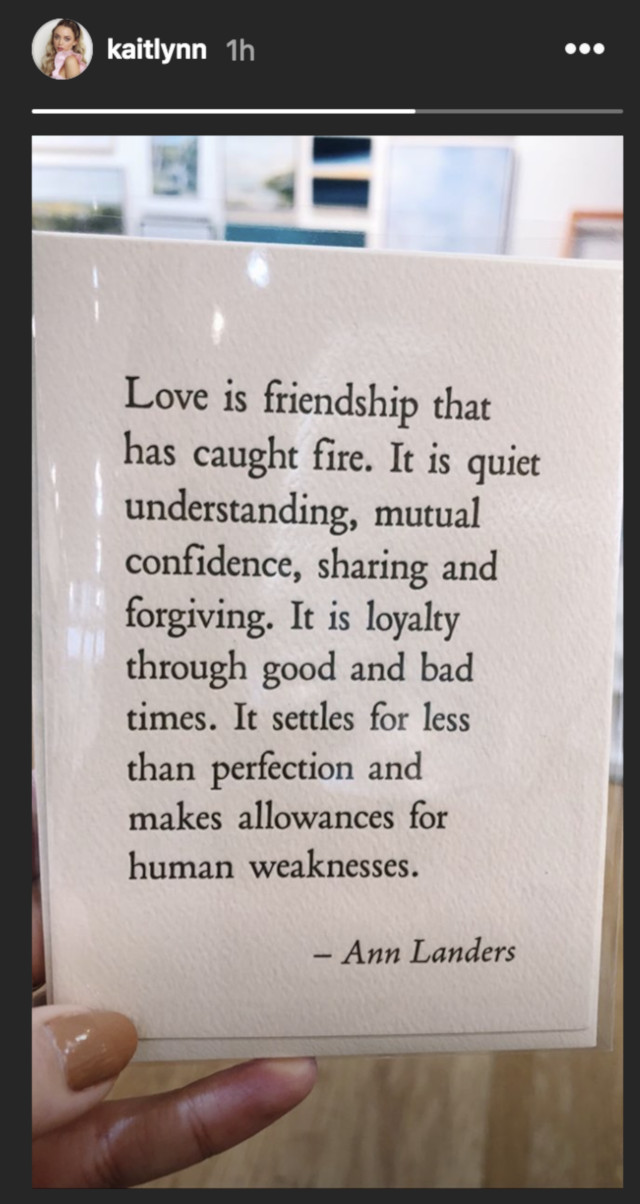 LOL @ "quiet understanding" because there was absolutely nothing quiet about Kaitlynn's relationship with Miley nor is there anything quiet about Miley's current relationship with Cody. But hey—shade is shade!
***
This article originally appeared on Cosmopolitan.com. Minor edits have been made by the Cosmo.ph editors.