On the same day she stunned everyone with her most naked look at The Fashion Awards in London, Kendall Jenner left her followers shook to their very core when she posted a secret letter that went on and on about the writer's "innermost feeling." Spoiler: That feeling is love, obviously.
Kendall posted the love note on her Instagram Stories and it went a little something like this:
"Dear Kendall, We may be miles apart but my love for you grows stronger & stronger by the minute. My innermost feeling is love for you. I will love you until death separates us. Right now this separation is killing me, but in my heart I know that nothing could come close to separating us. We are united into one forever, body & soul and I want you to know that I love you from the deepest part of my heart."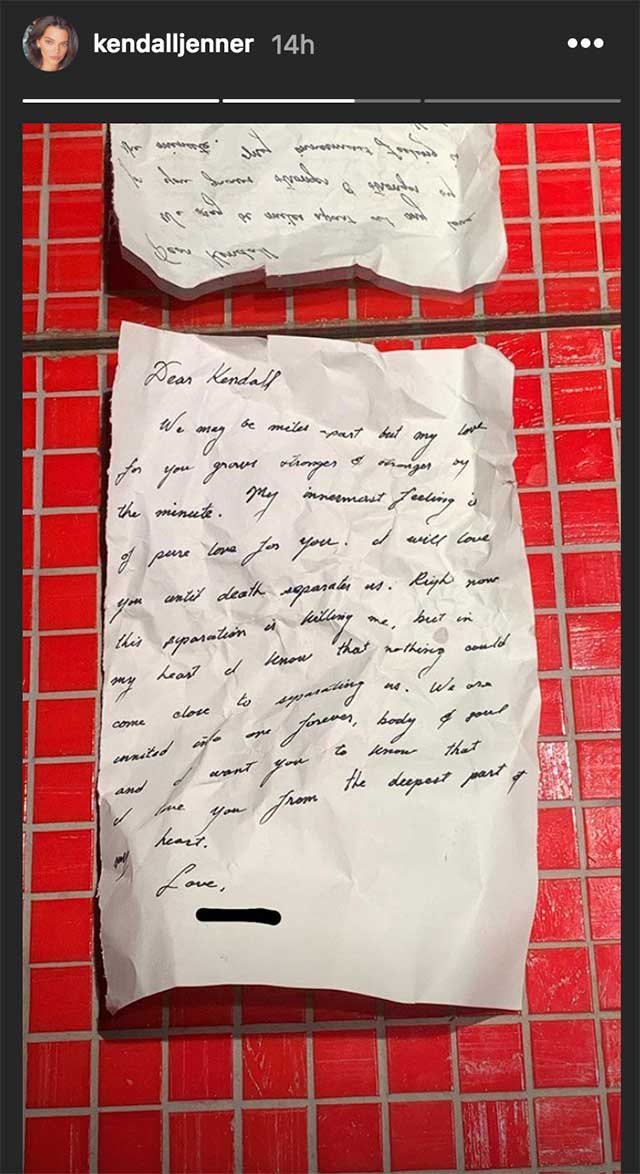 Continue reading below ↓
Recommended Videos
IDK how old this person was when they wrote this note, but their feelings were pretty darn intense. Also their handwriting is incredible and made some fans think Harry Styles penned the letter.
A few years ago, Kendall and Harry were rumored to be dating and vacationing together in Anguilla where they probably indulged in some drinks topped with umbrellas. They reportedly dated on and off and even had their own couple name. *Cringes and whispers* It was Hendall.
So Kendall and Harry have history and some followers have time and compared his handwriting to that of the note, which is how this connection blossomed. Apparently, Harry writes with closed Os and a slant sort of like in the letter.
I mean, with an argument like that, it's just so hard to wonder why some people think this Harry connection is tenuous.
Since Kendall crossed out the name on the letter, you can't tell who wrote it. Though, doesn't it seem weird that Kenny would post a letter from her ex when she's currently dating Ben Simmons? This could also be a note from him! Or maybe even her other rumored exes Cara Delevingne or Tyler, the Creator. Who knows!
***
This article originally appeared on Cosmopolitan.com. Minor edits have been made by the Cosmo.ph editors.