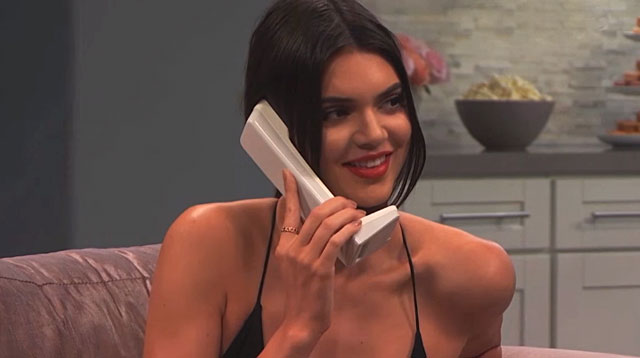 YouTube/Entertainment Tonight
Kendall Jenner left her big sister Kim Kardashian stunned when she pranked her with pregnancy news for the debut episode of their sister Khloe Kardashian's new TV show.
In the first episode of Kocktails with Khloe, viewers will be able to watch new mom Kim's reaction when the supermodel tells her she's pregnant.
Calling her from the show, 20-year-old Kendall says, "I was calling you because I wanted to tell you something and I haven't told anyone yet because I feel like you could help me figure out what I should do... I am pregnant."
On speakerphone, her sister responds, "Are you kidding? Are you calling looking for mom?"
"No, I was looking for you 'cause I didn't know who to tell first and I felt like if I told mom she would freak out, so I was, like, coming to you for support first," Kendall answers.
Kim doesn't even consider she's being pranked and fires off, "I don't even know. I'm not the one to talk to, because I have, like, the worst experience and I'm so fresh off of the worst birthing experience.
Continue reading below ↓
Recommended Videos
"Today is not the day 'cause I literally would be a bit more negative 'cause I'm on one hour of sleep 'cause [daughter] North was up all night and I was feeding [Saint] every two seconds and, literally, my day has been, like, so crazy and I've had no sleep and I want to, like, die."
Kim then hears Kendall, Khloe and guests Aisha Tyler and Brandi Glanville giggling and mistakes it for her little sister crying—and offers to drive over to be with her.
"I'll bring my 30 kids and you can babysit for two seconds to see how you feel," she says.
Khloe then interrupts and tells Kim she's being pranked on her show. LOLZ!
Watch the hilarz clip below!