Khloe Kardashian was the only Kardashian-Jenner sibling noticeably absent from Caitlyn Jenner's milestone 70th birthday party in October, which suggested to pretty much everyone that the pair still weren't on speaking terms. However, sources close to the Keeping Up With The Kardashians star played down reports they were still feuding and pointed to the fact Khloe sent Cait a big bunch of birthday flowers.
But that couldn't be further from the truth, according to Caitlyn herself. During her stint on I'm A Celebrity...Get Me Out Of Here, the Olympian confirmed she hadn't spoken to her former stepdaughter in more than five years.
So what happened five years ago? Here's a complete timeline of Caitlyn and Khloe's long-running feud:
October 2013
Caitlyn and Kris Jenner announce they're separating after 22 years of marriage.
"We are living separately and we are much happier this way, but we will always have much love and respect for each other," they said in a joint statement. "Even though we are separated, we will always remain best friends and, as always, our family will remain our number one priority."
October 2014
Kris is interviewed by ET and is asked about rumors her ex is transitioning. She replies frostily: "They've been saying that since 1976."
Continue reading below ↓
Recommended Videos
March 23, 2015
Caitlyn and Kris Jenner officially announce their split.

April 2015
Caitlyn sits down with Diane Sawyer for a two-hour interview and says she is transgender. "For all intents and purposes I'm a woman," the former Olympian shared.
June 2015
Caitlyn graces the cover of Vanity Fair where she reveals her identity as Caitlyn to the world for the first time. Among the iconic pictures shot by Annie Leibowitz are comments about her relationship with Kris.
"A lot of times she wasn't very nice. People would see how I got mistreated. She controlled the money, all that kind of stuff," Cait said—claims Kris denied in the same piece.
January 13, 2016
Khloe gives an interview to Howard Stern to promote her TV show Kocktails With Khloe. She claimed she only found out about Cait's transition at a meeting with E! when they mentioned she had landed her own docuseries. "That's the first we heard of it," she said.
True's mom added: "I don't give a f**k what you want to do—just stop lying to us about things."
February 11, 2016
Caitlyn joins the Kardashians at Kanye West's Yeezy 3 fashion show in New York City, but things appear to be slightly awkward between the pair as they keep their distance when they pose for photos.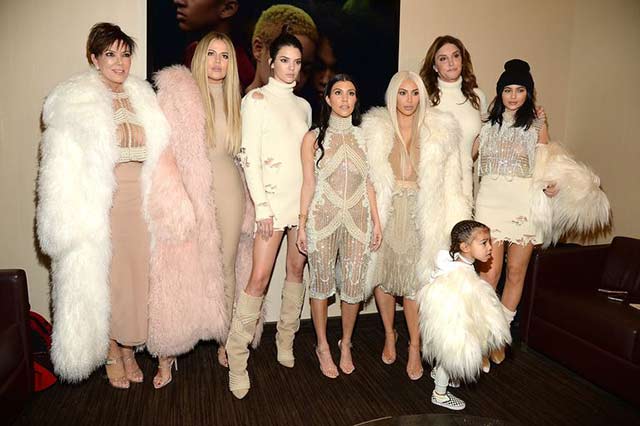 May 2, 2016
In an episode of KUWTK, Khloe revealed Caitlyn was pissed after she found out about the Howard Stern interview. After being bombarded with angry texts Khloe phoned mom Kris. "I said, 'You slaughtered my mother and you have the nerve to say, 'What happened to family sticking together?'
"I said, 'You jumped that ship as soon as you did Diane Sawyer and attacked my mom,' and instead, [she] tells me to 'get a life' and to 'shut up,' and I'm like, 'You shut up and you get a f**king life.'"
"Mom, can you handle this," Khloe continued. "She can tell me to fuck off all she wants. I don't have a relationship with her. I'm done."
This prompted Kris to call Caitlyn. "She's out there talking s**t about me," Cait told Kris over the phone. "I don't want her talking about me, OK? You don't go on Howard Stern and call me a liar...Why is she even talking about it?"
She went on: "This is not intentional, you're making this so hard. You were her father. You were her dad since she was five years old. Give her a break."
April 21, 2017
Caitlyn gives another interview to Diane Sawyer and admits she's not as close to all her kids anymore.
"Some [of my children] I have remained very close to. A couple of them…I'm a little more distant. 'I have to admit, I'll sit here and wonder, 'Is it because of my transitioning? Or is it because their life is so busy that they don't call, like all the time?'
"Nobody calls that much. I mostly reach out to them. Obviously the Jenner side calls more, but they have their own lives."
October 2017
Khloe slams Caitlyn on an episode of Keeping Up With The Kardashians. "'I'm the victim, I'm the victim, they don't want to see me.'
"Oh f**k off and it's not because you're trans. That's not why I'm not talking to you. I'm not talking to you because you're a bad, mean person."
May 13, 2018
Caitlyn posts a series of tributes to all the moms in the family to mark Mother's Day but leaves Khloe out.
February 8, 2018
Khloe gives an interview with Lorraine and was asked if having True would "affect" her relationship with Cait.
Khloe responded: "I don't think that affects anything. Things are just as they are."
October 27, 2019
According to Us Weekly, Caitlyn dropped out of a scheduled appearance in Florida in a bid to avoid any conflict with Khloe, who was also in attendance.
October 29, 2019
Khloe is the only Kardashian-Jenner to not attend Cait's 70th birthday party in Malibu. Kim, Kourtney, Kylie, and Kendall are all there.
November 28, 2019
Caitlyn opened up about the pair's ongoing feud and confirmed they haven't been on speaking terms for years.
Cait was speaking to her I'm A Celebrity...Get Me Out Of Here campmates about transitioning when Roman Kemp asked Caitlyn if she came out to certain people first. "The first was the kids. I started with Brandon my son and he said to me 'Dad, I've always been so proud to be your son but I've never been more proud of you than right now,'" Caitlyn revealed.
"I went through every kid and Khloe for some reason was pi**ed off about something through this whole process," she continued. "It's been five or six years and I really haven't talked to her since.
Ian suggested to Cait: "Do you think she's more thinking about herself rather than you?"
Caitlyn replied, "I don't know, we were really close, I raised her since she was five years old, I really don't know what her issues are."
December 2, 2019
According to reports, Khloe was blindsided by Cait's comments on I'm A Celebrity. A source close to the family told TMZ that Khloe was confused by the comments and "refutes [them] on all fronts."
According to the source, Khloe says that she was always supportive of Caitlyn, including during her transition and that animosity only arose when Caitlyn made comments about Khloe's mom, Kris Jenner, in her memoir The Secrets Of my Life.
***
This article originally appeared on Cosmopolitan.com/uk. Minor edits have been made by the Cosmo.ph editors.