Khloé Kardashian has opened up to fans about her cosmetic surgery journey, revealing her "only regret" about having a nose job.
For years, Keeping Up With The Kardashians fans had questioned whether Khloé had had any work done on her nose, and during the show's reunion special last year, she confirmed she'd had cosmetic surgery on her nose. "Everyone says, 'Oh my gosh, she's had her third face transplant,'" she told host Andy Cohen when asked if the rumours about her nose job were true. "But I've had one nose job."
As for why she hadn't been more open about having the procedure she said, "Everyone gets so upset, like, 'Why don't I talk about it?'". The Good American founder went on to add that she doesn't speak about the plastic surgery she's had, because no one's ever actually asked her directly. "No one's ever asked me," Khloe said, "You're [Andy] the first person in an interview that's ever asked me about my nose."
ADVERTISMENT - CONTINUE READING BELOW ↓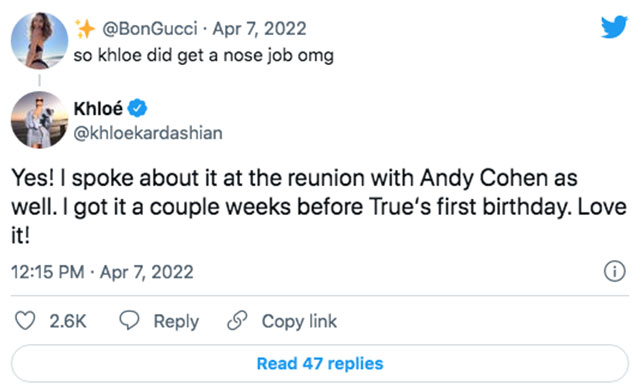 Now, the 37-year-old has given fans an insight into how she really feels since having the procedure. Taking to Twitter, Khloé responded to a follower who question whether she'd had a nose job. "Yes! I spoke about it at the reunion with Andy Cohen as well," she tweeted. "I got it a couple weeks before True's first birthday. Love it!"
ADVERTISMENT - CONTINUE READING BELOW ↓
Recommended Videos
She also opened up about what her recovery was like – replying to one follower who said their's was the "worst ever" – as well as revealing her "only regret" about having a nose job. "Stop!!! Mine was a breeze. That's crazy. It honestly was so easy for me," she said of the recovery. "My only regret is that I didn't do it sooner."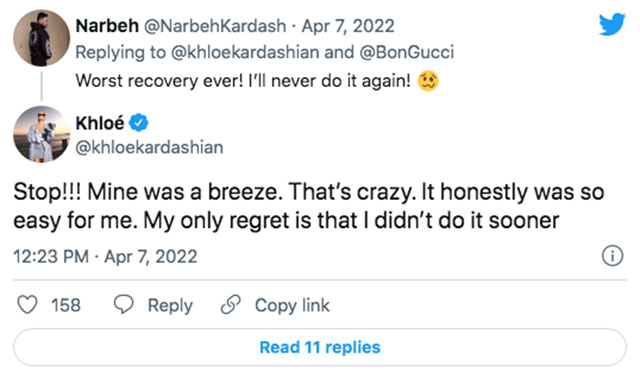 ADVERTISMENT - CONTINUE READING BELOW ↓
Her tweets come just weeks after she talked about how "hurtful" being compared to her sisters over the last few years has been. "It definitely is tough," she said when asked about how she's been treated by the press. "None of us get it — my sisters will talk about it, like, 'Why are they so much more vicious towards you?'"
The mum-of-one continued, pointing out that comments comparing her to her sisters have been the most hurtful. "When I was younger, always being compared to my sisters in a way where I can't be related to them because we look different. It was always emphasized that they were so much prettier," she added. "And that's just really poor taste. Those things were definitely really hurtful, just to always be compared to them, especially in the fashion or beauty world comparing our bodies or faces."
READ MORE
Vlogger Mika Salamanca Gets Real About Getting A Nose Job: 'Officially retokada'
ADVERTISMENT - CONTINUE READING BELOW ↓
Pinay YouTubers Who Have Opened Up About Their Nose Jobs
19 Pinay Celebrities Who Admitted Getting Plastic Surgery + Beauty Enhancements
***
This article originally appeared on Cosmopolitan.com. Minor edits have been made by the Cosmo.ph editors.
EXPLORE COSMO