Khloe Kardashian probably won't break up with Tristan Thompson, despite his cheating allegations doing the rounds. That's what sources close to the star are saying anyway.
The MailOnline released footage of Tristan "getting up close and personal" with a woman in a club in New York. TMZ also has footage of Tristan, 27, from October that the website is claiming is proof he cheated on 33-year-old Khloe just weeks after pregnancy rumors got out.
Despite this, Khloe, who just gave birth to their first baby, is unlikely to leave Tristan, as she's keen to "rebuild" the relationship. The two have been together since September 2016.
"She's a hopeless romantic and she'll try to make this work," a source tells People. "She tried forever to make it work with Lamar [Odom]. She's having a child with Tristan, and she's going to try to rebuild this.
"Khloe could probably convince herself to get over the fact that he maybe, kind of, sort of, hooked up with some groupie while out on the road. But being so indiscreet about it and letting it get splashed all over the place and having it humiliate her? That's actually even worse."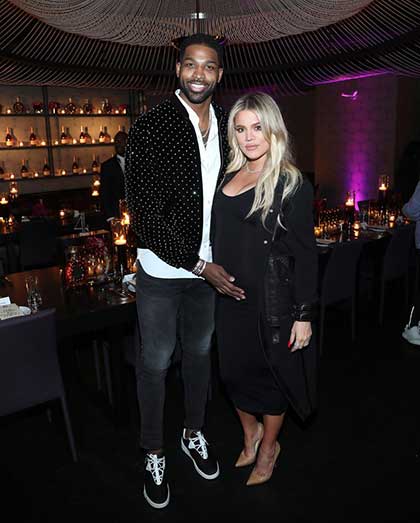 Continue reading below ↓
Recommended Videos
The source added that Khloe has a history of forgiving men that treat her badly: "The thing about Khloe, though, is she's a big believer in knowing someone's back story and understanding how it motivates them," the source says. "With Lamar, her heart broke for everything he'd been through in the past, losing his mom and his grandma and his baby boy, and she used that as a justification for why he struggled so much with addiction and cheating. She's got a big heart—too big sometimes."
This won't come as much of a surprise as there were reports that Khloe is "trying to pretend it isn't happening," according to a source who spoke to Radar Online.
"Khloe is shutting everyone out right now and doesn't want to listen to anyone.
"When she spoke to her sisters earlier today, she assured them that this was all a big misunderstanding and that Tristan would be able to explain it.
"But with all the recent evidence that has just presented itself, no one knows what to do."
***
This article originally appeared on Cosmopolitan.com/uk. Minor edits have been made by the Cosmo.ph editors.