1 Kim Chiu sure is having the time of her life in Canada! On her IG account, she posted photos of her engaging in risky outdoor activities like skydiving and walking along the edge of CN Tower. Our Chinita Princess didn't stop there; she also took a boat ride near the Niagara Falls! Her official travel hashtag couldn't get any cuter: #KIMadvenCHIUre (Push)  
ADVERTISMENT - CONTINUE READING BELOW ↓
ADVERTISMENT - CONTINUE READING BELOW ↓
Recommended Videos
2 If you've been touched by the story of David Leviathan's book Every Day, you'll be thrilled to find out that its movie adaptation is currently in the works. MGM has gained its film rights, with Michael Sucsy as the director. Young actress Angourie Rice will star as Rhiannon, the teenage girl who falls in love with a bodiless spirit, A, who inhibits a different boy's body every day. (Deadline) 
ADVERTISMENT - CONTINUE READING BELOW ↓
3 On August 2, 2017, news exploded that Harry Styles is reportedly dating Victoria's Secret model Camille Rowe. Stylers speculate that the singer's recent ex-love, chef Tess Ward, reacted to the new romance on Instagram.
She used the word "besotted," which is not a term one would normally pick to describe a dish. To save you Google time, it means infatuated. What's so juicy about this post is it had the exact term used by the source of The Sun—the publication that broke the news—to describe Harry's feelings about Camille. (Teen Vogue) 
ADVERTISMENT - CONTINUE READING BELOW ↓
4 Cosmo.ph will head to Fort Bonifacio Development Corporation today, August 3, 2017, for the second leg of of Cosmopolitan's Fun Fearless Life Power Up! This year's Fun Fearless Life will be a three-part office tour where speakers will impart practical and life-changing fashion and beauty advice to Cosmo Girls. This event is made possible by our sponsors: Bobbie Nails, Skin White, and Carefree, who have all prepared activities and prizes for the participating offices. Follow the hashtag #CosmoFFLPowerUp on social media to see all the photos and posts from today!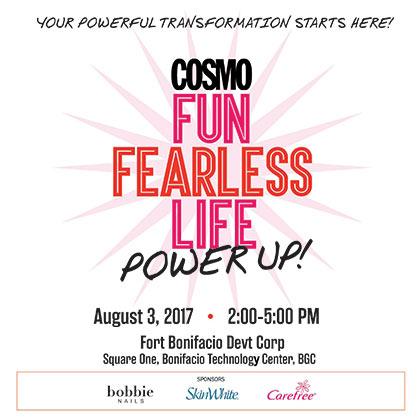 ADVERTISMENT - CONTINUE READING BELOW ↓
5 Soccer star Cristian Ronaldo's girlfriend Georgina Rodriguez debuted her baby bump in a photo shoot with Hola! Magazine, and the 23-year-old model is absolutely glowing!  
Las mejores declaraciones de Georgina en ¡HOLA!: 'Soy muy familiar y me encantan los niños...' https://t.co/DaURgX61X9 pic.twitter.com/t4UwaKEp7d

— Revista ¡HOLA! (@hola) August 2, 2017
In her interview, she gave us a glimpse of how she cares for body. "I like to take care of myself by doing sports and eating balanced meals. I try to eat natural products and avoid eating heavy meals."
Their baby would be Cristiano's fourth child, as he already has 7-year-old son and twins prior to his relationship with Georgina. (Entertainment Tonight)
EXPLORE COSMO