ICYDK, it's been a great couple of years for Netflix original Korean dramas and films. K-content has been dominating the global streaming platform with the likes of the zombie drama Kingdom and the recent global hit Squid Game. It's no wonder global audiences have set their eyes on the newest Korean fantasy drama Hellbound and it certainly did not disappoint! With its dark aesthetic, intriguing storyline, and complex characters, Hellbound has proven to be the latest Netflix sensation. It also didn't hurt that the drama boasts a star-studded cast, including actress Kim Hyun Joo who stars as the relentless lawyer Min Hye Jin. Despite more than two decades of acting experience under her belt, Kim Hyun Joo continues to challenge herself with new roles and genres.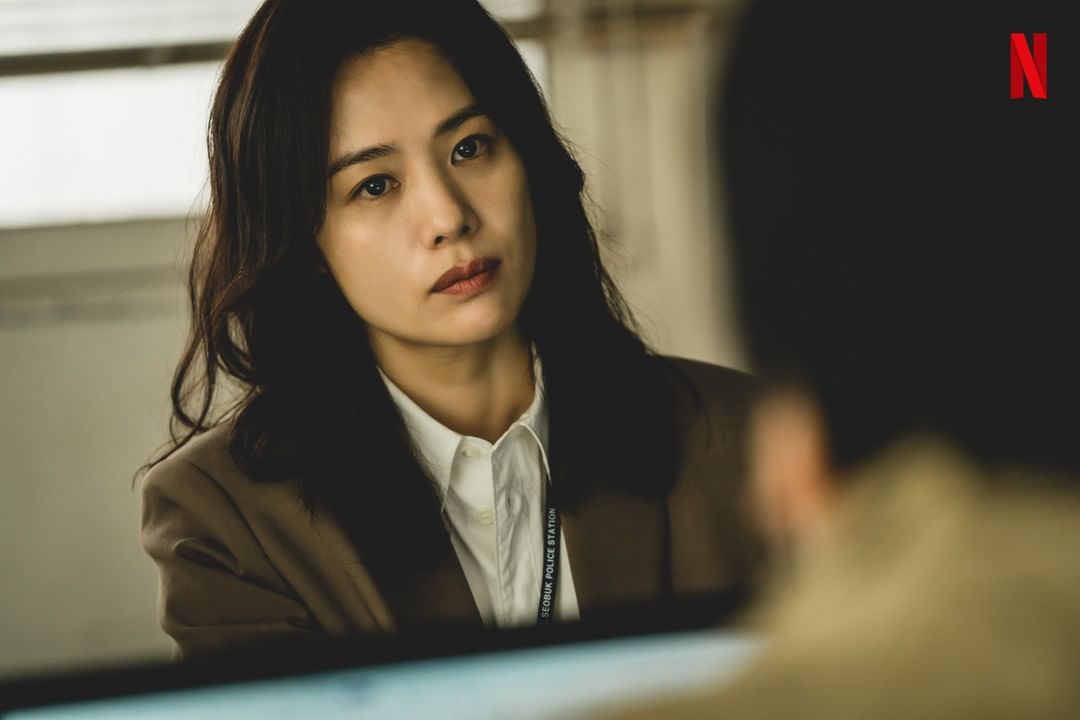 Want to know more about the veteran actress? Here are eight facts and trivia about Kim Hyun Joo: 
1. Kim Hyun Joo was born on April 24, 1977.
She is a 44-year-old Taurus! Those born under this sign are known to be patient, resilient, and tenacious. They might live life at a slower pace compared to others but that's because they like to analyze *everything*.
In an interview with The Swoon, Kim Hyun Joo talked about taking on new acting challenges "a little late in her career," saying, "Although I'm an experienced actor, I don't think I've been able to play a wide range of characters. I realized that there are so many things that I haven't tried yet. I don't know why I didn't try them sooner. I regret it a little. Somehow I keep analyzing myself and setting a limit to my strengths and weaknesses." 
She added, "I want to be an actor who works hard to try new things a little late in her career. I want to challenge myself more and I want to be more adventurous."
Continue reading below ↓
Recommended Videos
2. She started acting in 1997.
The former teen model made her acting debut with a supporting role in the 1997 drama The Reason I Live. She eventually got her big acting break in the widely popular 2002 melodrama Glass Slippers alongside our OG oppa So Ji Sub. Her top-notch performance in the drama earned her an Excellence Award at the 2002 SBS Drama Awards.
3. You might remember her as Gu Jun Pyo's older sister in Boys Over Flowers.
Kim Hyun Joo starred as Gu Jun Hee, Gu Jun Pyo's (Lee Min Ho) *girl crush* older sister. In the same The Swoon interview, she shared what it was like at the set of the 2009 hit K-drama: "Actually, my role was supposed to be a cameo but I ended up appearing on the show more than I had expected. I had a lot of fun filming the show. Everybody was so lovely and I think I went to work just to see them." 
4. Kim Hyun Joo and actor Ji Jin Hee have acted as lovers in three dramas.
Their on-screen chemistry has stood the test of time! The two were first paired in the 2004 rom-com Ms. Kim's Million Dollar Quest. They reunited in 2015 and starred in the 50-episode weekend drama I Have A Lover. The actors starred opposite one another once again in Undercover, the 2021 Korean remake of the BBC crime drama of the same name.
Back in 2018, Ji Jin Hee appeared as a guest of the variety show Happy Together and talked about his partnership with Kim Hyun Joo: "She's the actress I want to work with again. We still keep in touch. I told her we should shoot something like Country Diaries and act together for 30 years." (ICYDK, Country Diaries aired for over 22 years, from 1980 to 2002, and is the longest-running Korean drama ever.)
5. She has A LOT of hobbies.
When she's not busy with her acting projects, Kim Hyun Joo is often occupied with her hobbies! The actress is into knitting, flower arrangement, and musical instruments. In an interview with Elle Korea, she talked about the efforts she put into her hobbies, saying, "I make a schedule and go to learn something. I've been learning drums for quite some time. I've been playing the piano since I was little, and I've also played the violin for a while. I also knitted. What I've been working hard on until recently is flower arranging. I even flew to the United Kingdom to take a three-month class." 
6. Kim Hyun Joo visited the Philippines in 2010.
Following the deaths of three of her loved ones in 2010, the actress decided to do some volunteer work as an ambassador for the humanitarian NGO Good Neighbors. During her visit to the Philippines, she stayed with a Filipino family whom she reconnected with a year later. Watch the heartwarming reunion here:
7. Follow her on Instagram @khj_dang
Aside from posts about her many hobbies, her feed is filled with appreciation posts for her fans! 
8. She's booked and busy with a Netflix original film.
Kim Hyun Joo is working once again with Netflix and Hellbound director Yeon Sang Ho for the sci-fi movie Jung-I. She will play the titular character Jung I, an elite soldier who is subjected to a brain-cloning experiment to win a war. The film is set in the 22nd century when climate change has resulted in an inhabitable Earth.
***
We're officially on Viber! Be part of our growing community and subscribe to Cosmopolitan Philippines now!
K-UPDATES