Article updated: May 13, 2021, 4:30 p.m.
Following the reported dispute with his agency regarding the expiration of his contract, Kim Jung Hyun has explained his side through a representative. The actor also mentioned that his label has been sharing false information about him. Read his full statement below as translated by Soompi:
"Hello. This is an official statement about actor Kim Jung Hyun's former agency O& Entertainment and its parent company.
First of all, we inform you that Kim Jung Hyun's contract with O& Entertainment has expired as of midnight today (May 12, 2021). From the moment the disagreement about the contract duration was raised until yesterday (May 11, 2021), the day the exclusive contract expired, Kim Jung Hyun and his brother who is his legal representative remained silent in order to avoid causing a messy fight despite having many unfair circumstances that were left unsaid and did their best to smoothly resolve all management-related issues through discussions with his former agency. While there were attempts [from the agency] to contact us for a discussion, the circumstances continuously raised suspicions about the agency's authenticity and sincerity about reaching an agreement.
Hence, we have concluded that the agency and its parent company no longer have the intention to negotiate, and we would like to restore Kim Jung Hyun's fallen honor and rectify factual errors with YUL Law Firm.
We remained silent about everything that has happened until now because Kim Jung Hyun feels guilty for failing to fulfill his responsibility as an actor by stepping down from the drama 'Time' and because he believed that apologizing for the chain of events was the first thing he should do. It was also an act of consideration for the agency that he felt apologetic towards as morally right. However, as time went by, [the agency] began making false claims and caused false information to be spread widely, so we would like to rectify this.
ADVERTISMENT - CONTINUE READING BELOW ↓
Even before he was cast in the drama Time, Kim Jung Hyun showed health-related issues, and on the day of the press conference, he threw up and was in a very bad condition. However, his agency ignored this and pushed ahead with the scheduled activity, failing to fulfill their duty to protect their actor. Moreover, while going through the procedure of closing business after seeing a deficit each year, the agency only brought up the issue of Kim Jung Hyun's contract expiration to the media and caused his reputation to be tarnished with this incomprehensible action.
From this moment on, we will take legal action and no longer overlook any behavior such as objections about his contract duration, defamation, and the spread of false information related to Kim Jung Hyun.
We thank the fans who trust and support Kim Jung Hyun. We also apologize for unintentionally bringing exhaustion upon the public and the press."
***
In light of the multiple issues he was caught in, Mr. Queen actor Kim Jung Hyun has released a handwritten apology letter.
When he led the K-drama Time in 2018 with Girls' Generation's Seohyun, fans were quick to notice his unusual behavior during the show's press conference. It was reported that he lacked emotions in the event, and he explained that he wanted to "stay in character" as the son of a chaebol (conglomerate family). However, the audience was not convinced and they criticized Kim Jung Hyun's actions, saying that it was "inappropriate."
Press Conference of the MBC drama "Time" 
Last week, the actor was rumored to be dating his Crash Landing On You co-star Seo Ji Hye but their respective agencies have denied their romantic relationship. Seo Ji Hye's entertainment label, Culture Depot, further added that Kim Jung Hyun is in talks to join the agency after his exclusive contact with O& Entertainment expires next month. On the other hand, it was reported that the actor's contract with O& Entertainment will not end yet by May, because he took an 11-month hiatus after he left the drama Time. The agency claims this duration is not counted in their contract with Jung Hyun. 
Come April 12, South Korean news group Dispatch disclosed a text conversation between Kim Jung Hyun and his alleged ex-girlfriend Seo Ye Ji. The report raised that the actress asked him to refrain from having romantic scenes and physical contact with his co-star. Yesterday, Seo Ye Ji's agency, GOLDMEDALIST Co., has addressed the manipulation issues and said: "It is not shown in the conversations that were revealed, but Kim Jung Hyun also made requests to Seo Ye Ji, who was filming a different drama, to not film kiss scenes. So Seo Ye Ji also told him, 'Then you shouldn't do it either,' among conversations of lovers showing jealousy about each other's physical contact with others."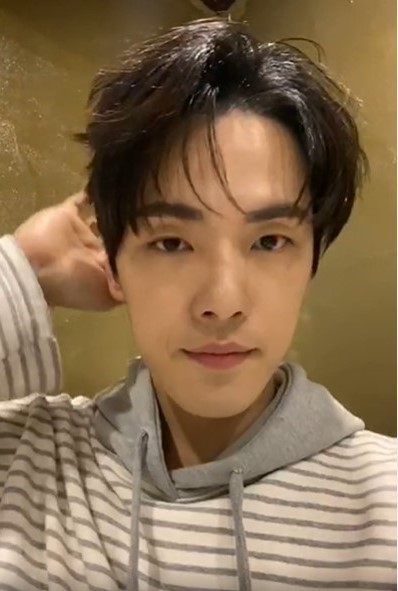 ADVERTISMENT - CONTINUE READING BELOW ↓
Today, Kim Jung Hyun has released his handwritten letter of apology and tackled the issues mentioned. Here's the full translation by Soompi:
"Hello. This is Kim Jung Hyun.
The drama Time was the first work I played a leading role in as an actor, so it was also a very meaningful project to me. But I brought deep disappointment and pain upon the director, screenwriter, fellow actors, and staff. I apologize.
My memories of the Time press conference remain in my head like shards. Even I cannot forgive my attitude at the time. I have so much regret that I wish I could turn back time.
I brought the shameful incident upon myself due to personal issues. I was not able to fulfill my responsibility as the drama's protagonist and an actor. I apologize without making any excuses.
The process in which I dropped out of the drama Time and the behavior I showed at the press conference were all wrong. I sincerely apologize to actress Seohyun who was hurt because of it as well as all other related personnel who worked hard at the time.
I believe I should pay a visit to each of the Time staff members and those who were hurt by me and personally apologize to them. Even if it takes a long time, I will go to the director and screenwriter of Time the actors, and all of the staff members who worked [on Time] and ask for forgiveness.
I apologize to my agency O& Entertainment as morally right, and I also apologize to Culture Depot for causing them to be mentioned in a disgraceful way. I also genuinely apologize to my fans who always believed in me, trusted me, and waited for me.
I bow my head in apology to everyone I caused discomfort to. As I was writing this letter, I was able to reflect on my mistakes and wrong behavior. If I am given the opportunity, I will take nothing for granted and work hard to become a healthy actor who reflects on and manages himself. I am sorry."
Follow Hanna on Instagram.