It's one of the most hyped events on the celebrity calendar: the Met Gala, and last night's annual offering, with its Gilded Glamour theme, was no exception. Naturally, given that she's one of the most famous women in the world, all eyes were on Kim Kardashian, who wore a Jean Louis dress previously seen on Marilyn Monroe – and she was incredibly open about the extreme lengths she went to in order to fit into it (given its status as a historic archive piece, it couldn't be altered in any way).
Speaking to Vogue about the strict regimen she adhered to pre-event, Kim explained that Marilyn's diamond-encrusted dress was the only choice for her. "It was this or nothing," she said, adding that she wore "a sauna suit twice a day, ran on the treadmill, completely cut out all sugar and all carbs, and just ate the cleanest veggies and protein" for three weeks prior. In the end, she reportedly wore the dress only for her entrance photos (lasting less than an hour), before changing into a replica.
ADVERTISMENT - CONTINUE READING BELOW ↓
Kim also noted, "I didn't starve myself, but I was so strict" and described her prep as being on par with an actor gearing up for a role, while talking to good friend LaLa Anthony on the red carpet – and it was during this chat that the reality star also confessed to having lost 16lbs in 3 weeks (the recommended safe and sustainable amount of weight to lose per week is 1 to 2lbs).
She later posted on her Instagram Stories that she couldn't wait to get stuck into a pizza with boyfriend Pete Davidson.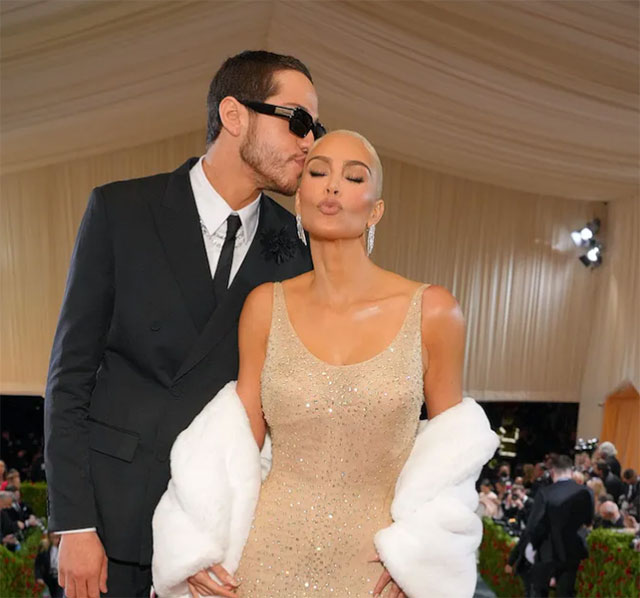 EXPLORE COSMO