We love it when our faves make friends with each other, and what better way to form lasting bonds than working on the same K-drama? These actors met on set and continued their friendly relationships offscreen. Whether they're hanging out, traveling together, or sending each other food trucks, these celebs show just how fun it can be to make friends in the industry.
Read on to see our fave Korean actors who became close after working together:
1. Park Seo Joon, Park Hyung Sik, and BTS' V
By now, everyone knows about the Wooga (the short form of the Korean phrase for "Are we family?") Squad established by Itaewon Class actor Park Seo Joon. He worked with Park Hyung Sik and V in the 2016 historical drama, Hwarang: The Poet Warrior Youth. Their friendship just blossomed from there, and the Wooga Squad was formed. Seo Joon's other close friends, Parasite actor Choi Woo Shik and rapper Peakboy, soon joined them. The boys do a lot of things together and support one another's projects. They currently star in reality show In The Soop: Friendcation, a spinoff of the popular In The Soop series, where audiences can follow their adventures as they go on a trip for four days and three nights.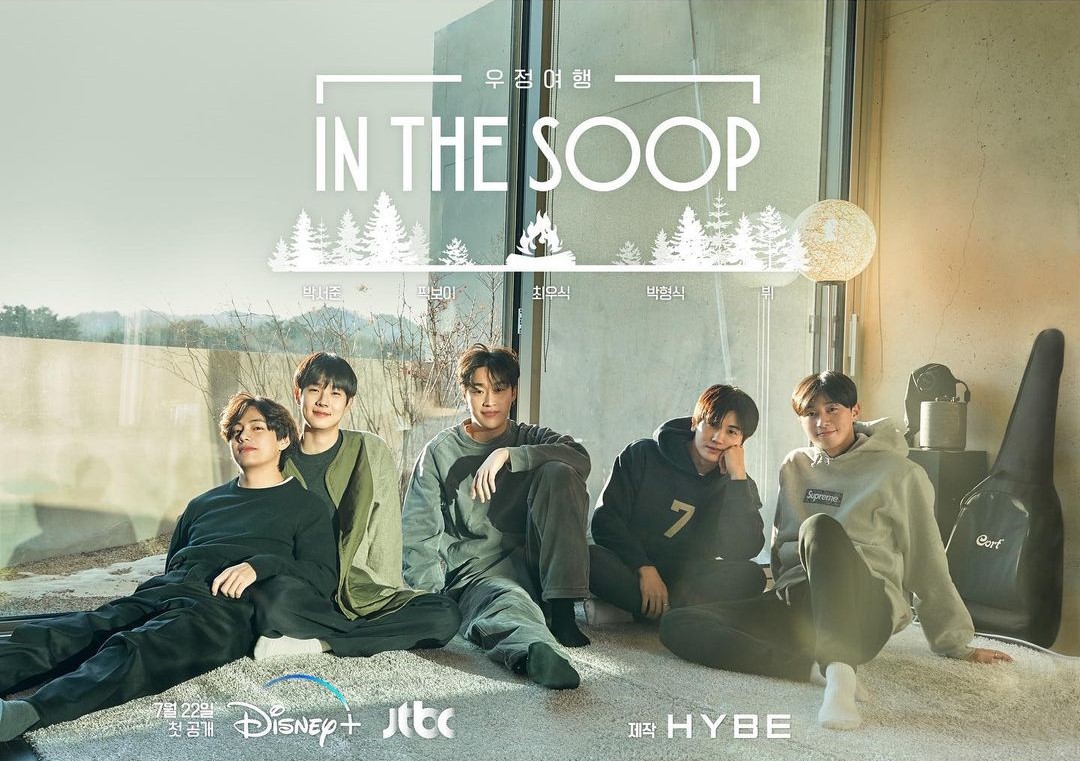 ADVERTISMENT - CONTINUE READING BELOW ↓
2. Park Seo Joon and Choi Woo Shik
Woo Shik and Seo Joon's friendship is one for the books, going way back before their days in the Wooga Squad. They met in 2012 when they worked together in the sitcom Shut Up Family. They are so close Woo Shik once had to clear up rumors of him and Seo Joon being in a romantic relationship. The two actors often guest in each other's shows and films. Seo Joon had a cameo in Woo Shik's film, Parasite, while Woo Shik appeared in Seo Joon's drama, Fight For My Way. If you need further evidence of their friendship, just watch the variety show Summer Vacation. This relaxing show set in the countryside stars Woo Shik and actress Jung Yu Mi. Seo Joon appears as a guest for Woo Shik. It's so much fun to see them just hanging out and enjoying their time together.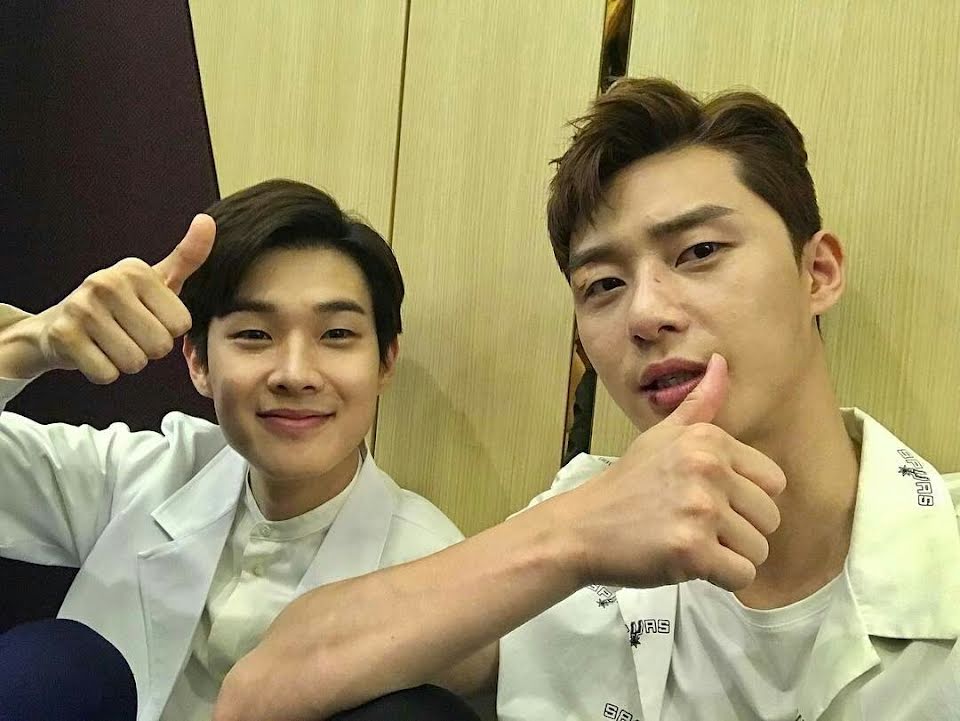 3. Park Shin Hye and FTISLAND's Lee Hong Ki
Shin Hye and Hong Ki have been friends for a long time, having bonded on set when they starred in the 2009 drama You're Beautiful. The two hit it off so well that they became confidantes afterward. When Shin Hye appeared on the variety show Knowing Brothers in 2020, she mentioned that she was fulfilling Hong Ki's promise to have her appear on the show after he lost in a game She was there when Hong Ki enlisted (incidentally, actor Kim Soo Hyun was also there because he and Hong Ki bowl together and is often present at his concerts. When Shin Hye got married to actor Choi Tae Joon earlier this year, Hong Ki sang "I'm Saying" from The Heirs OST as a congratulatory song at their wedding. In an interview featured on Soompi.com, he revealed that his mom is actually friends with both the bride's and groom's moms. Apparently, they became friends when Shin Hye, Tae Joon, and Hong Ki used to be child actors. What are the chances?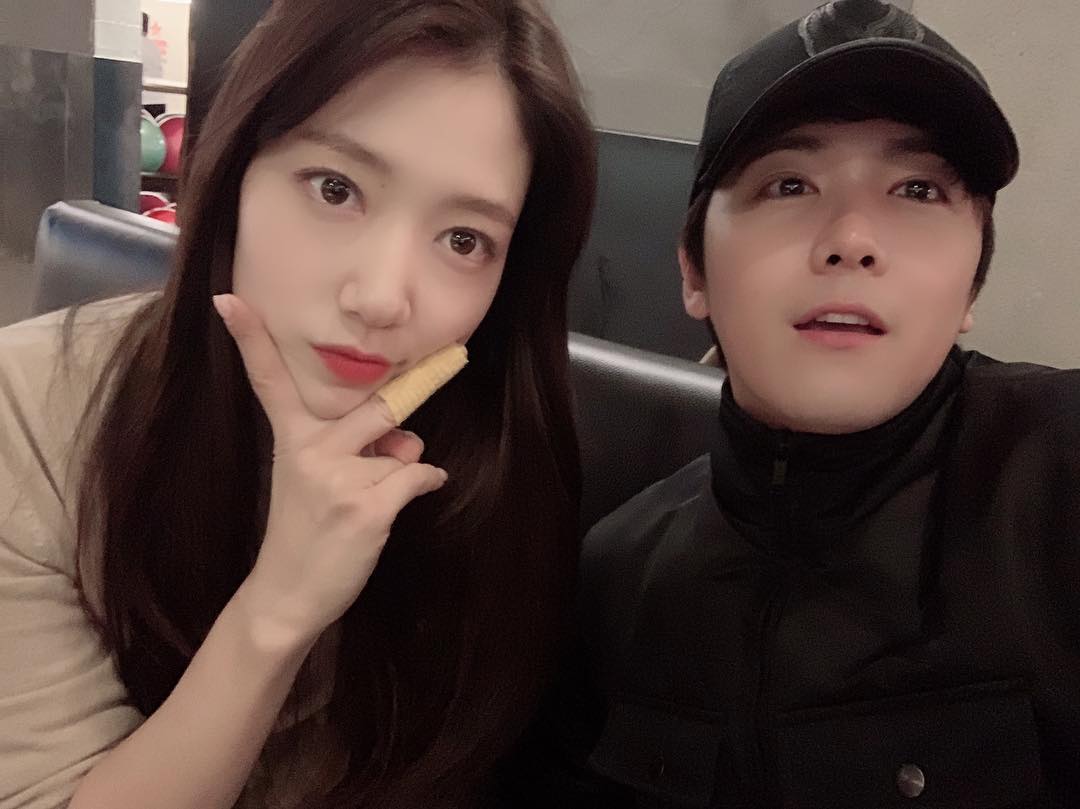 ADVERTISMENT - CONTINUE READING BELOW ↓
4. Song Joong Ki and Yang Kyung Won
You might remember Kyung Won from his role in the recent hit drama Vincenzo, where Joong Ki played the lead role, but that actually wasn't the first time the two of them worked together. They met on the set of the fantasy drama Arthdal Chronicles, which aired in 2019. After Kyung Won's success in Crash Landing On You the following year, he joined History D&C, the same agency Joong Ki belongs to. Their agency sometimes posts updates about their friendship, including vids and photos from one of their biking trips.
[ENG] EP.1 Game King - Song Joong Ki vs Yang Kyung Won
5. Lee Jong Suk and Jung Hae In, and Shin Jae Ha
Jong Suk, Hae In, and Jae Ha all met on the set of the 2017 series While You Were Sleeping. Jae Ha played the younger brother of Jong Suk's character, while Hae In was the second lead. The three have traveled to Japan together. "We seriously talked until dawn. Jae Ha and I drank beer until 3 or 4 in the morning," Hae In is quoted as saying of their trip on Soompi.. "Jong Suk didn't drink, but he still talked with us for a long time." Jae Ha technically met Jong Suk first while filming Pinocchio, but they didn't get to spend a lot of time together. Because of While You Were Sleeping, though, Jae Ha started texting Jong Suk every day. He said he would also often act cute for Jong Suk to help the latter de-stress.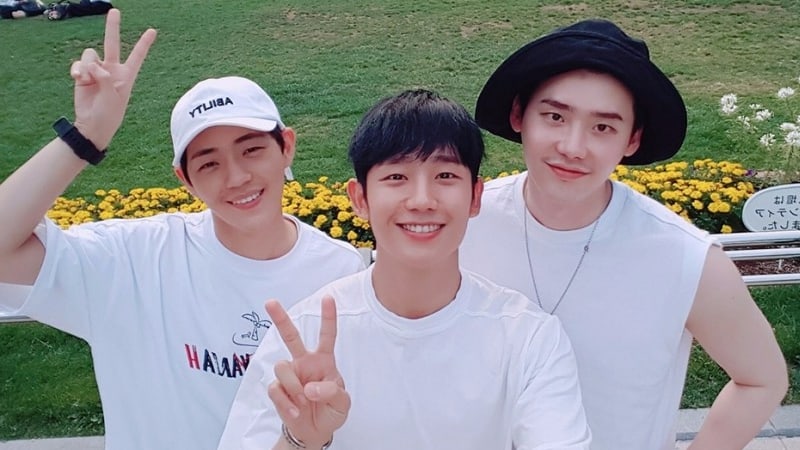 6. Nam Goong Min and 2PM's Lee Junho
Min and Junho starred together in the office drama Good Manager in 2017. While Junho technically played the villain, the two of them had such great chemistry that they won the Best Couple Award at the 31st KBS Drama Awards. Years have passed since then, but up to now, they still maintain their great friendship. In 2021, Min sent Junho a coffee truck while the latter was filming the historical drama The Red Sleeve. Junho also sent him one earlier that year while Min was filming The Veil. Both actors got nominated for the Grand Prize (Daesang) at the 2021 MBC Drama Awards, and they were shot being playful with each other before the ceremony. Min won the Daesang that night, and the two of them embraced before Min got his award.
Since you won the Best Kiss Scene, give a kiss to Namkoong Min~ [2017 KBS Drama Awards/2018.01.07]
7. Lee Min Ho and Woo Do Hwan
Do Hwan played Min Ho's bodyguard in King: The Eternal Monarch, and their bromance was off the charts. Now, the two of them are friends in real life with Do Hwan joining Min Ho's close circle of friends. In an article on Inquirer, Min Ho is said to have allegedly gone on a trip to Jeju Island with Do Hwan, Jung Il Woo, and Kim Bum. You can also see them exchanging jokes on Instagram. When Do Hwan enlisted for the military, Min Ho posted photos of the two of them laughing while he patted Do Hwan's shaved head, showing just how comfortable they are with each other.
ADVERTISMENT - CONTINUE READING BELOW ↓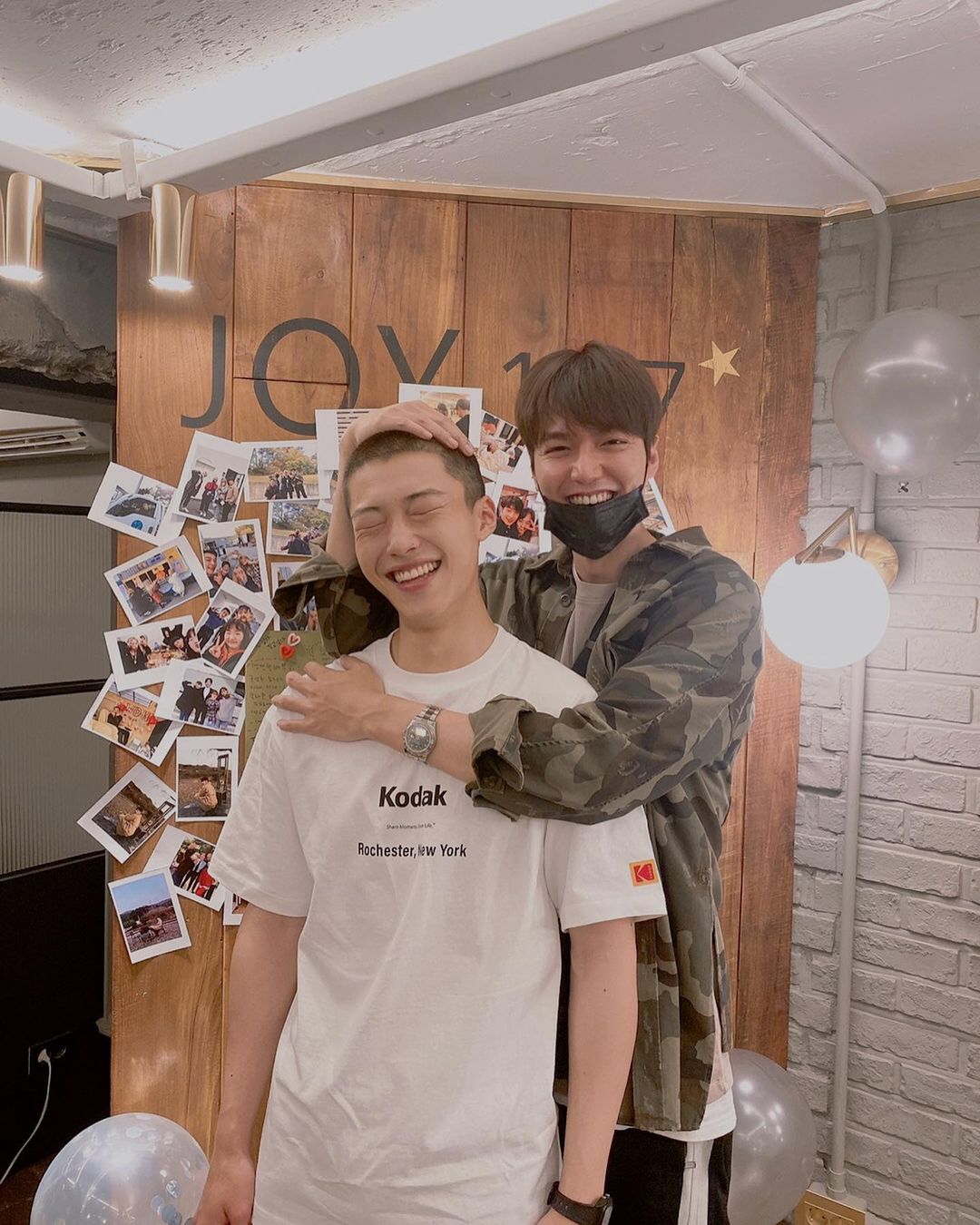 8. Lee Dong Wook and Gong Yoo
Now, just seeing mega stars Dong Wook and Yoo together on the same screen is already a blessing. We're so glad we got to experience this double dose of gorgeousness in the hit drama Goblin (2016-2017). Unlike the other actors on this list, Dong Wook and Yoo actually met before starring in the same drama. They were in the military together, so the foundation for a strong friendship was already there. Nevertheless, Goblin definitely helped develop their relationship and make them closer. When Dong Wook hosted his own talk show, Wook Talk, Yoo, who's known in the industry for only making rare appearances in shows, was his first guest. The two have even traveled together for Dong Wook's birthday.
Gong Yoo and Lee Dong Wook reunites! | Because I Want To Talk EP1 [ENG SUBS]
MORE K-DRAMA ROUNDUPS RIGHT HERE:
6 Must-Watch Dark And *Intense* K-Dramas
7 K-Dramas To Watch If You're Feeling *Lost* In Your 20s