Recently, we found out that The Penthouse star Eugene has packets of sinigang mix in her pantry. She also described what sinigang tastes like and this led us to the idea: Who are the other Korean actors and K-pop idols who have also tried our local dishes? We did our research and we're pretty sure you'll be amused!
Here are some Korean stars who have talked about Filipino food:
1. Sandara Park
Our pambansang krung krung Sandara Park has always been vocal about her love for the Philippines! Aside from ~promoting~ the tourist destinations in the country, Dara would often mention Filipino food on her SNS. During a trip to New York, she found a Jollibee branch and immediately *hoarded* her faves, which she shared on Twitter: Nakapunta ako sa Jollibee sa New York!!! Akala ko sa [Philippines] ako, nag-order ako in Tagalog. 'Di niya ako naintindihan!". LOL! In December last year, Dara was "super happy" when she discovered a Filipino resto in Seoul, where she ordered sisig, kang kong, garlic rice, and...Red Horse (a popular beer brand in the Philippines) like a true-blue Pinoy!
ADVERTISMENT - CONTINUE READING BELOW ↓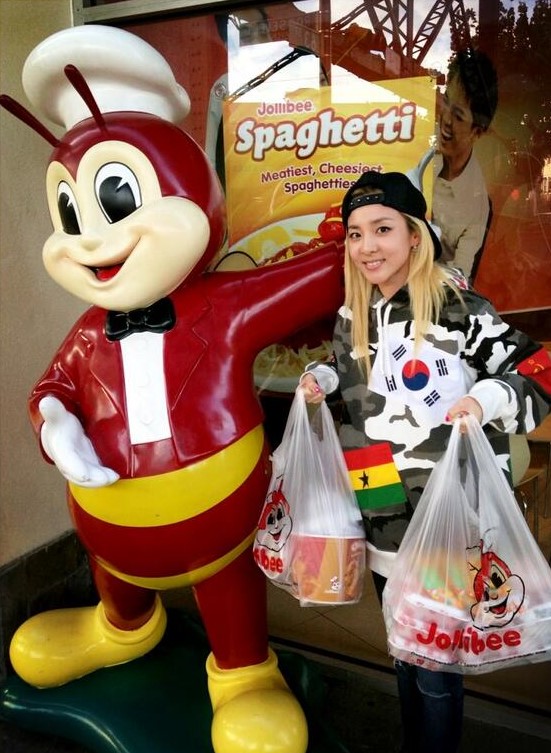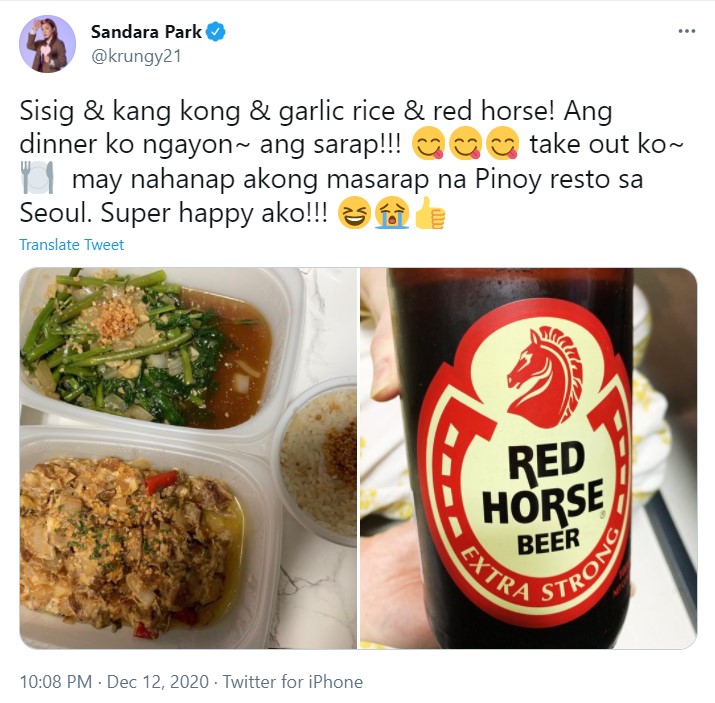 2. WINNER
Everyone was impressed when K-pop boy group WINNER performed Sarah Geronimo's "Tala" FLAWLESSLY during their concert in 2020! They also introduced themselves in Filipino (with member Jinu saying: Pogi ba ako? Maganda kayo!), talked about their trip to El Nido, Palawan, and mentioned Jollibee. Yoon said that it was his fellow member Hoony who brought them to the fast-food chain and he shared how their ~experience~ was like: "Jollibee was good as always." We totally agree, Yoon!
3. Cha Eun Woo
ICYMI, Cha Eun Woo studied in the Philippines when he was in elementary school! So he must have tried a lot of Filipino food, right? When he came back here in 2016 to perform in a concert as a member of his K-pop group, ASTRO, Eun Woo showed his love for Jollibee on their Twitter account. He uploaded his photo holding a cup with the infamous bee on it and captioned it with: "Jollibee from the Philippines." Cute!
ADVERTISMENT - CONTINUE READING BELOW ↓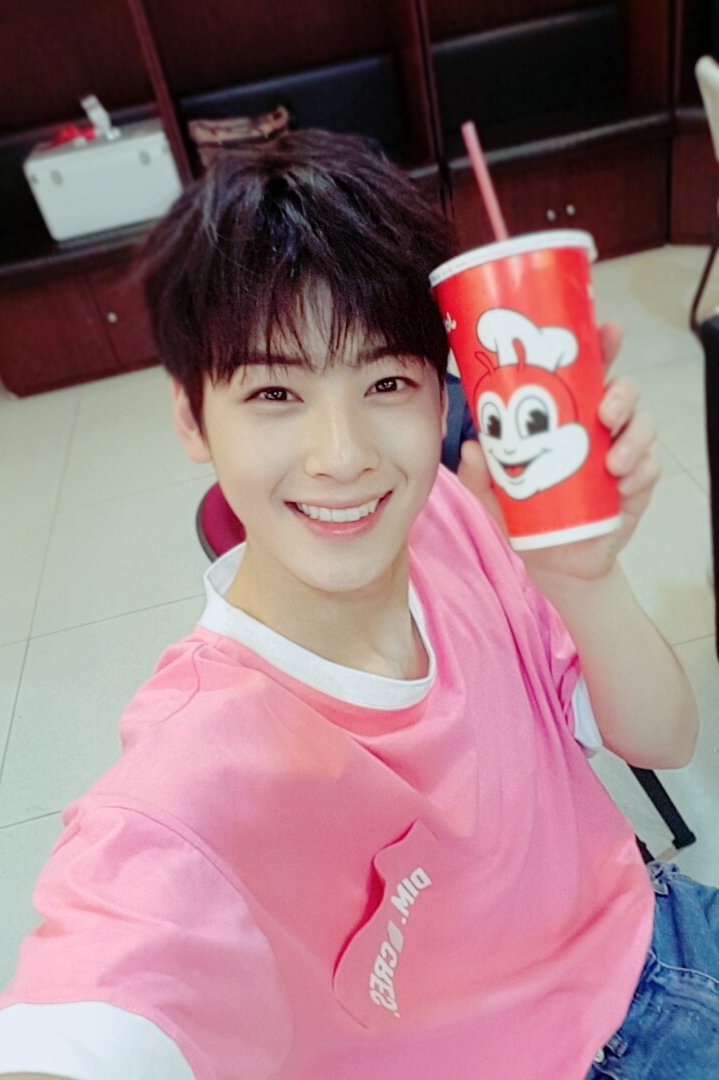 4. EXO
EXO has been to the Philippines so many times and in one of their concerts, The EXO'rDIUM in Manila, the members mentioned during a ment that they have tried Jollibee—and this made the fans scream louder! D.O. also revealed his love for lechon manok, describing it as "really, very delicious." Can't for you guys to taste more Filipino food when you come back here *soon*!
ADVERTISMENT - CONTINUE READING BELOW ↓
5. Lee Seung Gi
Speaking of lechon, Hallyu superstar Lee Seung Gi has also tried this, specifically Rico's Cebu-style lechon in 2019! This was the dish he ate during his first trip to the Philippines for his fan meeting. On the day of his event, Seung Gi surprised PH Airens (his fandom's name) by making gimbap with his bare hands using the ingredients that were given to him, which he gifted to a lucky fan. #SanaAll
6. Kim Seon Ho
We have another fun fact for you: Our good boy Kim Seon Ho has already visited the Philippines, particularly Cebu! He revealed this during his recent online fan meeting, where he also tried some Filipino snacks from his Pinoy fans. From his box of goodies, Seon Ho was eyeing the pack of chicharon. "I think this is like pork skin, right? I will take the challenge. I think it will taste good," he said. After taking a bite, he *confirmed* that it's really pork skin and said that he'll share it with the staff members later, like the good boy that he is. 
ADVERTISMENT - CONTINUE READING BELOW ↓
7. BTS
ARMY went wild when BTS went to the Philippines in 2017 and they lost it when members J-Hope and Suga ate Filipino dishes during a V Live broadcast! Apparently, they asked locals for recommendations and so they ordered shrimp sinigang with lapu lapu, chicken and pork adobo, and garlic rice. The boys' verdict? They can't get over the unique taste of sinigang but they love it (and the adobo and garlic rice as well)!
8. Park Hae Jin
Cheese In The Trap actor Park Hae Jin didn't forget to try Filipino food during his 2019 fan meeting in Manila! He was served lechon manok, sisig, pork adobo—and yes, he enjoyed them all. He explained that the adobo is a bit similar to Korea's daeji galbi and that sisig is best paired with rice. To finish off his meal, Hae Jin took big bites of bibingka and sapin-sapin and said that it was "Masarap!".
ADVERTISMENT - CONTINUE READING BELOW ↓
Follow Hanna on Instagram.