Somewhere between their romantic yacht vacation in Cannes and their romantic beach vacation in Capri, Kourtney Kardashian and her 25-year-old model boyfriend Younes Bendjima went from summer fling to serious relationship. And we are so very here for it.
While Kourtney has been pretttty private about her love life ever since the public (and televised!) spectacle that was her breakup with Scott Disick, she hasn't shied away from delivering hit after hit of FOMO while traveling around the world with Younes. So let's dive right into their young love, shall we?
December 2016
The Daily Mail reports that Kourtney and Younes are dating. Apparently, they were ~seen together~ and lord knows if you're ~seen~ with someone, it means you're definitely hooking up!
May 2017
Kourtney and Younes are spotted partying on various yachts in Cannes. That's right. Various. Yachts. At the time, a source told People that Kourtney was "single and having fun" and only hung out with Younes "when she [had] time." Sure, Kourt. Mmm-hmmm....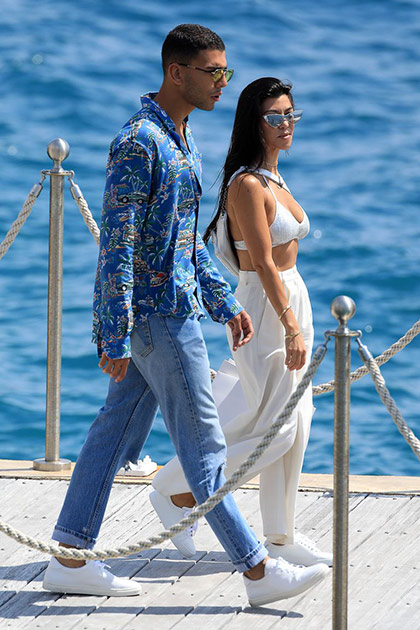 Continue reading below ↓
Recommended Videos
August 2017 
Kourtney and Younes head to Egypt, but she doesn't tag him in any photos from the trip. In fact, it took some intensive Instagram sleuthing for fans (read: me) to discover Younes was even on the trip. Tricky, tricky.
August 2017
Later that same month, Younes is spotted hanging out with Sofia Richie, which is alllll kinds of awkward considering that she's now dating Scott Disick. You know, the father of Kourtney's kids.
October 2017
Kourtney and Younes dress up for Halloween together, which is basically the millennial way of saying "it's getting serious." Like, you don't just do a Bonnie and Clyde costume with some rando you're hooking up with!
October 2017
Kourtney and Younes hit up Paris for fashion week, and are spotted looking adorable at the Haider Ackermann show: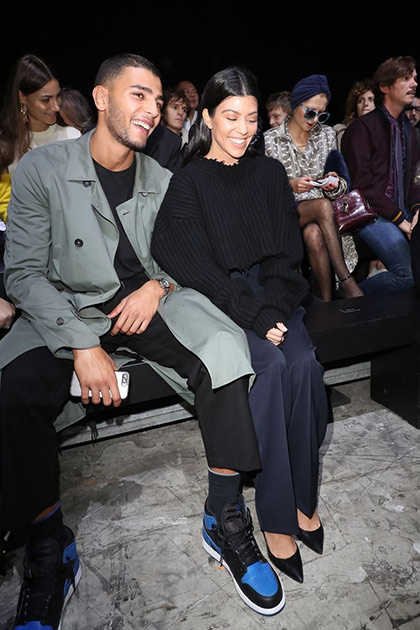 Early March 2018
DRAMA! Kourtney inexplicably unfollows Younes on Instagram and briefly deletes her entire account. Things go back to normal shortly after, but the internet never sleeps so this was kind of a THING:
Mid-March 2018
Younes and Kourtney show up to celebrate Tristan Thompson's birthday, and Younes inexplicably wears his denim jacket like this: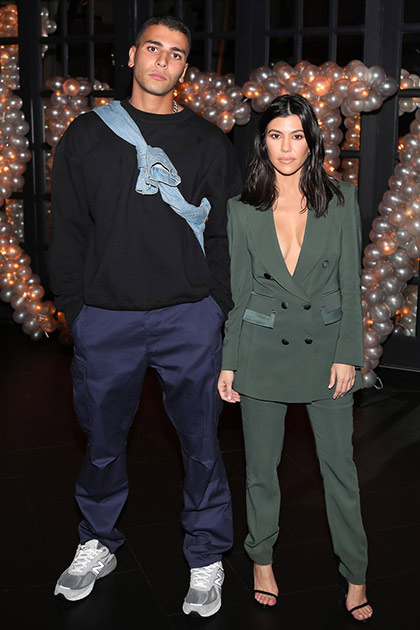 End Of March 2018
Kourtney and Younes casually shoot a Calvin Klein ad in which he grabs her butt.
Honestly, not sure if this is an ad for their relationship or for underwear, but either way I'm down.
April 2018
The Daily Mail tries to imply that Younes cheated on Kourtney and he is NOT HAVING IT. In fact, Younes hit up Insta Stories to clear the air, writing "Daily Mail aka Daily Bullshit. Where are the 6 other mens I was with? What you guys trynna do? Nice cut tho you piece of shit."
Also April 2018
That same month, Kourtney and Younes head to vacation in Turks and Caicos, and according to E! News, they spent five days at Amanyara Resort. But honestly who cares, because all that matters is that this photo was taken:
DOUBLE Also April 2018
Kourtney and Younes head to Coachella for—what else?—Queen Bey.
May 2018
Kourtney takes Younes on a magical birthday vacation to Amangiri luxury resort on the Colorado River.
See? I tried to warn you about FOMO.
July 2018
Because clearly, the Colorado vacation wasn't enough, Kourtney and Younes go on a romantic vacation to Italy, where they spend their time looking attractive and hanging out next to random bodies of water.
They even do the Trevi Fountain coin toss, like true tourists:
And that brings us up to date!
***
This article originally appeared on Cosmopolitan.com. Minor edits have been made by the Cosmo.ph editors.