I just love it when artistas are fans of their fellow stars 'cause it makes them seem so human and relatable! One artista-slash-fangirl I didn't know about is Kris Bernal, who apparently is a huge fan of Alex Gonzaga. On Instagram, Kris shared a picture of her and Alex and revealed her "little trivia": that Alex's vlogs actually motivated her to start her own YouTube channel. Their meeting apparently happened in December 2020 on Alex's noontime show Lunch Out Loud where Kris was a guest. She was anxious and nervous on the day they met because all she wanted was a picture with Alex. But when she finally did get her picture, Kris "couldn't even look straight at her." Aww, bb girl!  
"Here's a little trivia about me," Kris wrote. "Did you know? Ever since I started binge-watching @cathygonzaga vlogs, I became motivated to start my own YT channel. Luckily, I had a chance to meet her in person last December. Well obviously, in this picture, ang tigas ng katawan at ng mukha ko! Lol! I couldn't even look straight at her. I was so anxious for a whole day because I really want to take a picture with her. Alam 'yan ng handler ko, @inaagabe. I was supposed to vlog about it but my nervousness got in the way."
Continue reading below ↓
Recommended Videos
She closed off her caption by congratulating Alex for her November 2020 wedding with Mikee Morada: "Btw, I just finished watching her latest vlog about her wedding day! God's perfect timing is really the best!! Congrats Mrs. Morada! Hope you'll continue to vlog and spread good vibes to other people even if you'll start a new journey!"
What's even sweeter, though, is that Alex commented on the photo and said "next time we see each other mas mahaba na sana chikahan natin" and congratulated Kris on her own engagement. To which Kris, ever the fangirl, replied: "Omg!!!!!!!! Thanks for noticing me!!"
Alex comment's on Kris Bernal's Instagram post: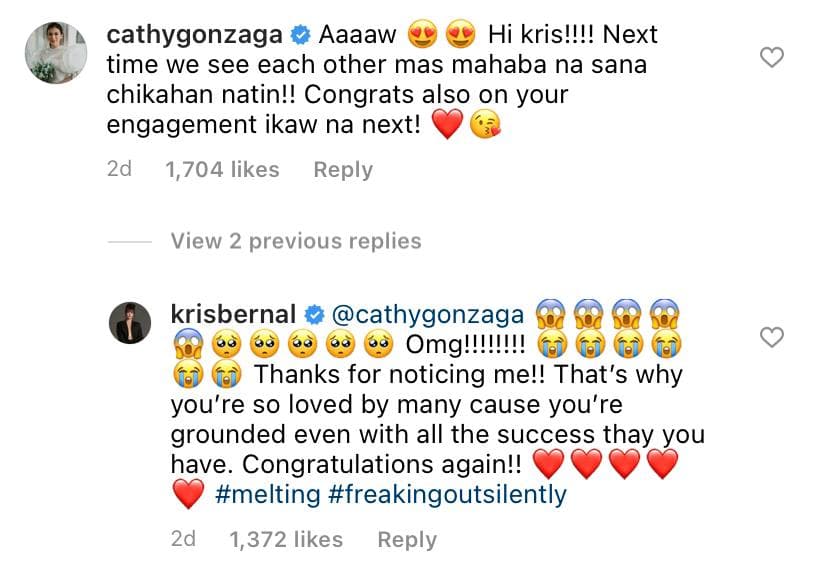 Kris started her YouTube Channel, Kris Bernal, in 2019 and is making her mark as a fitness content creator! Check out her latest workout video below:
What does your zodiac sign say about you? Subscribe to Cosmopolitan Philippines and find out!
Follow Jacinda on Instagram.