Kylie Jenner tweeted that she has "had enough of 2020."
The tweet followed Kylie's message about rapper Pop Smoke's death on February 19.
Twitter is now dragging her because she's rich.
The Kardashians and Jenners are a controversial family that's always in the public eye, so there's hardly a day that goes by when they don't get dragged for hawking "detox teas," their Photoshop fails, or their frequent cultural appropriation offenses. As fair as many of those critiques are, Kylie Jenner just tweeted that she has "had enough of 2020" and her followers are being particularly ruthless.
The thing is, a few seconds before Kylie tweeted about how much she hates 2020 (which I think we all can agree is a fair sentiment), she tweeted, "Rest in peace Pop Smoke." (The 20-year-old rapper was killed in a Hollywood Hills home on Wednesday morning.) Unfortunately, Kylie didn't thread the tweets, so they seem to stand on their own and have confused her followers, making them think she is just crying herself a billion-dollar river.
When people saw her 2020 tweet, many flooded her account with roasts like, "So buy another year, what's the problem," "Yeah? Being a billionaire has been rough for the past few weeks? Having enough money to solve any problem and have no worries is tough this year?," "You're right, let's trade bank accounts," and pictures of guillotines.
Continue reading below ↓
Recommended Videos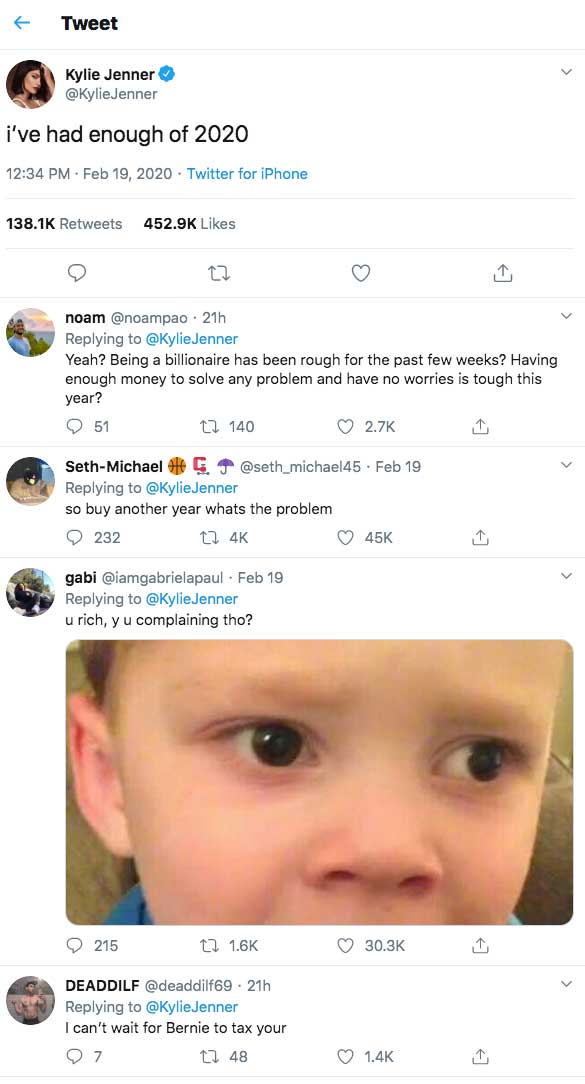 But others, who have since been labeled as "billionaire defenders," stuck up for her and said that "just because Kylie has money doesn't mean she can't have a bad day, month, or year. She is human just like all of us."
Hopefully, Kylie isn't looking through all these replies right now because, whew, they're vicious.
***
This article originally appeared on Cosmopolitan.com. Minor edits have been made by the Cosmo.ph editors.