Well, Kylie Jenner may be looking for a new assistant now, but that doesn't mean she's done with her former one, Victoria Villarroel. Earlier this week, it became apparent that Victoria is done organizing Kylie's billionaire life and is ready to do her own thing, which Us Weekly claimed involves influencing the masses on Instagram. Spon con waits for no one—not even Kylie Jenner! And after a couple of days of fans wondering what went wrong between the two, Victoria took to her Instagram Stories to reveal the real reason she decided to leave.
Victoria started working for Kylie five years ago as an intern when she attended the Fashion Institute of Design & Merchandising (FIDM). And now that she's learned from the Jenners, she's ready to step out on her own, which she decided to do a full year ago.
She wrote:
"You guys! lol don't believe everything you read please! this story is false. I worked with Kylie for 5 years and she became one of my closest friends. We both decided it was time to grow without each other professionally about a year ago! she's still one of my best friends and our relationship has only gotten stronger. now let's focus our time and energy on other things! a lot of happening in the world right now."
Continue reading below ↓
Recommended Videos
This exit may be news to a bunch of people, but Victoria previously told the Girl Cult podcast that she quit way back in April 2019. She and Kylie have definitely hung out since then, so there is absolutely zero bad blood. To prove it, Kylie also took to Instagram to repost Victoria's Story and add, "I love u bitch."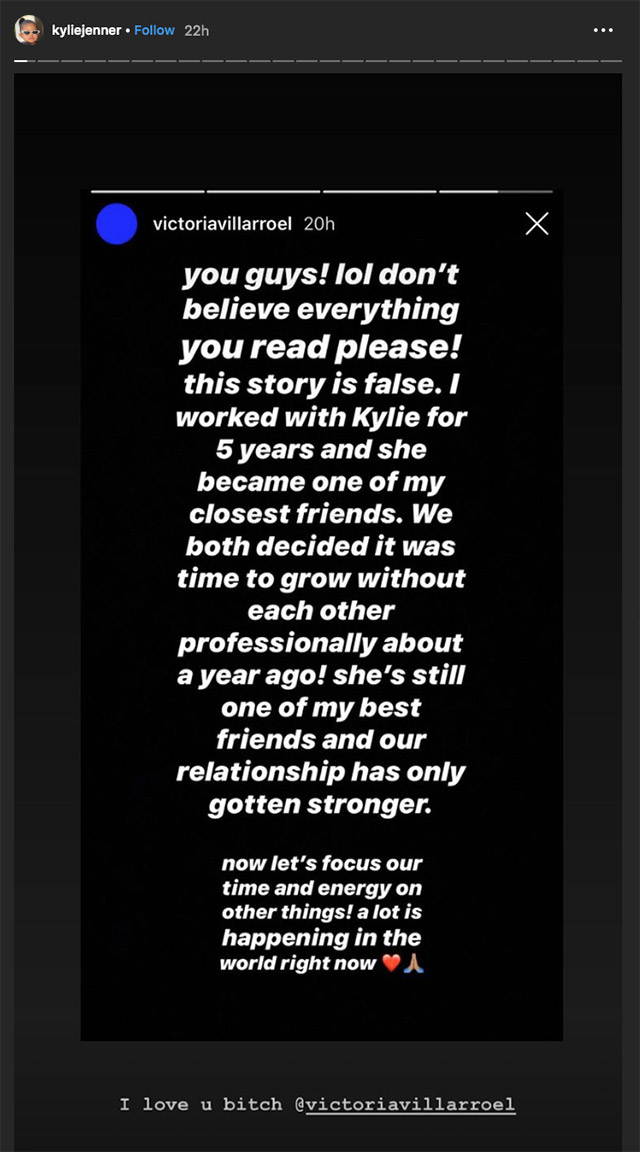 ***
This article originally appeared on Cosmopolitan.com. Minor edits have been made by the Cosmo.ph editors.