Kylie Jenner's still "alleged" pregnancy has been one of the worst-kept secrets of 2017 (and now early 2018 too). But she still deserves major kudos for how she's committed to not confirming the big important baby news at every possible opportunity.
The 20-year-old is part of one of the most famous, and most followed, families in America, yet the Keeping Up With the Kardashians star has not been spotted with a full-on view of her pregnant belly (aside from that one grainy paparazzi photo shot on January 25, 2018). 
So from oversized t-shirts to carefully-staged camera angles, here are all the ways in which she has managed to keep her baby bump under wraps.
She wore a giant t-shirt to the iHeart Radio Music Festival: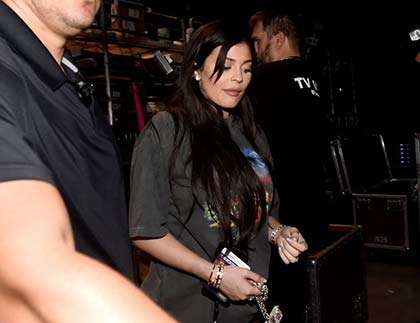 Continue reading below ↓
Recommended Videos
One day after news broke that Kylie was reportedly pregnant, she was photographed at the iHeart Radio Music Festival wearing an oversized black T-shirt. The wardrobe selection was an interesting choice because, even considering the Kardashian-Jenner fam's forays into athleisure of late, Kylie usually wears tighter, glam clothing at public appearances.
And she quickly mastered the art of optical illusions:
During a spa day with her girlfriends, Kylie posed at the edge of a photo where a mirror frame conveniently curved right by her stomach. At this point, she would not have been too far along in her pregnancy, so a bump would not have been too hard to hide.
She continued her sweats and t-shirt trend:
While her best friend Jordyn Woods opted for a sexy, cleavage-baring top, Kylie stuck to her laid-back aesthetic on a trip to a safari. Typically this outfit choice would not be out of the norm for any other 20-year-old, but this is Kylie Jenner we're talking about.
She posed in a big button-down shirt:
"Sasha's shirt," Kylie wrote, referencing her photographer and friend Sasha Samsonova in an Insta shared in October. The duo have frequently paired up for photo shoots, but they are typically a lot more risqué than the shot above.
She wore a parka in warm weather:
Last time we checked, it's nowhere near freezing temperatures in Los Angeles in mid-October. So what gives?!
She appeared in a video with Khloé Kardashian (but only from the chest up):
Babies or not, the Kardashian-Jenner businesses must keep booming. Kylie and her also-pregnant sister Khloé teamed up for a video to promote their Kylie Cosmetics collaboration but strategically did not show either of their stomachs. Khloé, as we now know, is also expecting her first child.
She posed in an oversized jean jacket:
Kylie continued the trend of wearing baggy clothing by posting this photo of herself in an oversized blue-jean jacket on November 22, 2017.
And attended the Kardashians' holiday dinner in another big shirt:
While the Kardashians were in their usual over-the-top holiday ensembles, Kylie wore minimal makeup and (yet another) oversized shirt to the family holiday dinner that aired during an episode of Keeping Up With the Kardashians. She also stayed relatively low-key at her mother's annual Christmas party.
She was completely MIA from the Kardashian-Jenner Christmas card:
A baby bump is hard to hide in a plain white t-shirt and a pair of jeans, so Kylie opted out of appearing in her family's annual Christmas photo altogether in 2017. Unless she was behind the Christmas tree all along, who knows?!?!?
Instead, she hosted an ugly sweater party on her YouTube channel:
Never Have I Ever with Kylie, Jordyn and Victoria
Kylie and her friends played a game of "Never Have I Ever" on November 29, 2017 while drinking tea on her Kylie Cosmetics channel. And come on, you mean no one thought to ask "Never have I ever been pregnant!?" Jeez.
Here's why this is a genius move: Ugly sweaters are also loose knit, which conveniently hide the baby bump of any given mega-celeb looking to keep her pregnancy a secret.
She used a blanket to hide her belly in her family's Calvin Klein campaign:
Kylie's midriff is the only one not showing in the sisters' Calvin Klein ad campaign (thanks to blankets, more baggy denim, and at one point, Khloé). A video the sisters shared on their social media pages also show strategic camera angles were used to hide Kylie's bottom half.
OUR FAMILY. #MYCALVINS: Kardashian / Jenner
Meanwhile, she sprinkled in a few sexy throwback pics across her social feeds to throw us all off:
What does every girl who's put on a few pounds (whether it be from pregnancy or chocolate cake) do? Recycle old photos on the 'Gram, of course. In the past few months, Kylie has shared a few revealing photos, but it's evident that none of these were taken recently.
She posed for a LOVE magazine photoshoot in a turtleneck:
Among other fashion content, LOVE magazine is known for its sexy Advent calendar and barely-there photoshoots. However, Kylie's new cover for the mag is a lot more demure, with her shot close-up, softly-filtered, and styled in a chunky red turtleneck sweater and matching lip.
And then she also posed with a baby lamb:
In a second photo released by LOVE, Kylie posed with a baby lamb over her belly. The lamb is adorable, but not quite the baby we were hoping to see Kylie holding in her arms in a new pic.
At this rate, it looks like we will only see Kylie pregnant if and when she decides to reveal these highly sought-after photos. Or, as the tabloid rumor mill has often suggested, we'll never see her pregnant at all and then, just like that, there'll be a baby! Surprise!
***
This article originally appeared on Cosmopolitan.com. Minor edits have been made by the Cosmo.ph editors.