On September 2017, multiple outlets reported that Kylie Jenner and rapper Travis Scott were expecting their first child together. According to People, the 20-year-old makeup maven, who is pregnant with a baby girl, is due in February. Here's how we got here.
April 16, 2017
Kylie and Travis spark romance rumors after being spotted together at a Coachella party. One source tells People that the two have been friends "for a while," noting that things are not serious and that Kylie has been trying to make ex-boyfriend Tyga jealous "by hanging out with other guys."
April 25, 2017
Kylie and Travis are spotted together again, this time sitting courtside at an NBA playoff game in Houston. The pair "definitely looked like a couple cuddled up next to each other among her friends" and were "super hand-holdy," according to one witness.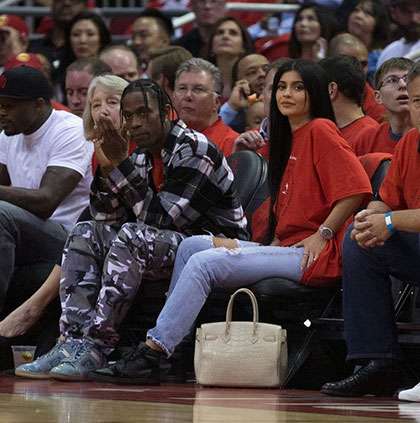 Continue reading below ↓
Recommended Videos
April 30, 2017
E! News reports that Kylie and Travis spent the weekend together in Boston, where he was scheduled to perform two shows. According to one source, "They looked really into each other" and were spotted dancing together and making out. Hours following E!'s report, Kylie is spotted at Cipriani in New York City for Travis' 25th birthday party. Other guests include Kylie's sister Kendall, Bella Hadid, and Bella's brother, Anwar. Best weekend ever!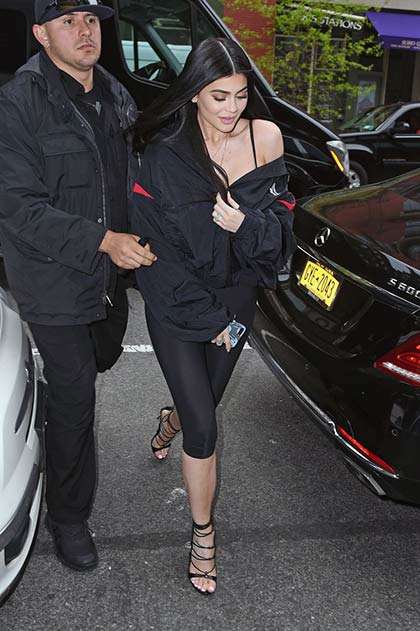 May 4, 2017
A blonde Kylie sort of makes things Instagram official with her rumored new BF in this group photo taken during the 2017 Met Gala. Travis is the one hiding behind his own hands.
May 8, 2017
Kylie and Travis jet off to Miami together ahead of the rapper's appearance at the Rolling Loud Festival. As seen in photos obtained by E! News, Travis wrapped his arms around Kylie's shoulders while holding hands and stepping out in matching graphic T-shirts.
June 1, 2017
Kylie engages in a long embrace with Travis outside his house. According to E!, the "maybe couple" were saying goodbye as Travis prepared to leave for his trip.
June 13, 2017
As seen on Snapchat, Kylie and Travis get matching butterfly tattoos, with hers on her right ankle and his on his left ankle.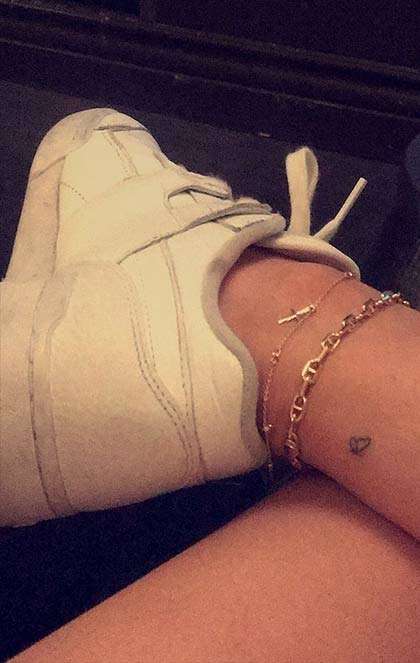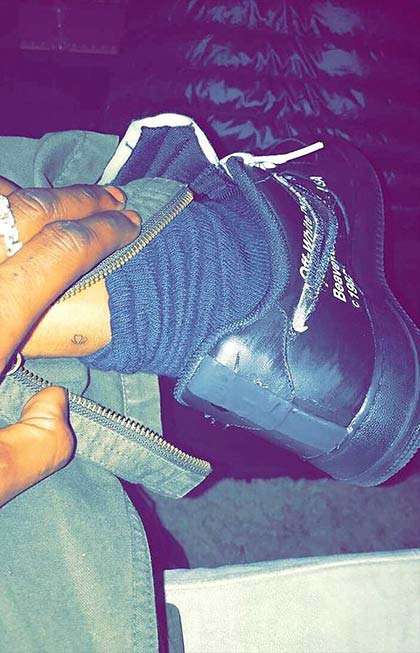 July 8, 2017
Kylie joins Kendall, Bella, and their friends to watch Travis perform at the Wireless Festival in London, England.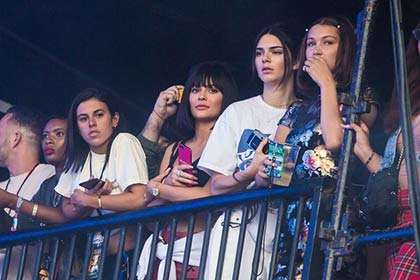 August 6, 2017
Amid rumors of a breakup, Kylie is spotted leaving the Staples Center after watching her boyfriend open for Kendrick Lamar, according to photos obtained by TMZ.
August 10, 2017
Following another show with Kendrick Lamar, Travis pulls out all the stops to throw a surprise party for Kylie for her 20th birthday. There was a chocolate fountain, balloons, and an ice sculpture of Kylie's butt. No really.
According to E!, Travis also gave Kylie a diamond necklace and a full-string orchestra earlier that day.
September 22, 2017
Multiple outlets report that Kylie and Travis are expecting their first child together. TMZ says Kylie began to tell friends in early September while Page Six reports that the couple is expecting a girl. According to People, Kylie is due in February. "The family has known for quite some time. She is REALLY excited and so is Travis!" quipped a source.
Meanwhile, Kylie, who has yet to confirm the pregnancy, shares this photo of herself wearing an oversized shirt with her friends on Snapchat. If you squint, you might be able to make out a shape of some sort. Maybe.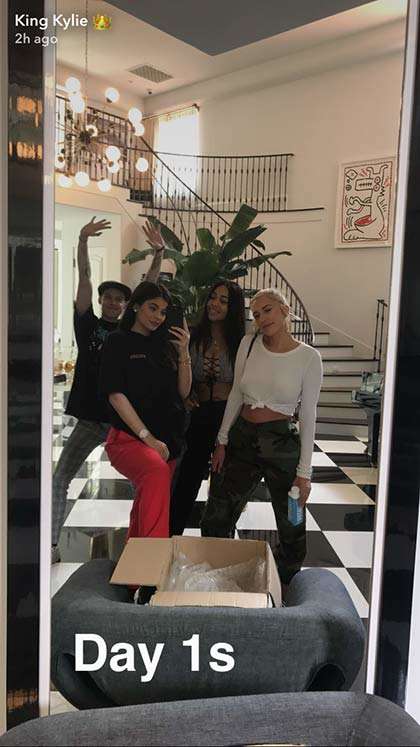 Also of note: One day before news of her pregnancy broke, Kylie reposted this fan art of her posing with a younger version of herself.
February 1, 2018
Kylie and Travis welcome their daughter into the world, though they won't go public with the news for another three days.
February 4, 2018
Kylie announces the birth of their child via Instagram:
Travis responds on Twitter:
Follow Peggy on Twitter.
***
This article originally appeared on Cosmopolitan.com. Minor edits have been made by the Cosmo.ph editors.