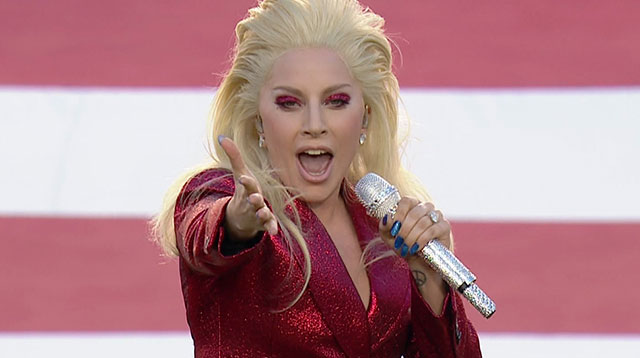 Super Bowl 50/CBS
Lady Gaga emerged as the front-runner to headline next year's Super Bowl half-time show in a new online poll.
Less than a day after wowing sports fans at Levi's Stadium in Santa Clara, California with her theatrical rendition of the U.S. National Anthem, the "Poker Face" singer is leading the charge to front the big game's half-time performance in 2017.
ADVERTISMENT - CONTINUE READING BELOW ↓
She was photographed cheering on Sunday's headliners Coldplay and their special guests Beyonce and Bruno Mars, and now it seems she's the fans' favorite to take the stage next year.
She is followed by Taylor Swift, who was also a big fan of this year's half-time show, in a new Billboard poll.
After watching this year's colorful half-time show, the "Bad Blood" singer tweeted: "COLDPLAY, MARK RONSON, BRUNO MARS, BEYONCE, DANCE BATTLE, FIX YOU MONTAGE, JOYOUS FINALE, OH MY GOD IT WAS SO GOOD I FEEL LIKE I DREAMED IT."
Taylor has almost 12 per cent of the vote—a distant second to Gaga, who tops the wish list with over 33 per cent.
Rihanna also scores double figures in the online poll, while Justin Bieber and Nicki Minaj round out the top five.
Walk The Moon, Adele, Kanye West, Taylor's DJ boyfriend Calvin Harris, Alabama Shakes, Shakira, and One Direction also make the list, as does Janet Jackson, who sparked the new era of 'safe' Super Bowl performers after famously flashing her nipple during the 2004 half-time show.
ADVERTISMENT - CONTINUE READING BELOW ↓
Recommended Videos
EXPLORE COSMO