*This set visit and interview was conducted in September 2019, prior to the COVID-19 pandemic.
The Netflix adaptation of Jenny Han's widely popular YA novel To All The Boys I've Loved Before introduced viewers worldwide to Lara Jean, the first young Asian-American rom-com female lead. It was a game-changer in Hollywood, where Asian-American and/or Asian characters have been mostly relegated to—at best—the role of best friend or sidekick.
And it's a pretty big deal if you're Asian to finally see a Hollywood movie with a romantic lead who looks like you or someone you know. Having Yakult-chugging Lara Jean join the likes of Cher from Clueless, Mia from The Princess Diaries, and Olive from Easy A shows everyone else that yes, we can be the stars of our own stories, too.
Thanks to the success of the first movie, we got to see the sequels P.S. I Still Love You and Always And Forever as live-action movies, too (~Yay for us!~).
We went to Seoul in late 2019, where a few scenes for the last TATB movie were being filmed, to talk to Lana Condor, the ebullient young actress playing Lara Jean Song-Covey.
Lana was warm and game, measured and deliberate while answering questions from the Asian press about the sequels, John Ambrose, her white-hot chemistry with Noah Centineo, filming in Korea, and yes, Asian representation in Hollywood. 
Continue reading below ↓
Recommended Videos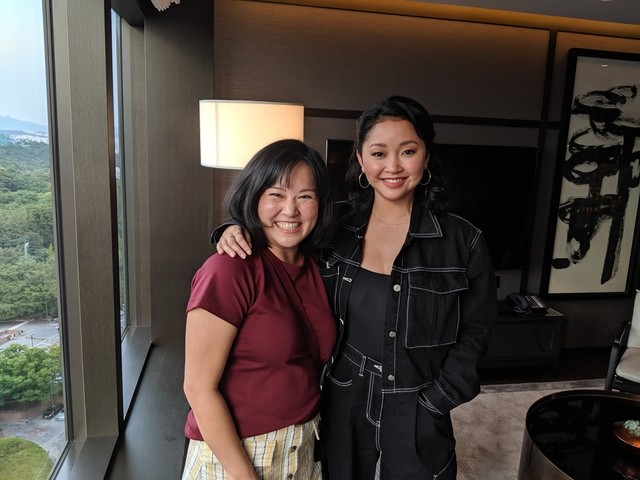 With only thirty minutes on the clock and more than a handful of press people at the roundtable interview, there was no time to waste. We whipped out our cellphones and placed them on the table in front of her, something that didn't escape her notice.
"I remember my first press round table and I was so scared. It was for X-Men Apocalypse (where she played Jubilee), and I had no idea what to expect. All of a sudden I see a million phones!" says Lana.
How has your character changed from the first movie to now?
"The biggest change that you'll see is that she is much more supported than she is in the first [movie]. In the first [one] she's trying to figure herself out, and she's living in her mind. She has these fantasies and all these crazy expectations and emotions, but she does a lot of that on her own. By the third movie, you will see her completely supported. You will see her with an incredible [group of friends]."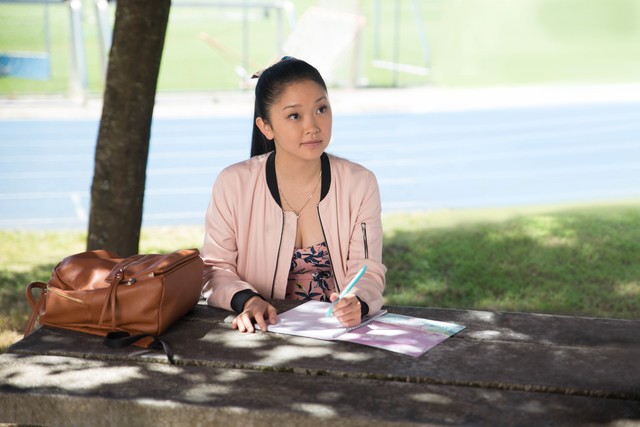 "That has actually been the most exciting part of this whole franchise for me, that Lara Jean took Margot's advice from the first movie and she did branch out, and now she knows what it's like to be part of a community." 
"She realizes she doesn't have to do everything on her own, and that she has other people to support her. She's always had Christine and Lucas but now she has an even broader [set] of friends, which is awesome because we all love friends, you guys. We do!" 
What lessons has Lara Jean taught you?
"The biggest lesson she has taught me is to expect the fantasy love that you dreamed of when you were four years old. When we were young we were all like, 'Oh yeah, I'm gonna fall in love and I'm gonna marry this person and this and this and this and this and this…' and then you grow up and [you think] that's not a real thing. But Lara Jean has taught me that pure love is very real and you can find that in the right person."
"She taught me to be unapologetic for who you are, and to set your standards and your bar for love very high because at the end of the day, who you choose to give love and receive love from, that needs to be top-notch. She's taught me to be confident in unrealistic expectations and that maybe those unrealistic expectations could come true." 
"She's also taught me how to bake! I know how to cook, don't know how to bake. And she's taught me to wear whatever fashion you want. Like, screw it! If that makes you happy, wear it."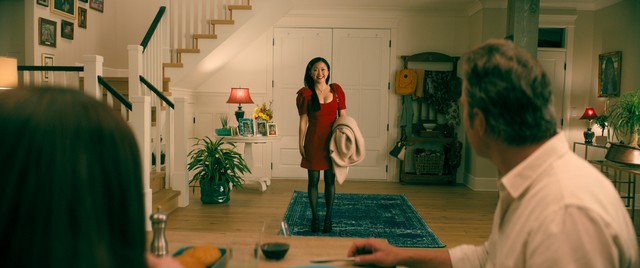 What makes To All the Boys different from other rom-com movies?
"I think To All The Boys is different from your typical romantic comedy movie because we have the first-ever Asian female lead ever in a rom-com. And we should be proud. Number two, I think we shatter stereotypes where Asians only fall in love if they're, maybe, lucky. We're just like everyone else. Yes, we have an incredible culture but at the end of the day I don't see why we can't fall in love with whomever we want." 
What can fans expect in the second and third movies?
"The sequel is very much Lara Jean finding herself, very much Lara Jean in her head. If the first was about the love letters and the boys, the sequel is about who Lara Jean is as a human being: What is her mind like? What makes her tick? Why do we love her? The sequel will show you her mind, her heart, and who she will probably be for the rest of her life. The third movie is about the community that she builds. She's not alone anymore." 
What's the difference between filming the first one and filming the sequels?
"When we did the first movie, our film didn't have a home. We didn't know if it would have a theatrical release. We didn't know anything. And then the sequel came around and we had the beautiful home of Netflix, and everything changed. It's a dream come true." 
"I loved shooting the first but [for the sequels] Netflix was behind us, so we actually had a little bit of money to spend. Netflix supported us and wanted to just do an amazing job, and always championed the story of Lara Jean. It has always wanted her to be a fully flushed three-dimensional character."
"The budget was different but the heart stayed the same. [It's amazing because] we are working with a lot of the same people who worked on the first movie, which I believe maintains the integrity and the tone of the first. We all are so invested in the character."
Can you tell us about the contract you and Noah had when you filmed the first movie?
"I know that everyone saw [my interview] on The Tonight Show. [The contract is] not on paper—not signed, sealed, delivered. Noah and I have always had a proper understanding of our relationship. We work so well together on set. The chemistry I feel with Noah is unlike anything I've ever felt before. He is an incredible actor and he's very, very giving." 
"[We] have really loved each other and we are so fortunate to have each other to work with in this setting. I told him [when] he wrapped a couple of weeks ago—and I wrote him a freaking love letter, because I felt that it was appropriate—that I could not imagine being on this crazy journey with anyone but him, and I stand by that."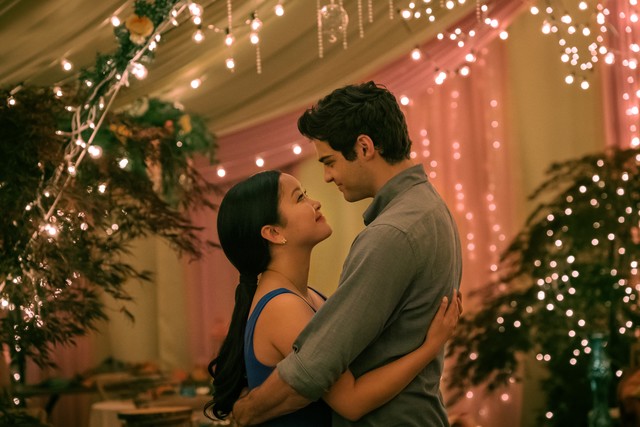 "I think the world of him, and maybe we didn't have a full-on contract like Lara Jean and Peter, but we've always known where our relationship stands and it's professional. Now I can say that he's a really, really good friend of mine and I do love him a lot." 
"I don't know what life would have been like if it wasn't Noah Centineo playing Peter. I can't really see that, so I feel really fortunate to be able to work with him. He's an incredible actor and an incredible person."
"You guys, he wrapped [filming], and I still had to work for three [more] weeks. I was bawling my eyes out, 'No! Noah's gone!'"
Peter or Josh? Whose team are you on?
"Nooooo! This question ruins me! This question keeps me up at night. For real, I literally have nightmares. I'll always pick Peter over Josh. Always. At the end of the day I believe in the sister code; not ever, ever would Lara Jean—ever—no matter how much she loves Josh Sanderson, go for someone that her sister loved."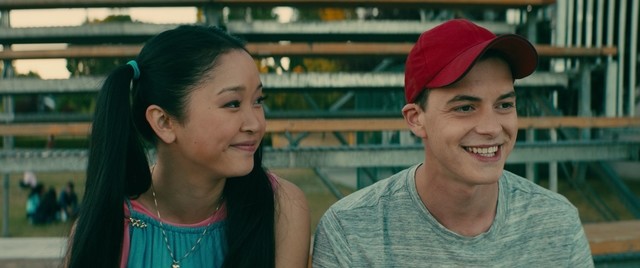 "Now you want to cut to [movie] two and bring in John Ambrose, who is so amazing. You guys are not even ready. I keep putting on my social media, 'Y'all ain't ready for [what] Jordan Fisher-slash-John Ambrose is going to bring to the table,' but let me tell you, he puts up a good fight."
"I do believe that Lara Jean will, forever and always, love Peter. I do believe that. I think that Peter helps her grow and challenges her. As Lana Condor, in my relationships, I always want people to help me grow and make me better. I foresee a very long press tour of people asking me, 'Who do you like better, Peter or John Ambrose?' and me being, 'Nooooo!'"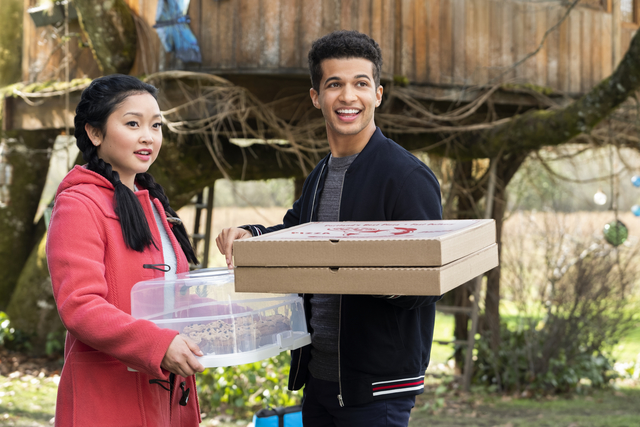 Speaking of Peter and John Ambrose, how would you convince Peter fans to give John Ambrose a chance, and, on the flip side, what would you tell fans who think Lara Jean should end up with John instead of Peter?
"Here's the thing, John Ambrose and Lara Jean have a relationship based on friendship. They have been friends since childhood, and that is very special; that means that John Ambrose knew Lara Jean in a very friendly, intimate way for a lot longer than Lara Jean has been with Peter."
"I can tell you right now, y'all, when everyone watches the sequel, everyone will be shook. No one will know. There will be a war on whom Lara Jean should be with—Peter Kavinski or John Ambrose."
"John Ambrose is the carbon copy, male version of Lara Jean, and she really loves that because she's understood. She never has to explain herself with John. It's always comfortable. But with Peter, it's not always comfortable and there's a lot of unanswered questions. Peter challenges her a lot."
"So it becomes a question of does Lara Jean need to be with someone she feels comfortable and safe with or does she need to be with someone who challenges her—and maybe makes her life chaos—but at the end of the day loves her through and through?"
"You guys, I have nightmares! You don't understand. Even I have a problem picking between the two of them. Yes, very blessed situation. 'Oh I have to pick between two guys. Whatever.' They both really come in hard so you'll have to see for yourself."
What was the best part about filming in Seoul?
"I can't believe it! It's so crazy. Food because, number one, I'm a very food-driven human. The next thing that excites me is that in the first movie, we only really shot in a couple of locations. For the third movie, we've done New York, Vancouver, Seoul. That's crazy to me."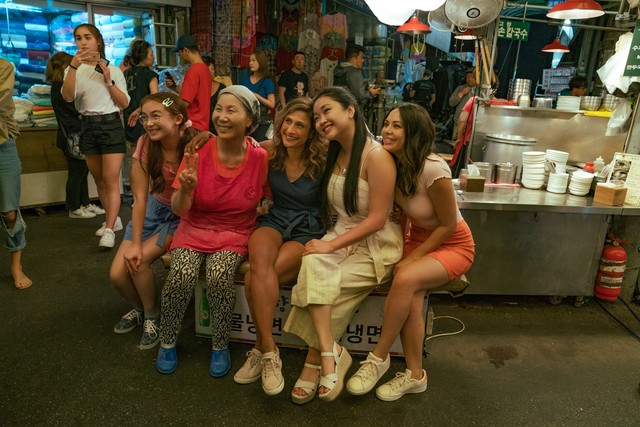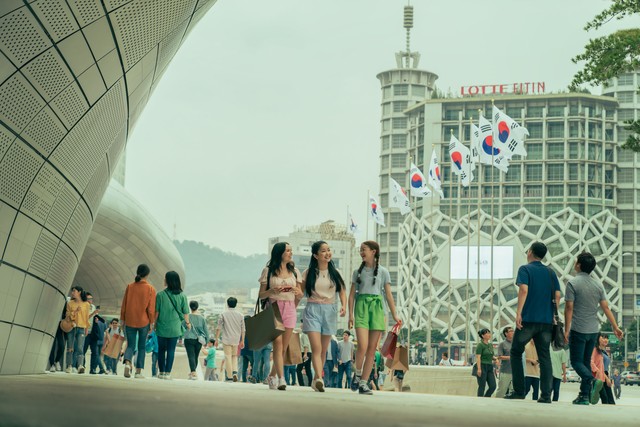 "I'm excited most about meeting the girls on the street. We've had three days of being able to just do our own thing. I've done so much shopping, so much beauty care. And every time I go out, I meet the most incredible young women who come up and just freak out. They faint and freak out, and are sweating." 
"The reason I'm doing this job is because I want to show Asians as three-dimensional human beings that have a voice. We're not a stereotype. I want to show Hollywood that we're so smart, proud, confident, and brave. We [are] so much than a computer nerd (and yes, by the way, I am a computer nerd!)."
"I ran into a girl in the subway—because I was going to a baseball game to eat fried chicken, not to watch baseball. Just so everyone knows. I don't know [anything] about baseball, but I wanted a fried chicken—and [she] came up to me and I go, 'Hey, you kinda look like you're dressed as Lara Jean,' and she was, like, 'But I am! I want to dress like her.'"
"Being here, seeing these girls, and getting to hug them, love them, and tell them how important and beautiful they are has been the greatest gift of my whole entire career. So I am so excited. Tomorrow is our first day of production and I am ready to go." 
Is Lara Jean a K-Pop stan?
"I do believe Lara Jean would be a K-Pop stan. I think she would absolutely love K-pop, and this might be controversial but I love this song so much and I think Lara Jean would love it, too: [Plays Black Pink's "Stay" on her phone] BLACKPINK! Is this not Lara Jean? If Lara Jean were to listen to one song…that's it. That's Lara."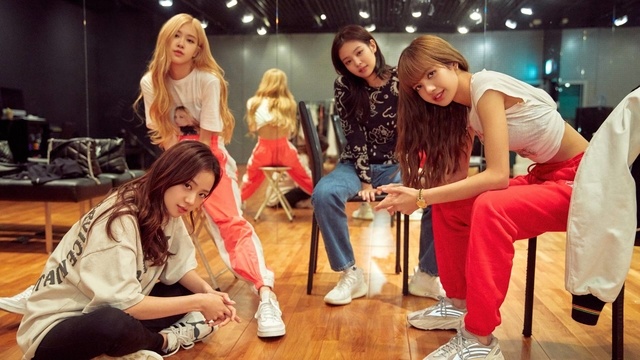 Have you tried the Korean yogurt drink (Yakult) in Korea?
"Haven't tried it out. I have been given many gifts but not the yogurt drink, so I have to go out and find it. But I also work constantly and have no time off, which I'm sure you can all relate to."
What's the one thing you'd want Hollywood and the media to know about the Asian community in the context of representation?
"I would love more than anything for the media to know that we are not just [how we were represented] in the past: We're not just what you see in scripts that say we are only the computer scientist, the funny side character, the smart violinist, and that's all [we] have to offer."
"I would love for them to see that we have a voice and we are individuals. I think there is a major misconception that we are all the same, and that's not true. When did, all of a sudden, you loop in [Asian] culture as 'You guys are the same…you love the same things, you look the same?' Not true."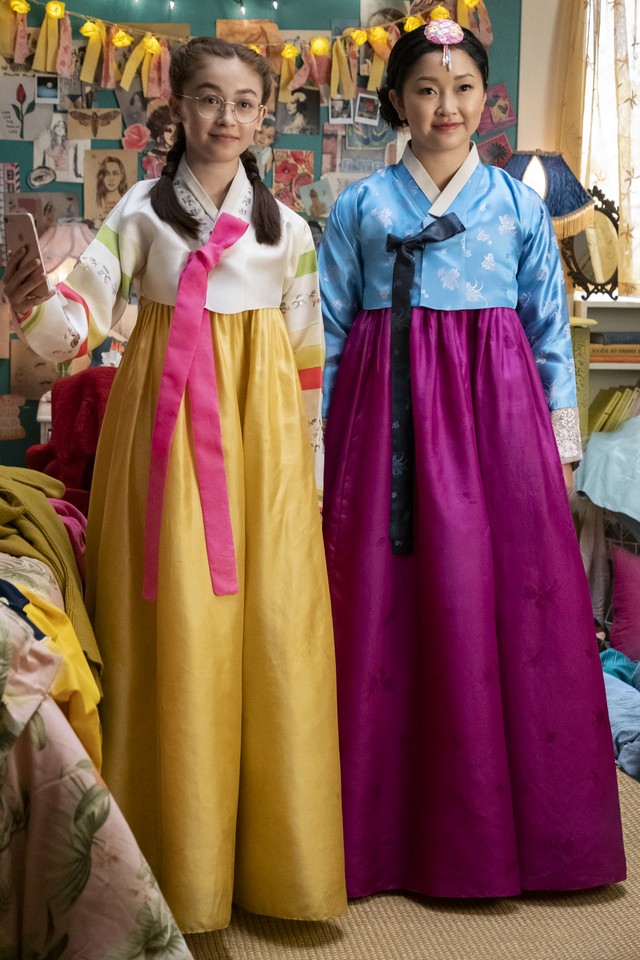 "We're individual people who share the same culture but that doesn't mean [we're the same.]: l might fucking love horseback riding, or you might love—I don't know—dragon fighting. Traveling Asia, in my experience, we are so diverse and so independent. We are just like everyone else but with a culture that is so steeped in tradition. I don't understand why people are like, 'Oh yeah, you love rice' and you're like, 'Yeah, I fucking love rice but that's not the only thing about me.' I had a casting director ask me to be more like Hello Kitty recently. And I was like, 'Well, okay, Hello Kitty doesn't have a mouth so she can't exactly say the lines that you want. I don't understand what you're asking me to do' just to shut that down." 
"And I think [there are] young women and men in Hollywood right now who are fighting against that. I think we're strong and powerful enough, but we have to continue that dialogue because there's a weird misconception."
Did you set out to be a role model for Asian actors when you first started in Hollywood?
"My first job ever was to play Jubilee in X-Men, and I can't believe that that was my first job. I was thrown to the sharks. I had to learn on the fly. Very quickly I realized that my job means nothing unless I firmly believe and want to promote Asian representation in Hollywood."
"There is definitely a lack thereof, but I feel incredibly blessed that I've been given the opportunity to use my platform to change that. I don't understand why casting directors look at us like 'Um maybe they can be the side character but not the lead' because I believe that we should be the lead. I believe that we have so many stories to tell. What's holding everyone back from hearing [them]?"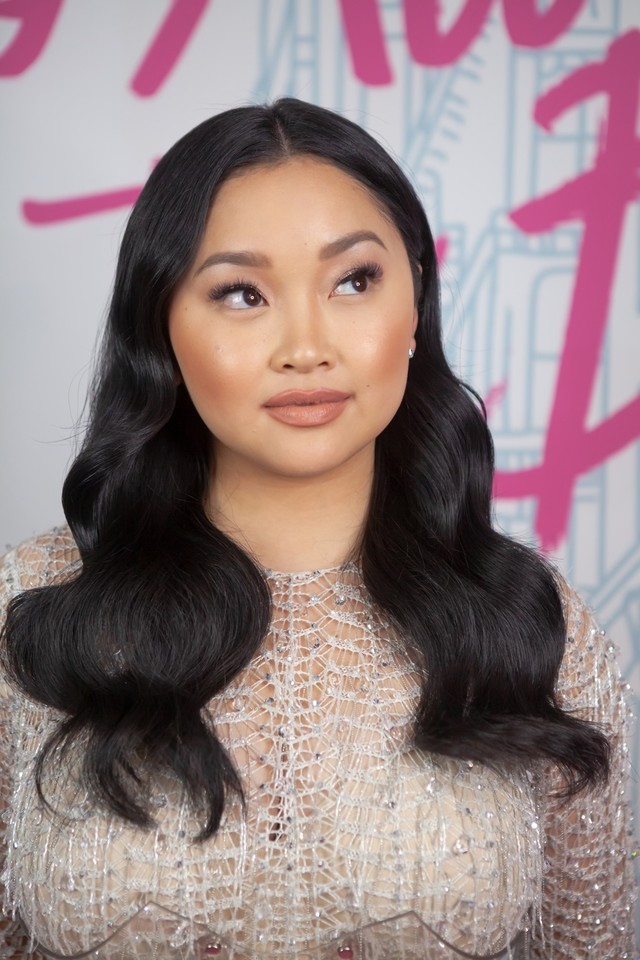 To All The Boys: Always And Forever is now streaming on Netflix!
***
We're officially on Viber! Be part of our growing community and subscribe to Cosmopolitan Philippines now!
Follow Maggie on Instagram.