Lea Salonga had just impressed a wide audience with her performance in the Broadway revival of Once on This Island when she announced another exciting feat. She will be starring as Grace Farrell in the award-winning Broadway musical Annie. Grace is the mother figure of the titular character.
According to an article in Broadwayworld.com, the musical will be staged at the Hollywood Bowl in Los Angeles, California in July. The article also states that the show is part of the year-long celebration of the 90th birthday of Charles Strouse, the award-winning composer of Annie. 
Lea made the announcement on her Twitter account yesterday, April 27. She wrote, "Woooot! I get to work with michaelarden again, and perform at the magnificent HollywoodBowl again!" Michael Arden is the director of Once on This Island.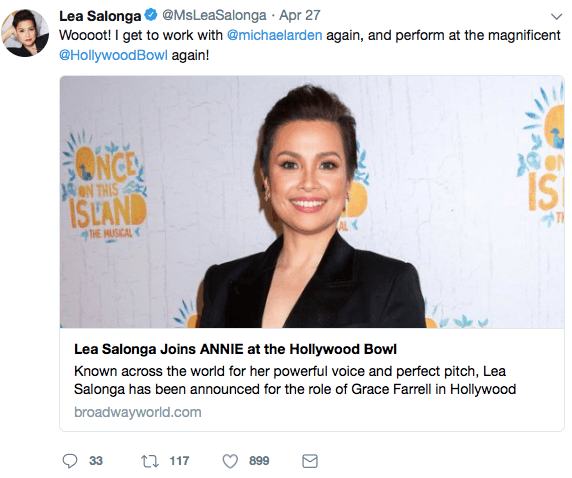 Continue reading below ↓
Recommended Videos
It's a nostalgic moment for the country, as well. In 1980, Lea played the titular character in Repertory Philippines' production of Annie. Check out Lea's performance below: 
About the Musical
Annie is about a young orphan named Annie, who is invited to live with billionaire Oliver Warbucks.