Did you know that veteran actress Lee Jung Eun studied theater at Seoul's Hanyang University and has been active onstage for more than two decades? She gained international recognition for her scene-stealing portrayal of Gook Moon Gwang, aka the housekeeper in Bong Joon Ho's award-winning film Parasite. She and director Bong actually go back a long way: After seeing her performance in the Korean musical Laundry, he decided to give her a small role in his film Mother, which contributed to launching her film career.
Though we often see her in roles that fall under the categories of a mother, judge, or ahjumma-next-door, Jung Eun has established her versatility as an actress. There is this sense of authenticity that she injects into every role she takes on. Case in point: How she learned the Jeju dialect to prepare for her role in her latest drama, Our Blues!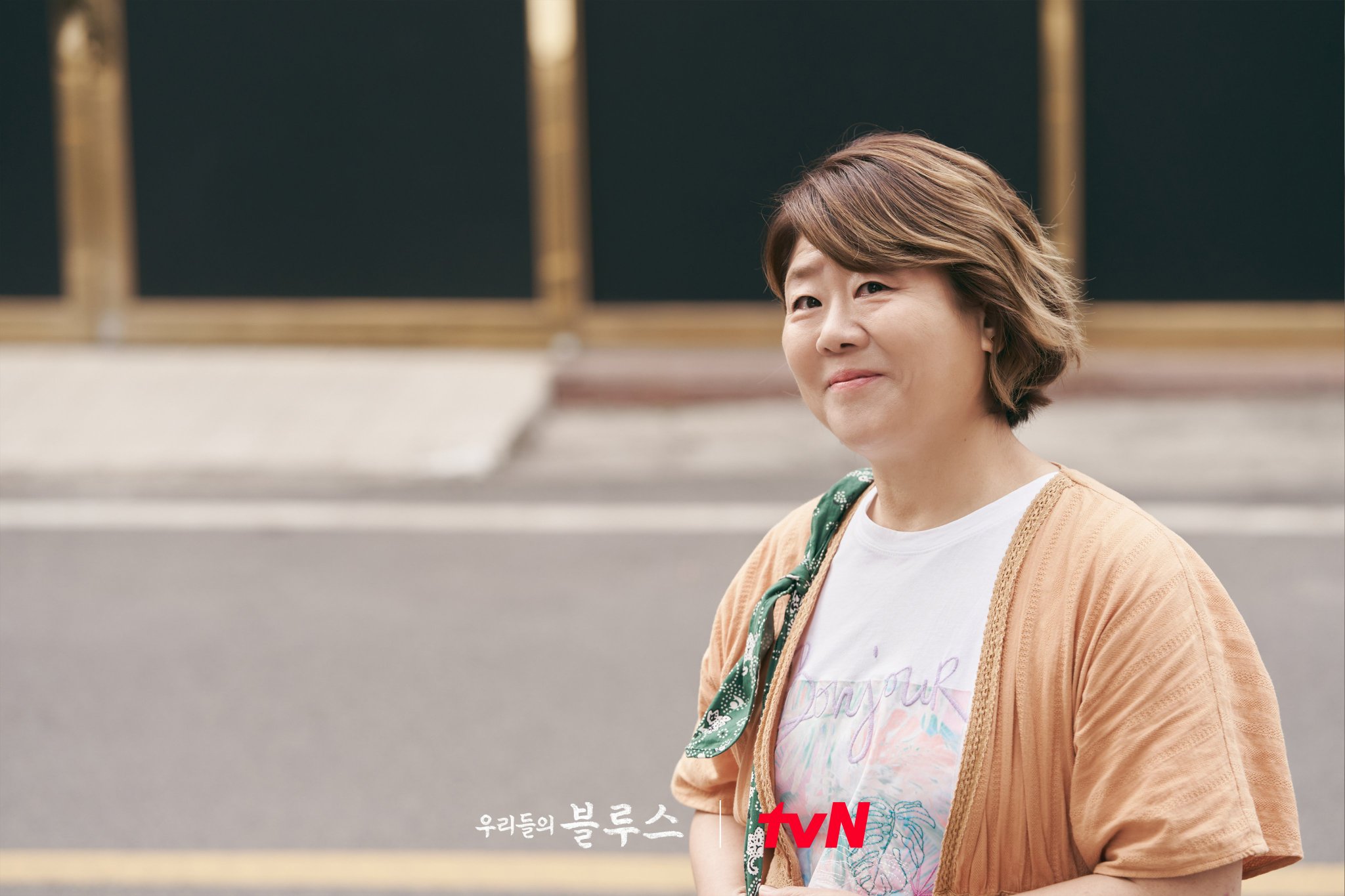 ADVERTISMENT - CONTINUE READING BELOW ↓
It's not surprising to know that she has earned the respect of fans and critics the world over. Fill your hearts and minds with so many feels by entering the worlds of characters Jung Eun has played over the years. We guarantee that the journey will be worth it!
Early projects
1. Mother (2009)
Who else is in it: Kim Hye Ja, Won Bin, Jin Goo
Kim Hye Ja stars as an unnamed widow who supports Yoon Do Joon, her intellectually challenged son. When a young village girl is found dead, the police accuse Do Joon of murder on grounds of circumstantial evidence. Maternal instincts kick in as the mother goes through lengths to prove her son's innocence.
Mother Official HD Trailer - From the Director of THE HOST
2. Okja (2017)
Who else is in it: Ahn Seo Hyun, Lily Collins, Tilda Swinton, Steven Yeun, Choi Woo Shik
Okja is an east meets west masterpiece penned and directed by Bong Joon Ho. It tells the story of Mija (Ahn Seo Hyun), a young farm girl who helps raise Okja, a genetically modified pig bred by her grandfather under the "super pig" program of a US-based company called Mirando Corporation. Among the 26 specimens sent to farmers around the world, Okja is crowned as the best super pig and is taken away to New York City. In her quest to save Okja, Mija forms an alliance with the members of the Animal Liberation Front (ALF) who agree to help her and expose how the Mirando Corporation mistreats animals. What follows is a rescue attempt that sheds light on the dark side of the meat industry. Joining an all-star cast of Korean and Hollywood stars, Lee Jung Eun shines as the voice of Okja.
Okja | Official Trailer [HD] | Netflix
3. Parasite (2019)
Who else is in it: Song Kang Ho, Jang Hye Jin, Cho Woo Shik, Park So Dam, Lee Sun Kyun, Jo Yeo Jeong
The award-winning film Parasite is the most celebrated Korean movie of all time. It revolves around poverty-stricken Kim Ki Taek (Song Kang Ho) and how he and his family turn their lives around by taking advantage of opportunities to land jobs for the family of wealthy Park Dong Ik (Lee Sun Kyun). As the Kims bask over their newfound fortune, a dark secret inside the Park household shakes things up and for the worse—leaving viewers on the edge of their seats.
Parasite - Official Trailer (2019) Bong Joon Ho Film
Recent projects
4. Law School (2021)
Who else is in it: Kim Myung Min, Kim Bum, Ryu Hye Young
Hankuk University Law School is shocked to its core when a professor is found dead on school grounds. Criminal law professor Yang Jong Hoon (Kim Myung Min) is arrested as the prime suspect. Though his cold appearance and harsh remarks may send the wrong signals, those who know him well are convinced of his innocence. Led by top students Han Joon Hwi (Kim Bum) and Kang Sol A (Ryu Hye Young), the students at Hankuk band together to prove his innocence and solve the mystery behind the campus murder. Lee Jung Eun stars as Kim Eun Sook, a civil law professor well-liked by her students, who join them in proving professor Yang's innocence.
ADVERTISMENT - CONTINUE READING BELOW ↓
Law School | Official Trailer | Netflix
5. Juvenile Justice (2022)
Who else is in it: Kim Hye Soo, Kim Moo Yul, Lee Sung Min
This courtroom drama revolves around Shim Eun Seok, a tough judge who dislikes young offenders and finds herself appointed to a juvenile court. The irony of the situation forces her to deal with complex cases that allow her to confront the wounds of her past while enforcing justice. Lee Jung Eun offsets the drama's tension as Eun Seok's complete opposite: Na Geun Hee, chief of the Juvenile Justice Division.
Juvenile Justice | Teaser Trailer | Netflix
6. Soundtrack #1 (2022)
Who else is in it: Park Hyung Sik, Han So Hee
Songwriter Lee Eun Soo (Han So Hee) and photographer Han Sun Woo (Park Hyun Shik) have been BFFs for 19 years. Though their personalities are polar opposites (Eun Soo is expressive and playful while Sun Woo is stoic and unassertive), they act as constants who fill each other with comfort and confidence. Eun Soo has no clue that Sun Woo has been harboring unrequited feelings for her. Will her perception and feelings for him change when he moves in with her for two weeks? We're on the edge of our seats and can't wait to find out!
ADVERTISMENT - CONTINUE READING BELOW ↓
Soundtrack #1 | Official Trailer | Disney+
7. Our Blues (2022)
Who else is in it: Lee Byung Hun, Shin Min Ah, Han Ji Min, Kim Woo Bin, Uhm Jung Hwa, Cha Seung Won
Our Blues gives viewers a glimpse into the lives of diverse characters who live in Jeju Island's Pooreung village. Lee Jung Eun plays bubbly fish shop owner Jeong Eun Hee and joins a stellar cast headlined by Lee Byung Hun, Shin Min Ah, Han Ji Min, Kim Woo Bin, Uhm Jung Hwa, and Cha Seung Won. The drama puts the spotlight on Jeju Island's traditional market where most of the characters earn their living. It follows an omnibus format that widens the approach to storytelling beyond the typical male and female lead. The drama touches on love and life in all its angles: The sweet, the sour, and the bitter in order to leave viewers with a sense of hope.
Our Blues | Official Trailer | Netflix [ENG SUB]
MORE K-DRAMA ROUNDUPS FEATURING YOUR FAVORITE ACTRESSES:
ADVERTISMENT - CONTINUE READING BELOW ↓
6 K-Dramas Starring 'Snowdrop' Actress Yoon Se Ah
6 Kim Da Mi K-Dramas And Movies That You *Really* Have To Watch