Blogger besties Lissa Kahayon, Patricia Prieto, Laureen Uy, Kryz Uy and sisters Verniece and Verne Enciso just threw an amazing bachelorette party the entire weekend in Hong Kong for Camille Co, who is set to tie the knot soon with fiance Joni Koro.
In an IG stories video, Patricia shows (amidst squealing and laughing) a guy seemingly proposing to Lissa, and the blogger BFFs profusely using the crying-laughing emoji in their IG videos, with the hashtag #LabanLissa.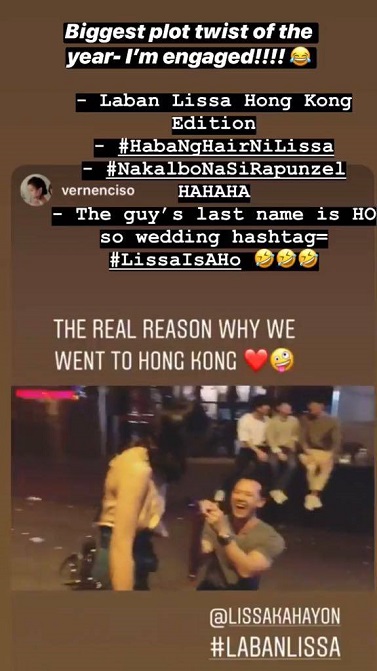 ADVERTISMENT - CONTINUE READING BELOW ↓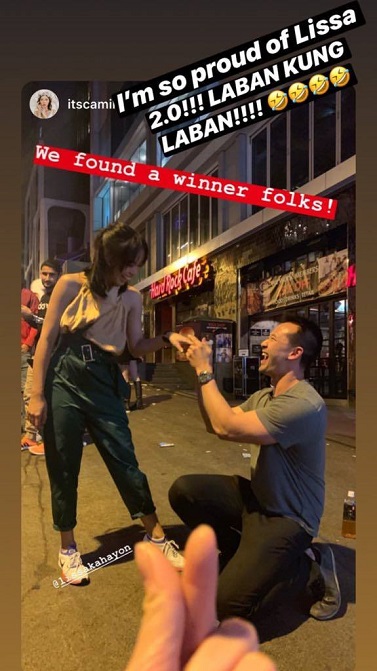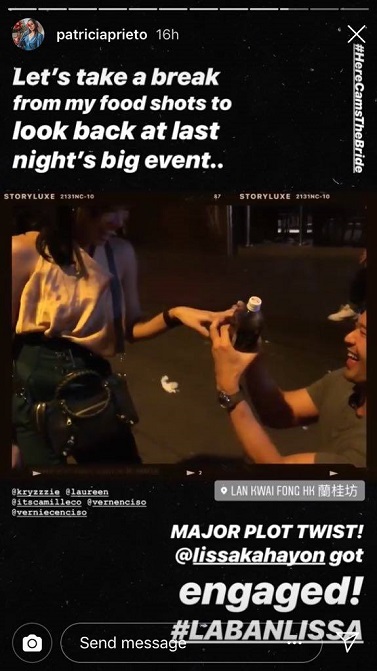 In an IG post, Lissa shares how she's the only single lady in the blogger besties group, and how she's turning 30 soon in November. She opens up about how she confidently responds to questions like, "Hindi ka pa ba ready?" or "Gusto mo set-up na kita?" 
"It took a while before I fully regained my power, independence, and confidence so I am really enjoying being single!" she said. "I choose not to settle (for now! haha) because I'm literally so busy chasing after my dreams. I get to travel often for work, I get to meet a lot of amazing people, and the best part is, I get to work on Project #MakeLissaBloom."
ADVERTISMENT - CONTINUE READING BELOW ↓
In one of her latest vlogs (yes, she just started her YouTube channel a month ago!), Lissa, together with Camille, Verniece, and Verne, shares her life updates and tips for moving on. This is a sequel to a first advice video that came out last July 2018 on Verne and Verniece's YouTube channel. 
Lissa shares how over almost a year of being single, she has focused on finding out new things about herself.
"Self-love talaga. You take this as a time to really get to know yourself more or again kasi there are things na nawala sa 'yo, so you might want to rediscover it."
She also shares how she has already forgiven herself in the process, after her last breakup. 
"Noon nag-break kami I was like, 'God, why?' I did so much, I sacrificed so much, and then one day, na-realize ko, I was already able to pray. 'God, thank you, iniwan niya 'ko."
ADVERTISMENT - CONTINUE READING BELOW ↓
Lissa admits she has not been on a single date since the breakup, but she has no regrets. 
"I don't regret it because I've always been in long-term relationships, so this has been the only time in a long time na talagang I focused on myself. I  focused on rebuilding myself, so I have no regrets na 'di ako naka-open. But now, I'm open!"
She knows it will take time, but that's totally okay. 
"I'm not pressured to have a boyfriend. I think it's because for me mas sayang yung future ko if I end up with the wrong guy. I didn't wait so long or I didn't work so hard to rebuild myself just to give it away."
Watch the video here: