Julia Barretto and Loisa Andalio caught the attention of fans online when they shared an exchange of positive comments on social media. Julia posted a photo of herself all glammed up for the grand media launch of her latest flick I Love You, Hater.
Julia's comments section blew up but one messsage stood out. Loisa wrote, "Ganda ohh!!!!!!!!" to which Julia replied, "Shhh. Tara na karaoke tayo!"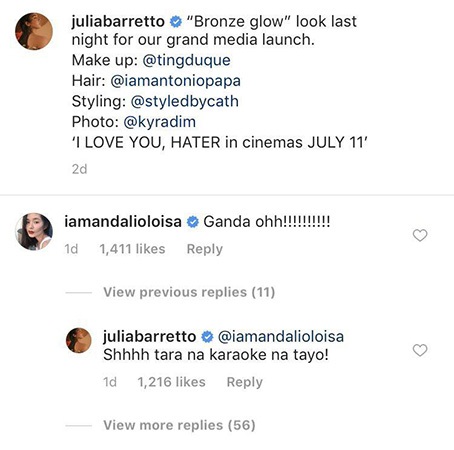 Continue reading below ↓
Recommended Videos
This gained positive reactions from netizens. ICYDK, Julia and Loisa, who were both partnered with Ronnie Alonte and Joshua Garcia, were caught up in a "fan war" of sorts.
In April, Julia retweeted a fan post saying, "Ang kay Julia ay kay Julia."
To Julia's surprise, fans immediately thought this was a drag at Loisa. She then tweeted, "What's all this fan war about? I'm so confused. How'd it lead to that? I was pertaining to the rumors spreading about Josh and I, and some people managed to make more stories up. I'm 21, not 12. Stop making two people who are okay, fight. Stop it with the drama."
This was then quickly followed by a post that showed how fed up she was with all the drama, saying, "Stop pitting women against each other. It's not cute."
Not long after, Loisa shut down the issue and said that the two of them are friends and have since communicated with one another.
Follow Leo on Instagram.