Madeleine Humphries On Letting Go Of Her Screen Name: 'It didn't feel like it was true to who I was'
If you grew up in the 2000s, you'd be familiar with the name Carla Humphries. She was a home-grown teen star of ABS-CBN and one of the many mestiza faces on TV, film, and magazines at that time. Carla checked all that boxes that made up the cookie-cutter artista in the early aughts—maganda, tisay, at magaling umarte.
But, at her core, there was always something off-kilter about "Carla." For one, her real name—Madeleine Lauren Humphries—was far from ordinary. Her second name, Lauren, is actually a nod to the famed Old Hollywood actress Lauren Bacall and is the reason why she grew up so fascinated with American cinema. And after almost two decades of using Carla Humphries in the Philippines, she now goes by Madeleine and, just like her namesake did, is working as a Hollywood actress.
In early 2020, Madeleine moved from Manila to Los Angeles just to try it out. She was born in the US anyway but never lived there as an adult, so she might as well see if it suits her well, right? At that time, she didn't have The Dream of making it big in Hollywood and had planned on flying back and forth from the States to the Philippines every so often. But then the pandemic hit and she had no choice but to stick with her decision and pursue acting in Hollywood for the long run.
***
As with almost every interview these days, we "met up" with Madeleine Humphries, 32, over a Zoom call—she in her Los Angeles apartment, while Team Cosmo were in our respective homes in Manila. We'd already done a pre-prod meeting with Madz (as everyone calls her) a couple of days prior where we discussed our project in full detail. Everything was expected to go as planned.
Or so we thought.
It was a Friday night for Madz and just as she answered our call, we knew we were screwed: Her internet was shit. "What if I moved closer to the router?" Madz offered when all we could see through our screens was a pixelated version of the French-Filipina actress' face. Her moving next to her router, did not, in fact, work, so we threw out some band-aid solutions to the problem: Should we reschedule the interview to another date? What if Madz records herself answering our questions and she'll just send us the files after?
But Madz came up with the answer herself: She was gonna head over to her friend's house—the Basco family's, to be specific—and do the interview there instead. "Give me 30 minutes!" was all she said before she dropped the call.
Stunned, impressed, and a bit on edge, Team Cosmo waited for Madz to give us an update. True enough, in more or less 30 minutes, Madz was in a totally different living room with fully functioning Wi-Fi.
Finally, Madeleine Humphries was going to tell us her story.
What is the story behind your name change?
When I started acting, I was told that Madeleine wasn't relatable. So Mr. M [Johnny Manahan]—I was part of Star Magic Circle and Mr. M was the one who discovered me. And he chose Carla for me. And I guess at that age, I was 12, and I was still discovering who I was. And when you're being groomed to be launched in Star Magic, they prep you. So they colored my hair, I had braces, and I was just very conscious of who I had to be and I was never able to be the most organic form of who I was. And of course, as a young girl, you don't really know who that is.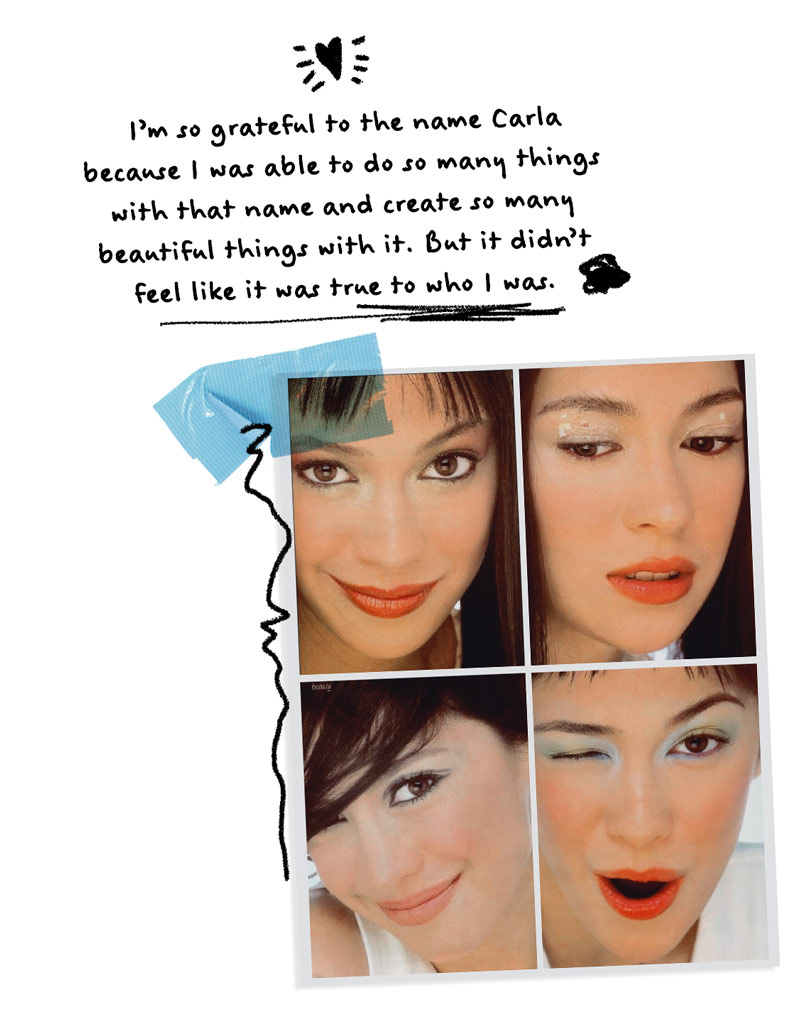 Now fast forward years later, I'm already a woman but I still was never able to get to know who Madeleine was. And I felt like, I'm so grateful to the name Carla because I was able to do so many things with that name and create so many beautiful things with it. But it didn't feel like it was true to who I was. And when I decided to move out here, I kind of wanted to reinvent myself. And because I was at a place where there was nothing really grounding me, so I felt like there were so many possibilities. Other girls my age, a lot of my friends were married, starting to have kids, and settle down, they kind of got their grounding and got to know the woman they wanted to become, and turned the page to the next chapter. Whereas I kind of still felt lost, I kind of still was searching for my purpose, and I decided to move out here in a week. And I just figured, if I'm gonna come out here—and I was born in San Francisco, so it's kind of like me coming back to the place I was born and coming back to the place where Madeleine really was just Madeleine. And so I let go of my screen name and I decided to call myself Madeleine—or CallMeMadz as my Instagram, 'cause all my friends call me Madz.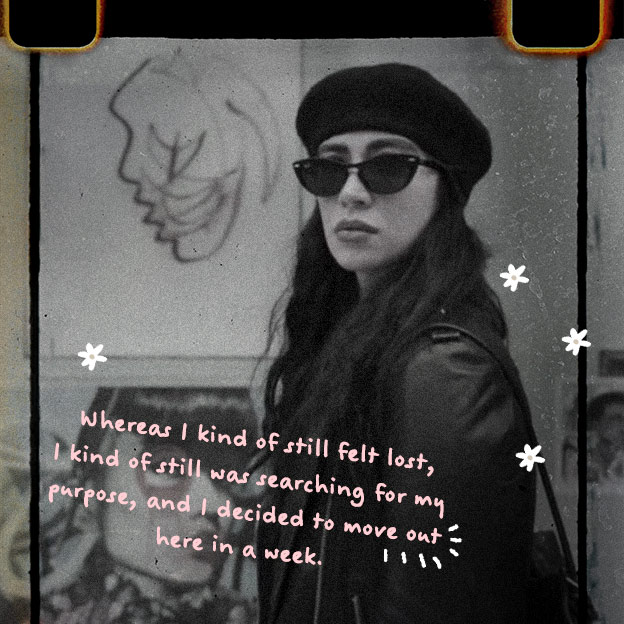 My first ever project that I was billed as Madeleine right before I left—I was able to be a part of a short film which I was also able to co-produce. It was my first producing credit and it was for Greenpeace. And it's called Before We Disappear which was a campaign to basically preserve La Union.
To be the best version of yourself, you really have to be in touch, be self-aware, and go back to that little girl or little boy in you. And there are so many things in this world that make us pre-empt or think or do things because it's socially accepted. When I was young, before I was discovered, I was an artist. I was the one that was always in a bonnet—you could never see my eyes. I didn't talk much and I would just be doodling and drawing the whole time. And I was so shy. It was only through workshops that I started becoming more outspoken. And I kind of miss that little quiet artist. And that's what I'm trying to re-tap. I think the things that make us feel awkward and weird as a young child are the things that are the best part of us as we get older. It's our greatest asset because it sets us apart and it makes you shine in a different way because you're unique!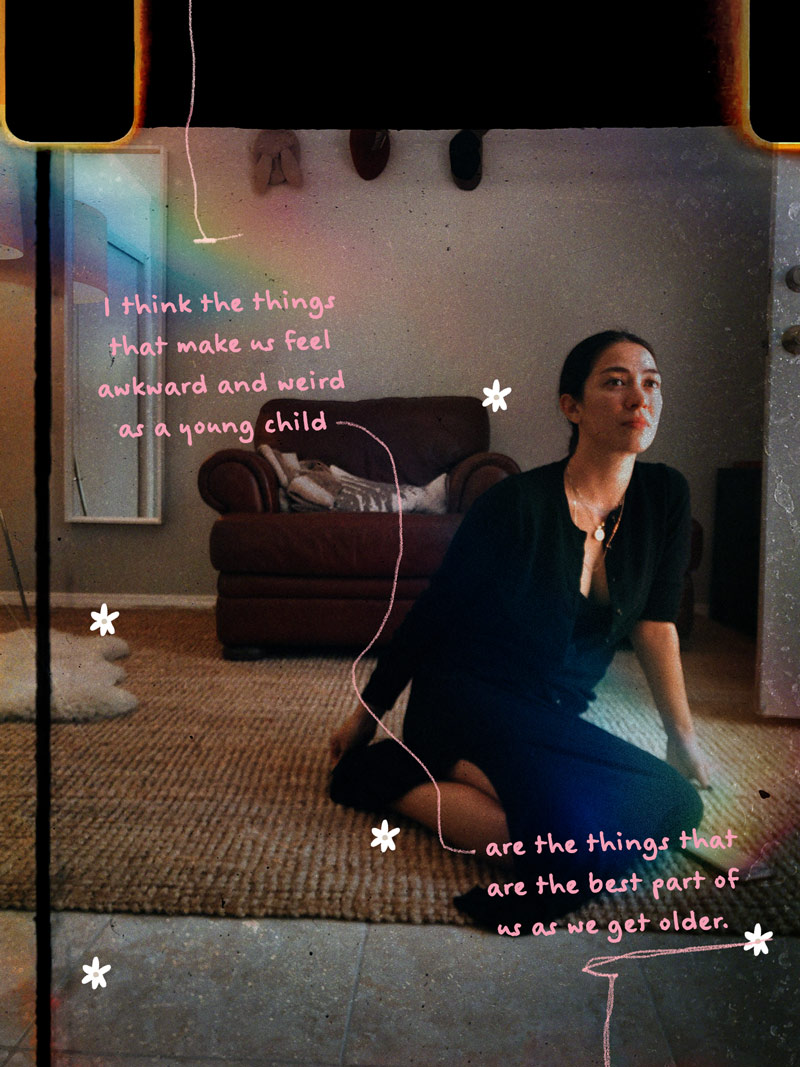 Can you describe the process of your relocation—from your decision to not go back home to the PH to settling down in your new LA life?
And when I came out here, I didn't have any preconceived notions. I wasn't like, "I'm gonna come here and I'm gonna be an actress!" No. I was like, "You know what? Let me see if I can live here. Let me see if I can sustain a life. Let me see if I can be happy here." And the week I was here, I was exposed to the most amazing humans, my LA family, the Basco family.
I know that it's going to be hard starting from scratch, if I'm gonna commit moving to a brand new country. And it's going to be so scary and I have no family out here. When I met the Basco family, it kind of gave me the courage that, "You know what? If I'm lost or if I fall down, if something bad happens to me, I have someone in LA that will care about me." So when I came here and things just felt right and it felt like things were falling into place, I didn't give myself the luxury to overthink it 'cause I tend to overthink. And I just told my parents, I was like, "Mom, Dad, I think I'm moving to Los Angeles." And they were supportive. I guess because they kind of saw that it was the next step for me. And I came out here and I thought that I was gonna come back and forth. I'd just get my feet wet, plant some seeds, and go back to the Philippines. And then the pandemic hit.
It was so overwhelming because at least the Philippines is a monster I know, and the United States is such a big country and everything was unfamiliar to me. It's very easy to be hard on yourself when you're starting from scratch and you're already somewhat established where you are. It's like the expectation is a lot and at the same time, if you're like me—I'm very hard on myself and I care a lot about what my loved ones will say and all that. I just didn't want it to cloud my judgment and I wanted to basically wipe my slate clean and just be myself without anyone watching. And since it was such a huge part of me finding myself, I wanted to go through that journey without any other voices in my head.
Describe what a typical day for Madeleine Humphries is like in LA. Are there any new life skills you developed while living there?
Not only am I experiencing being in a new country and learning everything—it's already scary enough moving somewhere new and just figuring out the day-to-day. I moved here and the world shut down. Mentally, I was still in Manila 'cause everyone I loved, everyone I cared about, aside from the new people, the new relationships I had here, were all in Manila.
It was kind of like the Universe saying, "Okay, you wanna get to know yourself? Here, you're gonna be alone for a very long time so you better enjoy your own company." And because of that I surprised myself, appreciated myself, realized my resilience, realized my strength. Because a lot of people come out here and the reality is maglalaba ka, maghuhugas ka ng pinggan, you're gonna look for a job and your credentials may not be applicable here. And you're gonna figure out the big things like getting your driver's license and getting your health insurance. And I had to do those things during a pandemic and I had to figure these things on my own. So it was really challenging but it was really empowering, one by one, being able to accomplish these things, and just gain more confidence and relying on myself.
It's kind of shameful when I think about it that a lot of the simple things in life like mailing a package or the proper way to wash whites, stuff like that. It's like, "I'm too old to not know this!" But coming out here it's like okay. And I'm pretty proud of myself because it wasn't like I came here and I got into a relationship and I had a man to lean on. I was able to establish myself and be in a good place on my own. I think it's funny 'cause growing up, I think we're very conditioned as Filipino women to aspire to have a strong man by your side to help you and to just lean on. So it's crazy how the mind is so powerful and if you limit yourself then that's all you'll achieve. But when you're put in a situation when you have to make things happen, you have to figure it out, you'll be surprised by what you're capable of. And that's one of the main reasons why I think I grew so much here.
Most of your family and friends are living in the Philippines. How do you keep connected to them? Did you see any changes in your relationships with your closest people?
Even when I was still in Manila, my family and I, we would spend Sundays together. So we still do that every week. We play these trivia games, we play Jeopardy, we just talk. My whole family has pets so they show me their pets.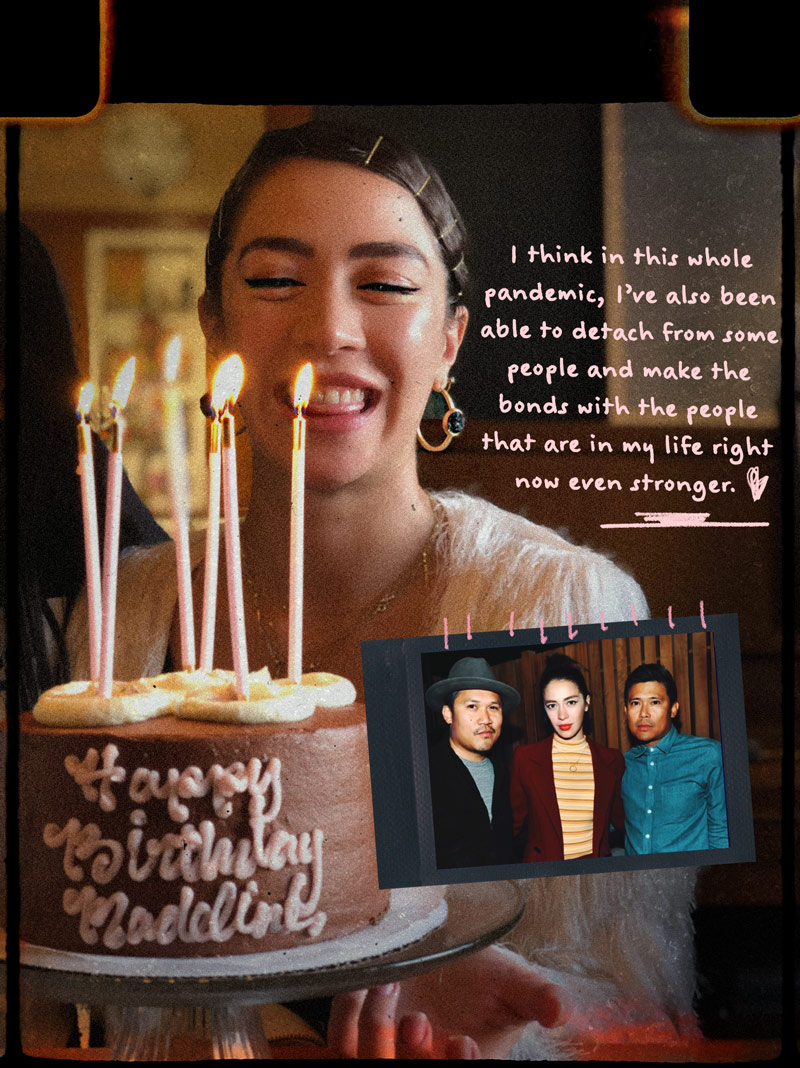 My girlfriends, we have our occasional calls. I do Facetime regularly with Solenn [Heussaff] and Thylane [Bolzico]. Three of my friends yesterday, Sambie Rodriguez, Bianca King, and Beauty Gonzalez, were doing this thing where we watch a series and we talk about it. We just get creative. Actually, at the peak of the pandemic, I did a makeup tutorial just to talk to them. I never put it out but I made myself up as if I was gonna do an online date and it was just for my girlfriends.
I think in this whole pandemic, I've also been able to detach from some people and make the bonds with the people that are in my life right now even stronger.
When the going gets tough, how do you cope and what do you hold on to for strength? Is there any advice you can give to other Pinays in similar situations as you?
Sometimes when you're depressed, you feel like the world is closing in on you. But once you snap out of it, you realize that everything is gonna be okay. And that just because there's a pandemic going on doesn't mean you have to stop dreaming, doesn't mean you don't deserve the things you want in life, and you shouldn't strive and drive towards them. It doesn't mean all that. It just means we're going through something collectively, there's something to take away from it, there's something to learn, and once we get past this, we're gonna be stronger than ever!
Can you tell us the main differences between being an actor in Hollywood compared to the Pinoy showbiz scene?
When I came out here, I didn't have any expectations. But then, I was like, "Who am I kidding? All I wanna do is act." I don't act 'cause it's my job, I act because I need it to survive. It's my form of release, it's where I feel the most myself, the most empowered, and I feel like I'm contributing the most when I'm acting or doing something creative.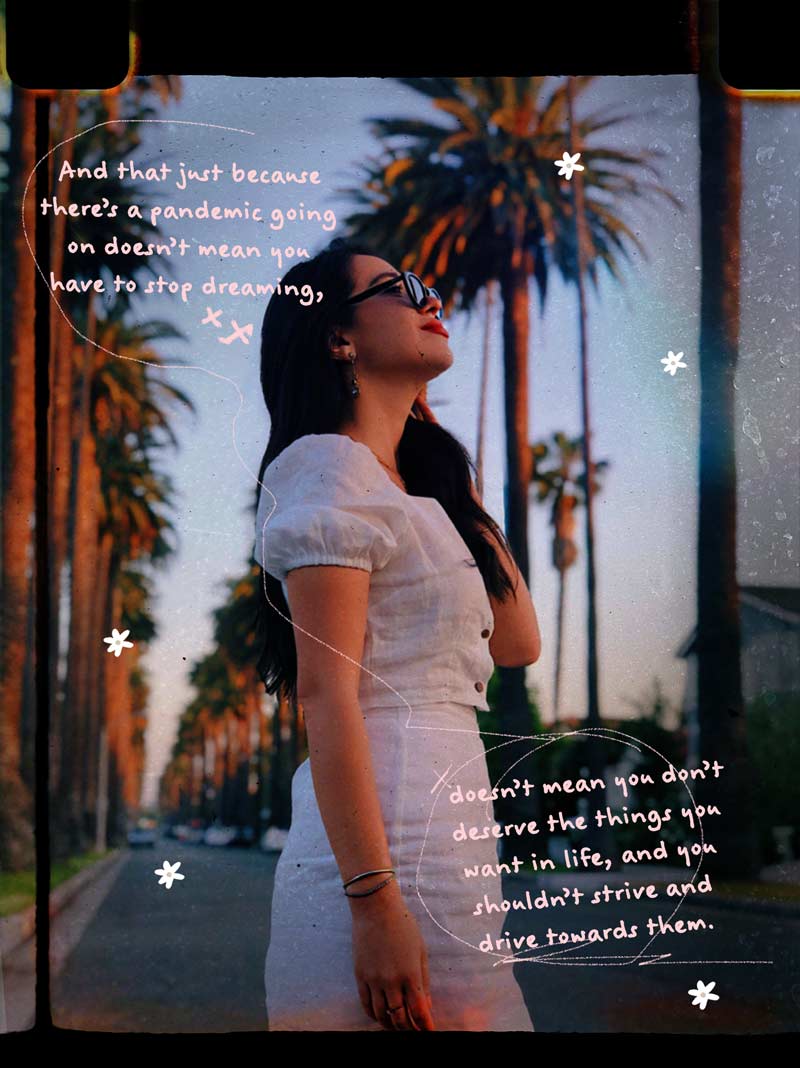 And so I was able to book my first union commercial which is huge because a lot of actors come out here and it takes years for them to get representation or—it's a Catch 22 situation. Because out here, the huge difference between our industry in the Philippines and the industry in the US is that there's a union. So there's SAG (Screen Actors Guild). And to become a part of SAG you have to have a number of projects that are SAG, and then you become SAG-eligible. But majority of the time, to book a SAG project you have to be SAG. I was lucky enough my first commercial was a SAG commercial. That's kind of how I feel like I'm meant to be here because things are happening naturally. But of course, I'm still striving. It's still an uphill battle. But it's okay because I'm here for the longevity of it.
I have a love-hate relationship with my career just because when you love something so much, sometimes you can get your heart broken and you need time to recoup. But I just love film and TV and music that it doesn't matter whether I'm in front of the camera, behind the camera, it doesn't matter if I'm part of the early stages and not part of the end. I just feel the most alive when I'm around like-minded people wanting to create something out of nothing and tell stories. And I feel really energized being out here in spite of everything, I was able to do something, to be on set which is a place I love, and I really don't take that for granted. And I really hope it continues because it just assured me that you're at the right place, keep growing, keep striving, and I know it's tough but if you love something that much then no matter what's going on in the world then you'll be able to do it. And I don't know, I'm taking it a day at a time, and I'm figuring things out, but today I have work so today's a good day, you know?
What upcoming projects can you share with us? Is there any role or acting opportunity that you're keeping an eye out for?
I never really sang in the Philippines and I had a lot of stage fright with regards to singing because when I was young I made piyok. I think I was like 14. And then somebody told me, "Don't ever sing again." And I believed them so I never sang again—until I moved to France. When I was in France, my ex-boyfriend was a music producer and a singer and he found out I could sing and so he encouraged me to sing. And when we went our separate ways, I lost the confidence again. Part of me rediscovering Madeleine yet again is just not being afraid to sing because it's another thing I love. And because I love it so much I have high standards for it. Just like how I was when I was young, I never called myself an actress because I felt like I need to prove myself as an actress before I can claim that I'm an actress.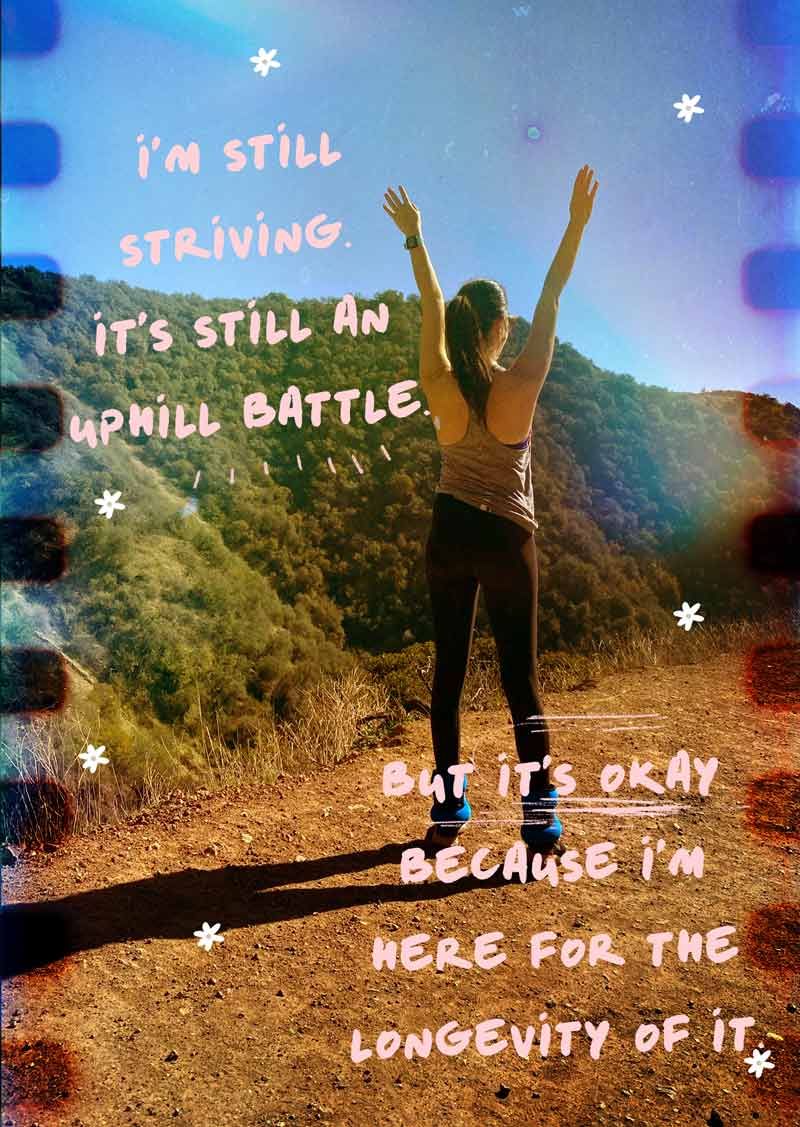 I am getting to know myself and it's been really good for me but I think that I'm still blooming and I'm still discovering so much. A part of that is discovering my voice and I think it's gonna be really great once I do—like, great as in freeing great.
When it's safe for you to fly back to the Philippines, what would be the first things you'll do back home?
I would definitely visit my family and just hug everyone I love. If I could bring the vaccine to everyone, I would. I wanna go to the beach! I wanna go to the beach and swim. And I just wanna see the faces I love and feel their presence and let them know how much I care about them. And just see everyone healthy and happy again. I just can't wait to share my love and appreciation and celebrate life, to celebrate each other, and be happy.
*Answers have been edited for clarity.
PRODUCED BY: Jacinda A. Lopez and Lily Grace Tabanera
ART DIRECTION BY: Mixi Ignacio
VIDEO EDITED BY: Zelda Carreon