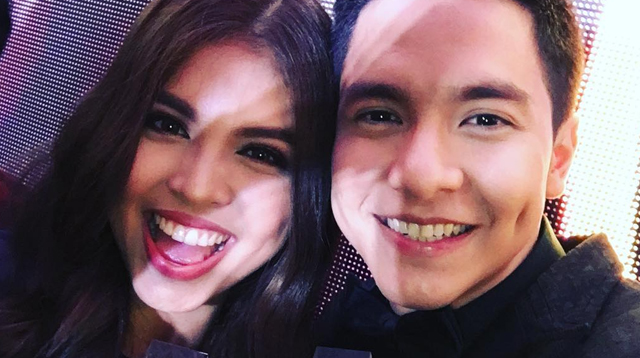 Instagram/aldenrichards02
1 The AlDub fan base certainly had a lot to swoon about on Saturday, January 30, when Alden Richards and Maine Mendoza showed up together at Vic Sotto and Pauleen Luna's wedding ceremony. MaiDen even walked down the aisle as offertory sponsors! But when fans expressed anger and hate over Alden not showing up at the reception, Maine took to Twitter to defend the actor. According to Maine, Alden had to leave the wedding right away because "something came up"—possibly a rehearsal for his Sunday Pinasaya performance the following day. (PEP.ph)
He really wanted to stay the whole time but something came up so he wasn't able to make it to the reception. No nega na, please? ????

— Maine Mendoza (@mainedcm) January 31, 2016
2 Speaking of AlDub, the love team's fans sometimes get particularly nasty to another super popular pairing in the country today: JaDine. When asked about receiving hate from JaDine bashers, James Reid said, "I don't like to talk about it with the fans. I don't bring it up, because really, a day after, everyone's going to forget about it. It really doesn't bother me." Spoken like a true professional! (PEP.ph)
3 Our deepest condolences go to actress Vanessa Hudgens, whose father, Greg, passed away from Stage 4 cancer on January 31. The actress made the announcement on Twitter hours before her debut on the television remake of classic movie musical Grease. The 27-year-old actress said in a follow-up tweet that Grease: Live's first episode is in his honor.
I am so sad to say that last night my daddy, Greg passed away from stage 4 cancer. Thank you to everyone who kept him in your prayers.

— Vanessa Hudgens (@VanessaHudgens) January 31, 2016
4 It's tough to find someone who can outwalk supermodel Cara Delevingne, but Derek Zoolander (aka Ben Stiller) might have done it! The two had an epic model walk-off in front of the Eiffel Tower over the weekend, and it was as amazing as you'd imagine it to be.
5 Jack and Rose forever! Titanic actors Kate Winslet and Leonardo DiCaprio reunited at this year's Screen Actors Guild Awards, and we're still super giddy about it! When Leo picked up the award for Outstanding Performance by a Male Actor in a Leading Role for The Revenant, Kate rushed to his side and gave him the sweetest, most genuine hug that will hit you right in the feels. Aaawww! (Cosmopolitan)