Hi Cosmo girls!
We put up a poll on December 27, 2013 to find out your favorite Cosmo cover girl in 2013. But what we thought would be a very lighthearted and (healthy!) competition among the artista fandoms became a bit too cray and karir for our taste. 
Case in point: Someone programmed a bot to automate the voting. When we received an email alerting us about this, we immediately installed a CAPTCHA on January 9, 2014, which is basically that code you need to enter before submitting your vote, so the system can verify whether you're human or not. 
We were surprised to see how some cover girls got over 1 million votes—a number inconsistent with the recorded page views the story got. This only means one thing: some readers rigged the system.
So, we asked our programming team to compute the "true votes" (we didn't count the automated ones), as of Friday, January 10, 2014—the day the poll was supposed to close. Some of you wrote to us asking why you could still vote after Friday, but don't worry, we extracted the results until Friday only. 
With the poll already closed and the results officially in, here are your Cosmo cover girls for 2013, ranked according to number of votes:
Continue reading below ↓
Recommended Videos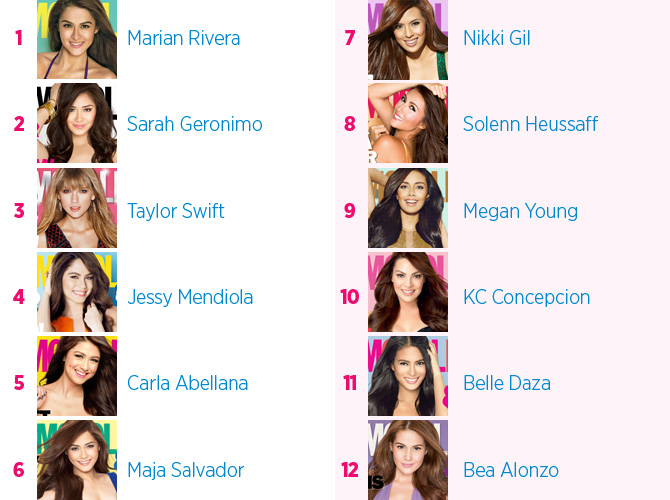 In the name of full disclosure, we want to share the "true votes" we got (take note that these are not the rigged numbers you saw after voting when the poll was still open)—
Marian Rivera = 154,521
Sarah Geronimo = 90,013
Taylor Swift = 15,356
Jessy Mendiola = 14,135
Carla Abellana = 6,598
Maja Salvador = 6,269
Nikki Gil = 3,475
Solenn Heussaff = 2,828
Megan Young = 2,781
KC Concepcion = 2,342
Belle Daza = 1,705
Bea Alonzo = 1,261
We love it that you're a die-hard fan, but c'mon, Cosmo girls. Let's play fair next time! No to bots! 
XOXO, 
The Cosmo.ph Team 
P.S. If you want to see all the covers again, go to The Year in Cosmo Covers.