Mariel Rodriguez will soon be giving birth to her second child with Robin Padilla, a daughter whom they plan to name Gabriella. Their first daughter, Maria Isabella, recently turned three years old!
Earlier this week, Mariel posted a beautiful photo from her maternity shoot to announce a new vlog episode. Her caption reads: "39 weeks! At 9 p.m. I share with you guys how I am preparing for Gabriela's arrival. It will be up on my Youtube channel! Yay! BTW, I don't look like this anymore." 
ADVERTISMENT - CONTINUE READING BELOW ↓
Excited comments from family and friends followed the post, with fans wishing Mariel a safe delivery. HOWEVER, one commenter felt the need to say: "Ay, girl ulit. Sad naman." 
Mariel, understandably shocked by this sentence, couldn't help but reply: "How the hell could another sweet baby girl be sad?" 
The commenter tried to explain, saying, "It's not what you think. Yeah, [an] angel [is] a blessing. I thought it's a boy. Calm down Mariel, I'm a fan of your husband."
When Mariel asked why she used the word "sad" again, the commenter simply said: "Nevermind."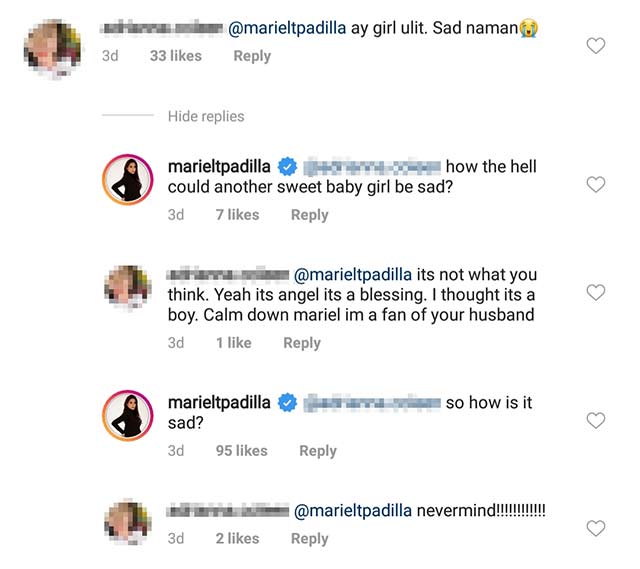 Other netizens joined in on the conversation, saying things like: "We have three grown-up girls, and they are all so sweet, caring, and thoughtful. Daughters are so special. Why is that sad? Mariel, you are beautiful, pregnant or not! Cheers to you!" 
Another said: "Do you even understand the word 'blessing?' What you said is totally unacceptable! When a woman [goes through the] tough journey of having a baby, it's not important what gender it will [have]."
The commenter later apologized for the totally unnecessary comment, writing, "So sorry for what I'm saying."

ADVERTISMENT - CONTINUE READING BELOW ↓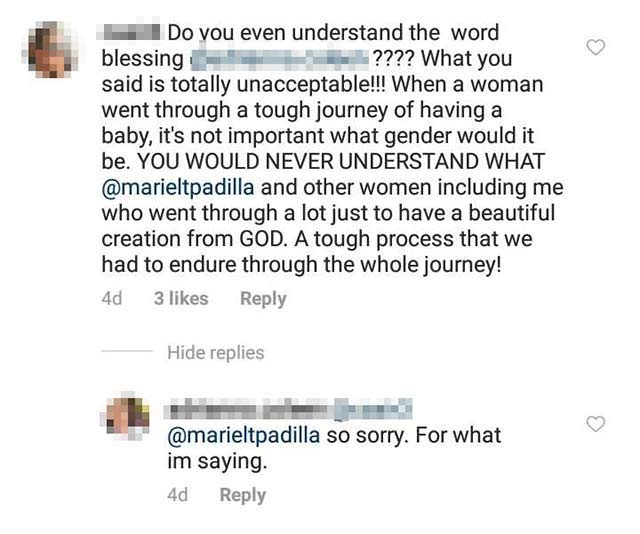 Follow Lily on Instagram.