It was in the middle of March when the Philippines felt the crippling effects of the COVID-19 pandemic head-on. The virus was no longer just a threat but an actual—albeit invisible—enemy to mankind. Luzon was placed under lockdown, major industries were put on hold, airports were closed, and Maxene Magalona and her husband Rob Mananquil were on week 2 of their four-week yoga teacher training course in Bali, Indonesia.
It's been exactly 66 days since the couple flew out from Manila on February 29 to stay in the School of Healing Arts at The Yoga Barn—supposedly only until the end of March. But as we all know by now, international travel for tourists has been indefinitely suspended. Back then, the coronavirus hadn't put a pause to our normal way of living; it was, at most, only a mere inconvenience that didn't disrupt how we lived our lives. But in less than two months, the world has changed at a drastic pace. And up to this day, Maxene and Rob, like many travelers scattered across the globe, still don't know when they can finally get a flight back home.
ADVERTISMENT - CONTINUE READING BELOW ↓
We reached out to Maxene via Instagram, a platform she uses to spread her passion for yoga and words of positivity even in the midst of a pandemic. She was gracious enough to open up about how she's coping with all the uncertainty, facing her past traumas, and turning to yoga to deal with the isolation. In this article, you will also see personal photos Maxene shared with us which depict how she and Rob are living their "new normal" in Bali.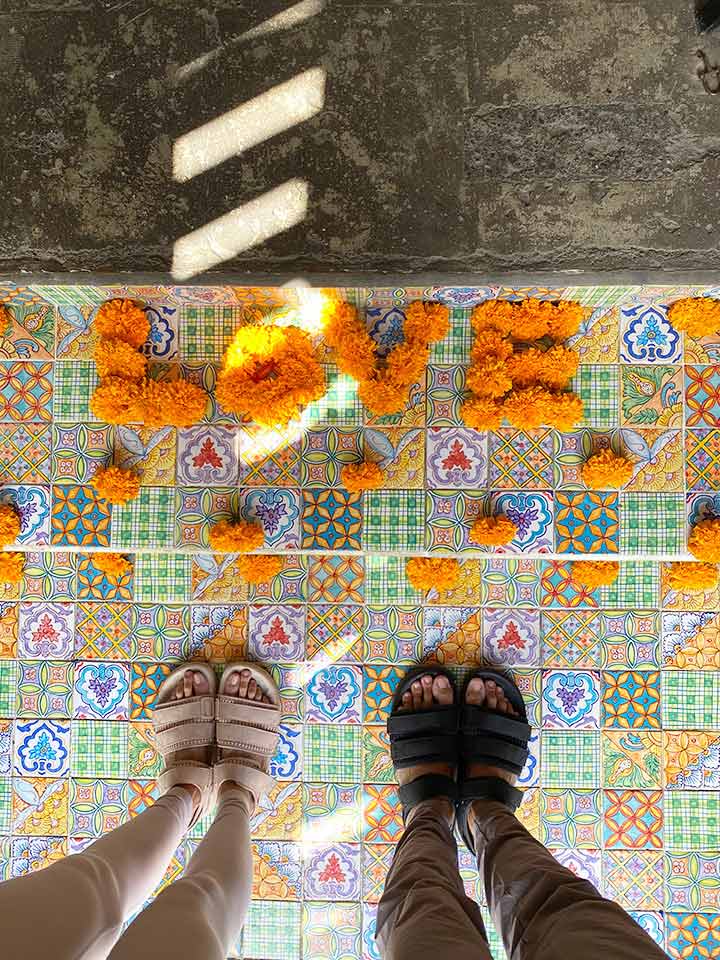 What's your current situation in Bali?
We are currently stranded in Bali as there haven't been any available flights to Manila since the last week of March. As of now, all domestic flights in Indonesia are canceled while international flights are very limited. Some of our classmates who live in Mexico and Switzerland were able to fly home because there were available flights.
When did you leave Manila for Bali and for what reason? What was the status of COVID-19 then?
We left for Bali on February 29 for our yoga teacher training course with the School of Healing Arts at The Yoga Barn which we booked in January. Our training was scheduled for March 1 to 24. At that time, there were already some known cases of COVID-19 but we honestly didn't think that it would become anything like how it is today. In the middle of our teacher training, some of our classmates who live in the US and Europe had to fly back home because their governments were closing down airports. It was understandable as they live 20 to 30 hours away from Bali. Rob and I chose to stay and finish our training because Manila is only four hours away from Bali and we felt safer to just stay put instead of going to the airport at that time.
ADVERTISMENT - CONTINUE READING BELOW ↓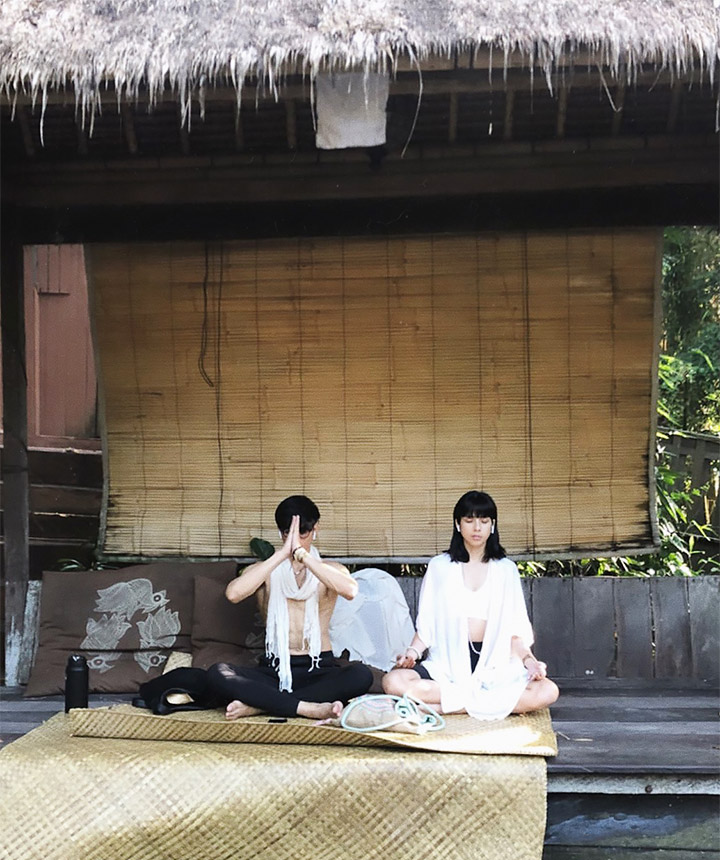 Can you recall the instance you realized you had to stay put in Bali indefinitely? How did you feel/how did you react?
Our original flight back home was scheduled on March 30 but it got canceled. We had another flight scheduled on April 16 but that was canceled as well. We were actually supposed to go back home on March 30 just for a few days to pack a new suitcase for another trip to Bali scheduled on April 5 to 16 for another yoga workshop that we booked in January as well. This was our plan because our Indonesian visa was only good for 30 days and Rob was supposed to teach his weekly Saturday class at Yoga Hive in Makati.
ADVERTISMENT - CONTINUE READING BELOW ↓
When our March 30 flight got canceled, fear and anxiety started to creep in. I was thinking of so many negative scenarios all at once: What if we get sick here? What if we run out of funds? What happens if our 30-day visa expires and we would have to pay IDR1,000,000 (P3,200) per day if we extend our stay?
It was a good thing that we had just finished our yoga teacher training so we were fortunate enough to be equipped with tools like yoga and meditation that could help us deal with our situation. One of the intentions that I set at the beginning of our training was to heal by letting go of fear and anxiety and lifting everything up to God. All my life, I had been living in fear, either dwelling on the past or worrying about the future and never really appreciating the present moment. When our flights got canceled and anxiety started to kick in, I immediately prayed to God and promised myself that I wouldn't give in to fear anymore. I chose not to worry and put my complete faith and trust in God's plan. I also trusted my husband's gut instinct to stay calm and stay put. Thankfully, the Indonesian government announced soon after that anyone who entered Bali after February 5 is welcome to stay without having to pay for an extension until things go back to normal. Also, hotel and Airbnb rates here have dropped considerably and most restaurants are offering discounts and promos so we are very fortunate to be able to live day-to-day on a tight budget.
ADVERTISMENT - CONTINUE READING BELOW ↓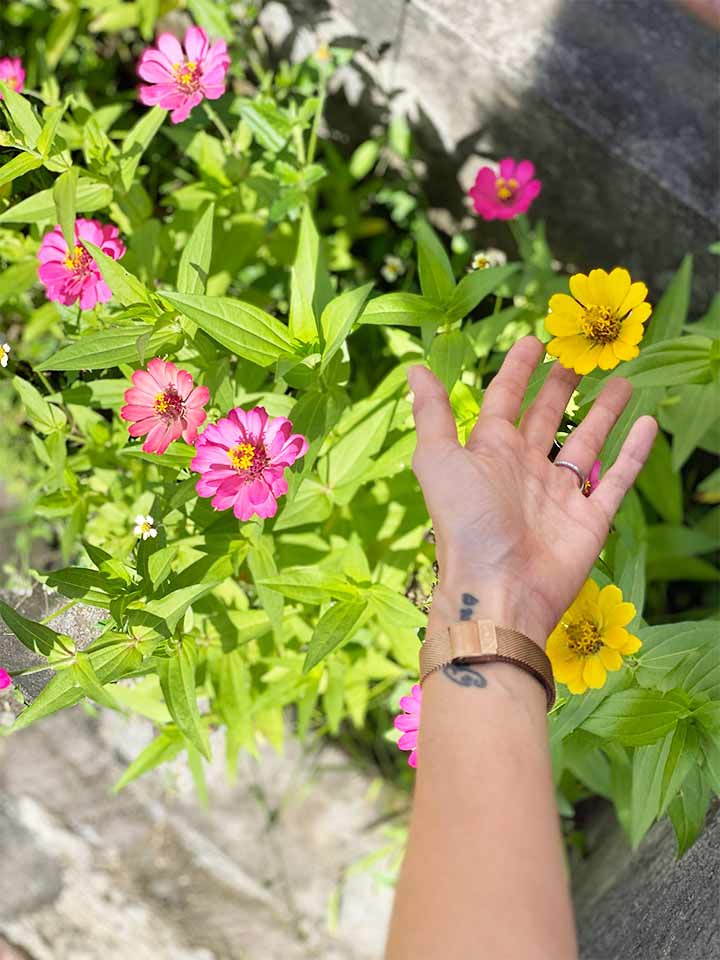 As for the reported COVID-19 cases here in Bali, there are only a few as most cases are in Jakarta. God truly works in mysterious ways and we believe with our hearts that this is where He wants us to be during this time. Our teacher Daniela Garza Rios of School of Healing Arts taught us to live life with prayerful management and glad acceptance of whatever happens and that is exactly how we choose to deal with our current situation.
ADVERTISMENT - CONTINUE READING BELOW ↓
Can you disclose where you are currently staying in Bali? What is the community like in where you are staying?
We are currently staying in a hotel in Ubud with a few of our classmates who also stayed behind after our graduation. The community here is incredibly kind, helpful, and very welcoming. The Balinese locals are spiritual and devotional by nature so we feel very blessed to be surrounded by their energy. We have actually been practicing one of their daily rituals known as "canang sari" wherein they make an offering of flowers and rice on a tray made of palm leaves as a symbol of their devotion and gratitude to God. Also, our yogi teachers and classmates are some of the nicest, non-judgmental people we have ever met. They are honest, sincere, and very open-minded. Everyone just wants to help each other out. We are so grateful for the safe space our little community has created for all of us here during this difficult time. 
ADVERTISMENT - CONTINUE READING BELOW ↓
Since the prospect of flying back to the Philippines is uncertain now, how are you and Rob managing your finances being overseas for an extended period of time?
Thankfully, credit cards are accepted here and we can also withdraw from our international ATM. Prices and rates here have dropped ever since the outbreak of the virus and only about 20 percent of shops and restaurants are open. We don't really spend much because all we do is stay indoors and practice yoga and meditation for at least three to four hours every day. We only go out to buy groceries and supplies. We have been holding donation-based classes online to help raise funds for some charities. And soon, we hope to share the gift of yoga by offering private classes online to those who want to practice regularly with us so that we may be able to support ourselves while we extend our stay here. Times like these are tough but it is also the best opportunity to get creative and explore our options.
ADVERTISMENT - CONTINUE READING BELOW ↓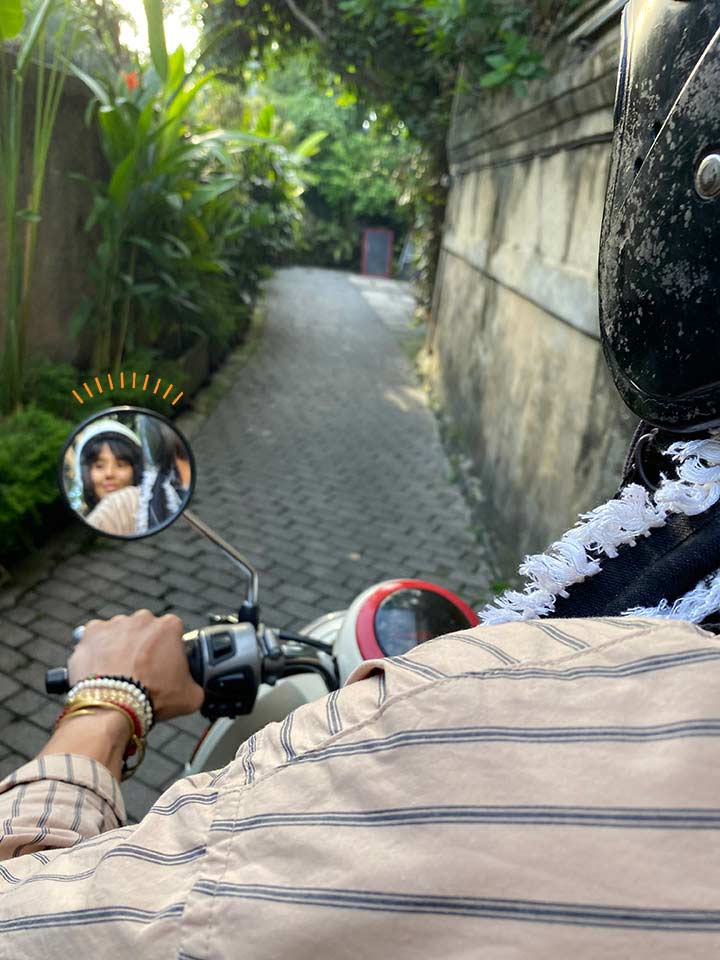 Can you tell us what your days are like in Bali? What do you do each day?
We pretty much do the same thing every day. We wake up at 4 a.m. to prepare for meditation at 5 a.m. to start our day. At around 6:30 a.m., we quietly watch and appreciate the sunrise as we thank God for waking us up to another beautiful day. We then practice yoga at different times of the day—once in the morning and once, sometimes even twice, in the afternoon or evening. For our daily meals, we have cereal or oatmeal with fruits for brunch, and only have food delivered in the afternoon for our late lunch/early dinner. We also drink green juices and fruit smoothies to help boost our immune system and keep our bodies alkaline. It's actually been a year since we have been alcohol-free! We have also been on a plant-based diet for seven months now, so we honestly feel very fortunate to be stranded here during this crisis since Bali has so many vegan options to choose from at very low prices!
ADVERTISMENT - CONTINUE READING BELOW ↓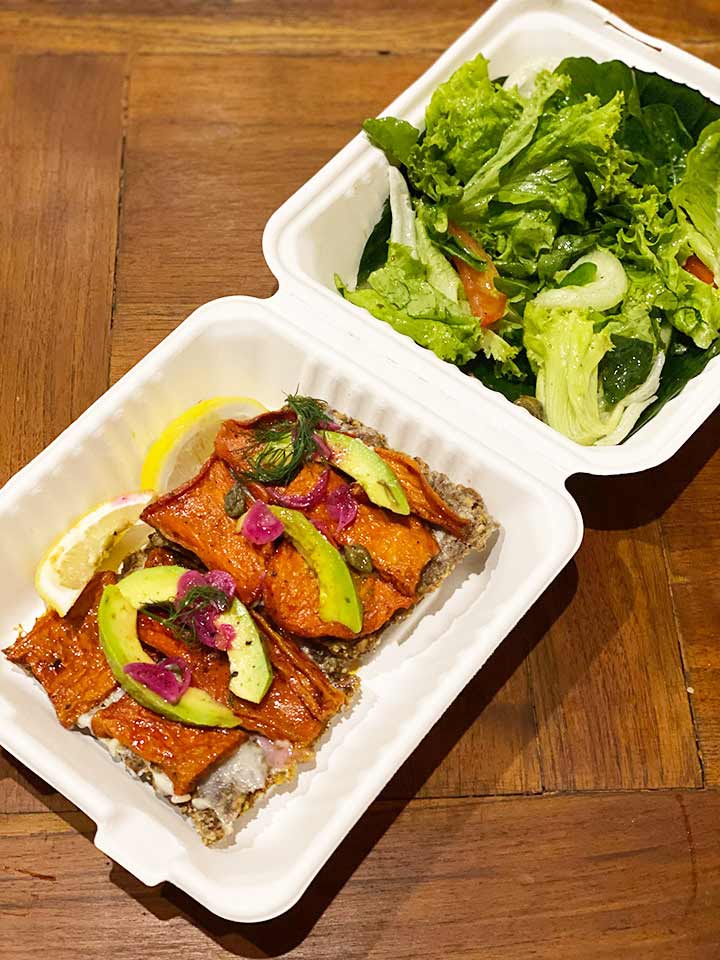 There is no strict lockdown here and people are allowed to go out at their own risk. Locals are in quarantine as nearly all shops and businesses are closed, so it's mostly just the tourists who are out and about. Rob and I choose to stay indoors and only go out when we need to buy groceries and supplies. Basically, we are both using this time to reflect and tune inwards as we both believe that this sacred global pause is the perfect time to do inner work and a lot of introspection. To be completely honest, we have been engaging in a lot of "shadow work" through daily yoga, meditation, breathwork, journaling, and prayers which we believe is the toughest kind of work as it requires us to dig deep within ourselves and come face to face with our "inner demons." This is the kind of work that most people avoid as it will really show you all the parts within yourself that you have been denying and running away from.
ADVERTISMENT - CONTINUE READING BELOW ↓
We really believe that we were given this opportunity to be isolated so that we can focus on letting go of our past traumas, eliminating our unwanted traits and habits, and creating new ones that will help us grow and become the best versions of ourselves. Rob has been using his time mostly introspecting, reading his books and notes, doing a lot of self-study, and journaling. The same goes for me as I have been spending my time reading books which discuss topics that are very helpful for my mental health condition known as Complex Post Traumatic Stress Disorder or C-PTSD. One of them is The Body Keeps The Score by Bessel van der Kolk. I also love reading books that talk about the path to spiritual enlightenment such as The Monk Who Sold His Ferrari by Robin S. Sharma, Eat, Pray, Love by Elizabeth Gilbert, and The Power Of Now by Eckhart Tolle. I highly recommend these books as they have been very inspirational and uplifting for me especially during this crisis.
ADVERTISMENT - CONTINUE READING BELOW ↓
I'm not gonna lie though, I have also been keeping myself busy by watching one to two hours of my new favorite K-dramas such as Descendants Of The Sun and What's Wrong With Secretary Kim? By 9 p.m., we are already in bed, praying right before we go to sleep. Prayer and meditation have been essential for us here and we highly recommend starting and ending the day with these sacred rituals. God is the only one who can truly bring us peace so we have been using our time to connect to the divine before anything else. 
Your Instagram is full of messages of positivity but I'm sure you have low days as well. How are you and Rob coping?
Yes, we most definitely have low days when anxiety and stress get the best of us. In isolation, some of my worst habits and traits have resurfaced so I have really been using the time to work on facing my inner shadows. I realized that I used to be in denial of them because I was too proud to admit that I even had them. But in all honesty, I appreciate being in isolation as it really makes me connect to myself in a way I never thought I could. Solitude has really helped me face and accept even the darkest parts of me which I used to despise. I realized that in order for me to truly heal, I need to develop more self-compassion so that I can fully embrace and forgive myself, let go of the past, and just keep moving forward.
ADVERTISMENT - CONTINUE READING BELOW ↓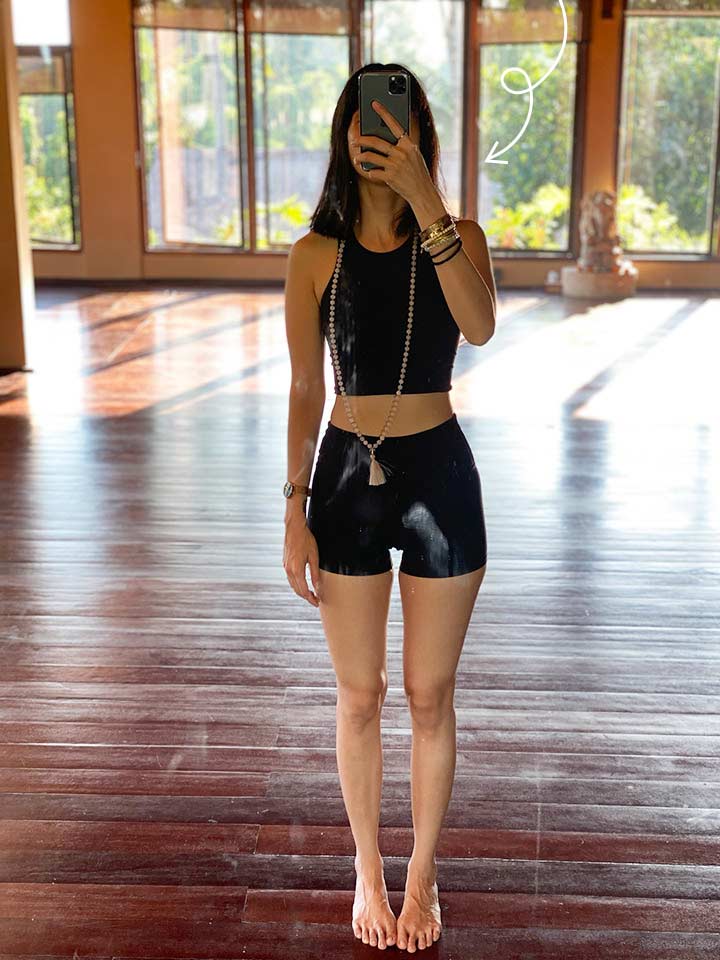 My husband has also been a great source of strength and inspiration for me as he continues to motivate me to focus on my growth and healing. It hasn't been easy but being stranded here is truly one of the most incredible life-changing experiences we've ever had. We have both been healing and growing individually while still staying connected to each other in order to strengthen the foundation of our relationship. Although our social media is filled with positivity, we won't deny that we also have our "bad days." On those days, we choose to be kind to ourselves by allowing ourselves to feel our emotions no matter how heavy or negative they may be and then letting them go. We honor our emotions by identifying them, allowing them to come without judgment, and releasing them after so that we won't be swept away by them.
ADVERTISMENT - CONTINUE READING BELOW ↓
On days when we don't feel our best, we practice self-compassion by not sticking to a strict schedule and just allowing ourselves to be, not really doing anything while treating ourselves to some of our favorite food and desserts! It's really all about finding balance and doing whatever works for you. In the end, we believe everything is good because even our "bad days" make us stronger.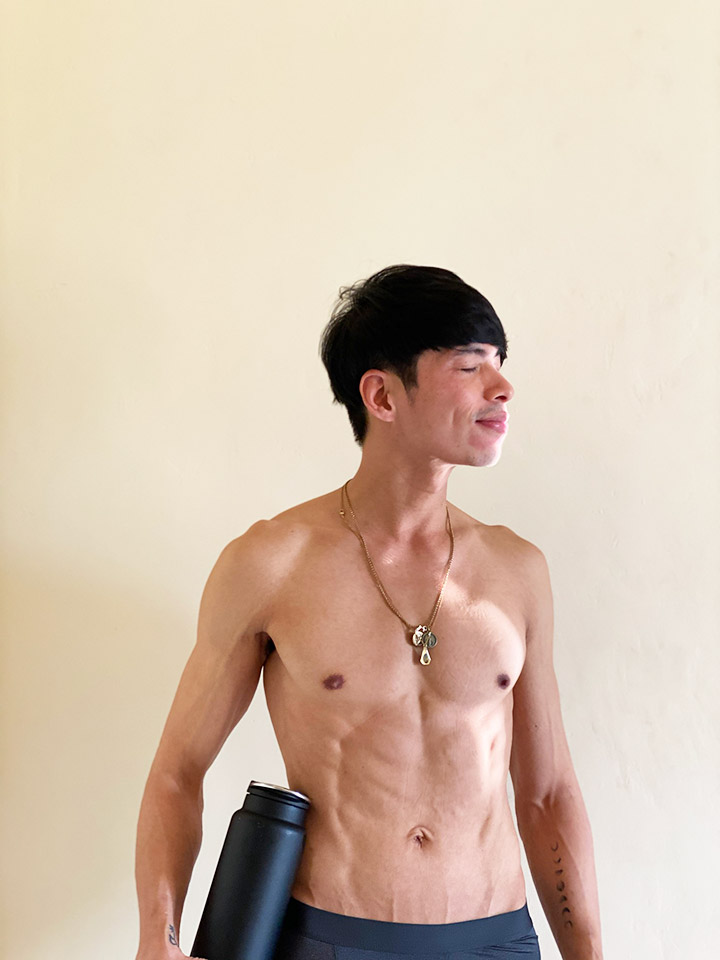 ADVERTISMENT - CONTINUE READING BELOW ↓
How has your yoga practice changed in light of the pandemic?
Our practice has definitely become a huge source of spiritual strength for us during this pandemic. To be honest, I started practicing yoga a few years ago just for physical purposes. Now, it has definitely become something much more than that. Yoga means "union" as the goal of our practice is to unite mind, body, and soul with the use of our breath which cultivates our life force within. What was once a physical practice has now become our source for mental, emotional, and spiritual strength especially during this very difficult time. Our practice has helped us not just grow stronger physically but also calm our anxiety, regulate our emotions, and awaken our true selves.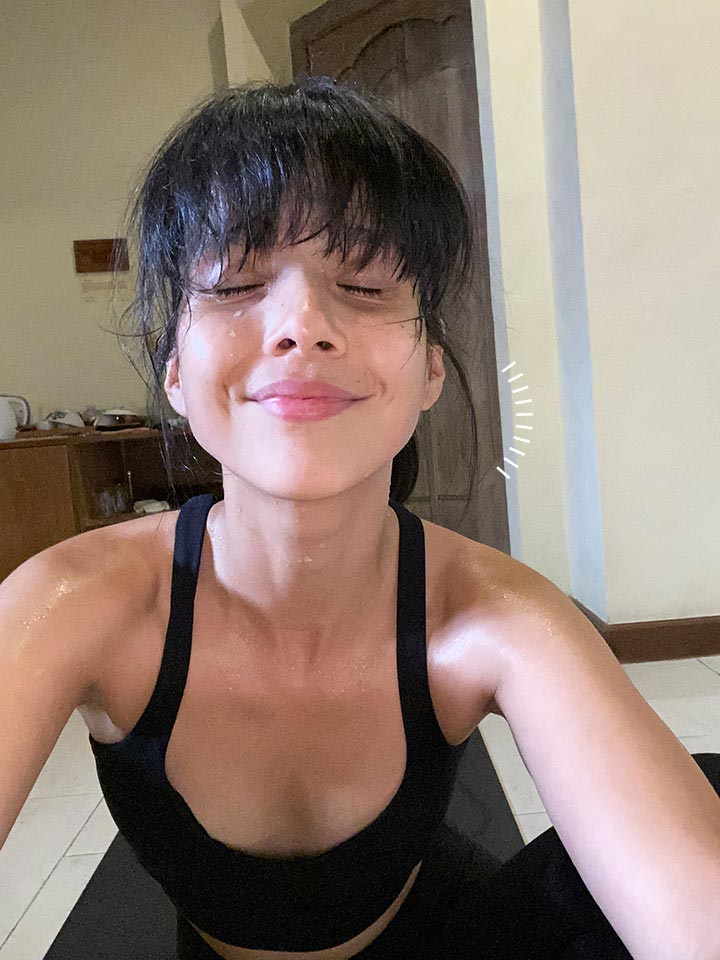 ADVERTISMENT - CONTINUE READING BELOW ↓
What do you miss the most about home?
We honestly miss eating our favorite plant-based Filipino dishes, practicing yoga with our friends, spending time with family, playing with our dog Coffee, and just being in the comfort of our own home. We are in love with Bali but there's just no place like home! 
What's the first thing you'll do when you come home to the Philippines?
Eat our favorite plant-based Filipino dishes! Hahaha! Seriously though, we can't wait to see and hug our loved ones and our dog Coffee again once all of this is over.
*Answers have been edited for clarity.
Follow Jacinda on Instagram.