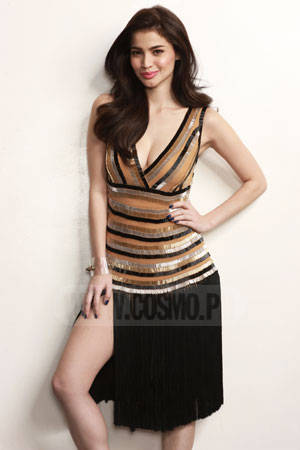 For our 15th anniversary issue, we've gone all-out with fabulous, fearless fashion. Our styling team dressed six-time Cosmo cover girl Anne Curtis in figure-hugging frocks that showed off her enviable curves while still reflecting the actress's classy style.

Fashion director Ana Kalaw describes the wardrobe for the shoot: "We were going for two different themes. One was sleek, minimalist yellow and the other was a more glamorous, vintage feel. So, we had really cleavage-baring dresses made, and we also got dresses that were '20s-inspired, heavily beaded, and very glamorous."

Anne had no trouble pulling off the two bombshell looks like a professional model, as editorial director Myrza Sison attests: "I think, among all the stars, she's the one who's most like a model. It seems that she's studied her angles, and [also] moves very well."

Want to see her modeling skills for yourself? Watch our behind-the-scenes footage from the shoot! You can also check out all the dresses, shoes, and accessories that we had on set when you launch the gallery.


Grab a copy of Cosmopolitan Philippines' May 2012 15th Anniversary Special with ANNE CURTIS on the cover. Don't forget to read her Fun, Fearless Female Awards 2012 article, featuring outtakes from the same shoot!
Continue reading below ↓
Recommended Videos
1955