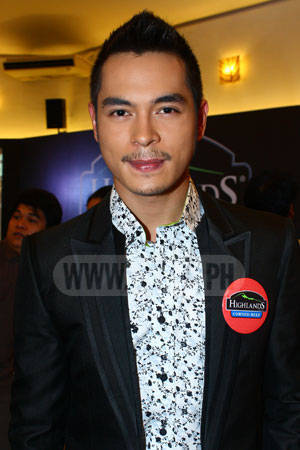 Jake Cuenca is sooo back on Cosmo chicks' radar ever since he opened the sizzling Cosmo Bachelor Bash 2011, as you surely remember! Then, we saw him again at the launch of his latest endorsement for Highlands Corned Beef along with fellow hotties 2011 Cosmo Centerfold James Younghusband, filmmaker Paul Soriano, hot surfer Luke Landrigan, and dancer Angelo Cacciatore.

On the big screen, you last saw Jake in My Neighbor's Wife, where he starred alongside Dennis Trillo and Cosmo cover girls Lovi Poe and Carla Abellana. "Aside from the intimate scenes, this movie is really an eye-opener for young couples about marriage," he says of My Neighbor's Wife. "This is something we hope to open in young people's eyes, in a way na--when you get married, you have to be ready to take care of your marriage because it's very easy to be tempted, it's very easy to not be content or to just jump into a marriage when you aren't ready."

It seems like a project Jake would certainly get into, since he is the type of actor who doesn't just play a role, but who really internalizes the character he has to portray. "I always challenge myself to be different and not become 'me' when I portray a certain role. I want every role I play to be unique and authentic," he says.

But, when we recently got the chance to catch up with Jake, we asked him about his real style--how does he really look off-cam, when he's not playing a role? After reading the short Q&A below, don't forget to launch the gallery for more hot photos of Jake!

How would you describe your personal style?

When it comes to fashion, I will try anything, but really, I just dress [the way] I feel [like it]. If I'm feeling bad-ass today, I want to look bad-ass. If I feel like I want to be comfortable yet stylish, I just dress [the way] I feel. I know what I like when I go shopping. 

So are you big on shopping?

I've been through that stage where I was really shopping a lot. I'd shop to death, but right now, once you accumulate so much stuff... Actually, I think that's the bigger challenge when it comes to fashion--learning to really mix and match; make do with what you already have. Just make it look different, make it look cool even though you've had it for a while. Now, sometimes when I see stuff in the mall, I just think "I already have that."

What style do you like seeing on a woman?

I like hipsters. Just like me, I guess. I'm a hipster. And with girls, I also love the hipster style. Hipster chicks are really cool!

Launch the gallery to see more photos of Jake.
1638
Continue reading below ↓
Recommended Videos
EXPLORE COSMO