We all know Miley Cyrus loves cats. Case in point:
BUT we didn't know she loved cats THIS MUCH: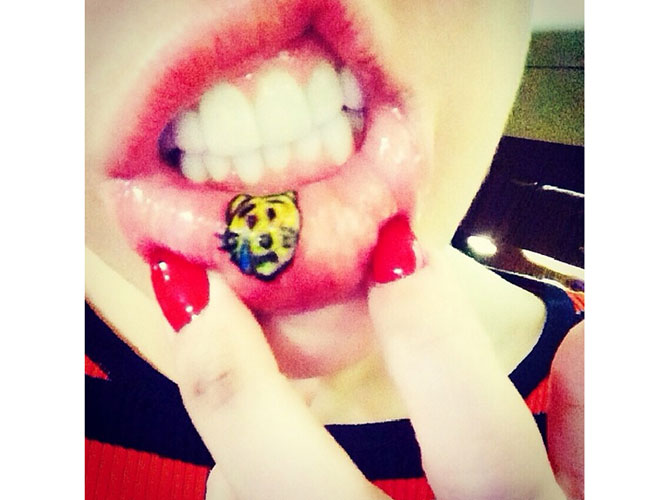 The "Wrecking Ball" singer has revealed her latest tattoo on Instagram: an emoji of a yellow cat crying a single tear. In her post, she wrote, "#SadKitty."
The tattoo can only be seen when Miley pulls down her bottom lip to reveal the cat, her latest in a string of ink designs covering her body. The 23-year-old star also has a portrait of her grandmother, a dream catcher, a quote by Theodore Roosevelt, a skull, the word "Karma," and a mini replica of Da Vinci's anatomical heart drawing.
In other news, Miley recently caused controversy at a concert in Milwaukee, Wisconsin when she had to perform her track, "23" wearing only her underwear. She later explained on Twitter: "not a new outfit for 23 I didn't make my quick change and I couldn't not come out for the song so I just had to run out in my undies :(

"Never happened to me before. But I love my fans as much as they love me! I couldn't miss 23 

"Show must go on :( (sic)"
Would you ever get a tattoo of an emoji? Sound off by commenting below!