Unlike the rest of us poor souls (please see: me/my life), Miley Cyrus has an excellent dating track record. Not only was she married to Australian actor Liam Hemsworth, she's hooked up with the likes of casual supermodel Stella Maxwell, singer and ASPIRING POET (YES, ALL-CAPS NECESSARY) Cody Simpson, and even briefly dated Jared Leto and his voluminous cascade of shiny hair. On that note, behold: A complete history of Miley's enviable love life, which yes, you should use as inspiration for all future romantic choices.
Nick Jonas: 2006 to 2007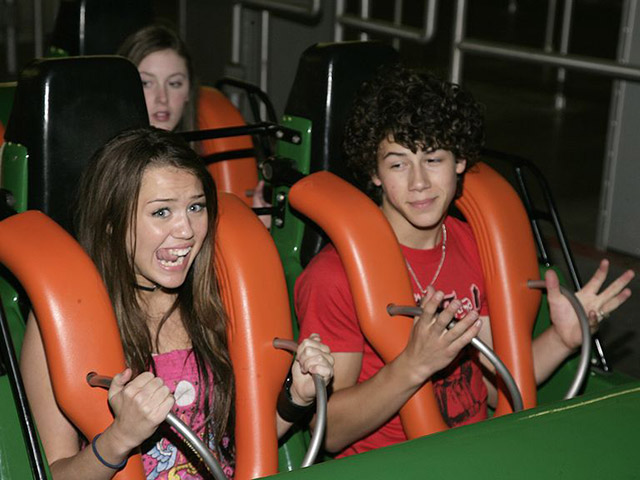 Wild, right? Miley and Nick met as 13-year-olds in June 2006, and ended their relationship in December 2007. Which is kind of a long time for newly-minted teenagers! Miley talked about the breakup in her book Miles to Go (what, you haven't read it?), saying, "Prince Charming and I broke up on December 19, 2007. The hardest day ever. My life felt like it had ground to a halt, but the rest of the world kept right on rolling. I was on tour. People were counting on me, but my head—no, my heart—was dizzy."
Continue reading below ↓
Recommended Videos
Justin Gaston: 2008 to 2009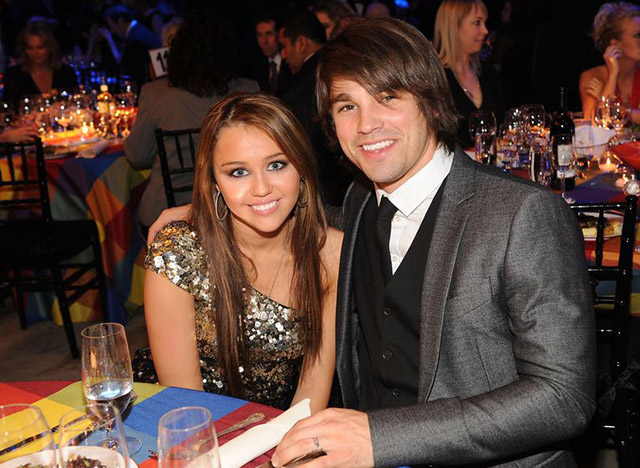 Miley dated Justin (he's a singer, in case you're all ???? right now) right before she started seeing Liam—she broke things off with poor Justin prior to filming The Last Song. Miley was just 15 at the time while Justin was a good five years older—and in 2008 she told KISS-FM, "After my last two years, there's been a lot of things that happened, so I've learned just not to judge anyone and go into our friendship with an open mind and not really worry about the age or anything."
Liam Hemsworth: 2009 to 2013
Liam and Miley famously met on set of The Last Song in summer 2009, and fell super hard. They made their red carpet debut a year later in March 2010, and just look at how cute they were: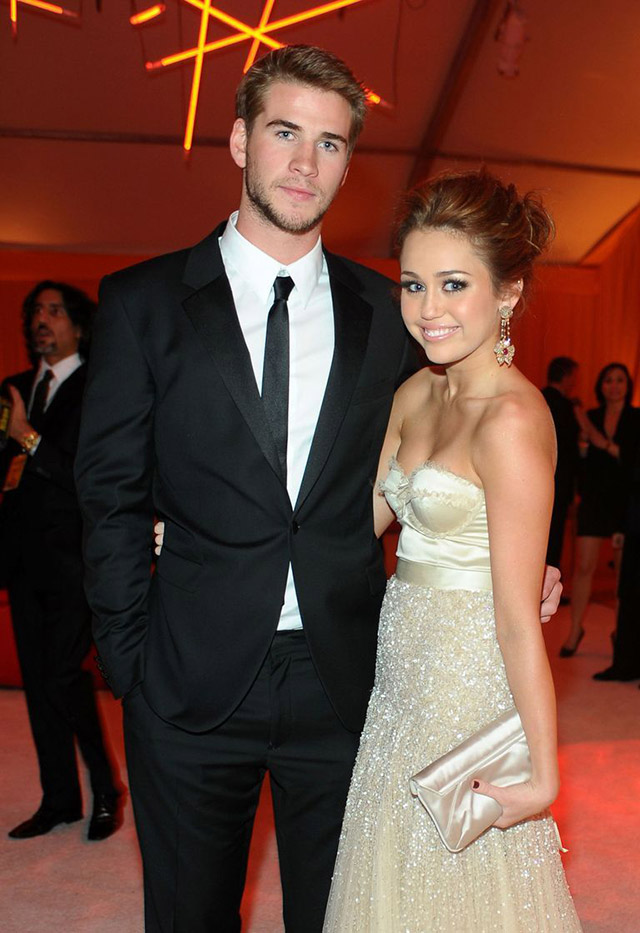 These two had a tumultuous relationship from the start, briefly breaking up in August, getting back together in September, and breaking up again in November. By April 2011, they were back on track and reportedly "taking it slow and just enjoying each other's company." Miley was even spotted wearing a diamond on that finger at the March 2012 premiere of The Hunger Games, prompting fans to fully spiral: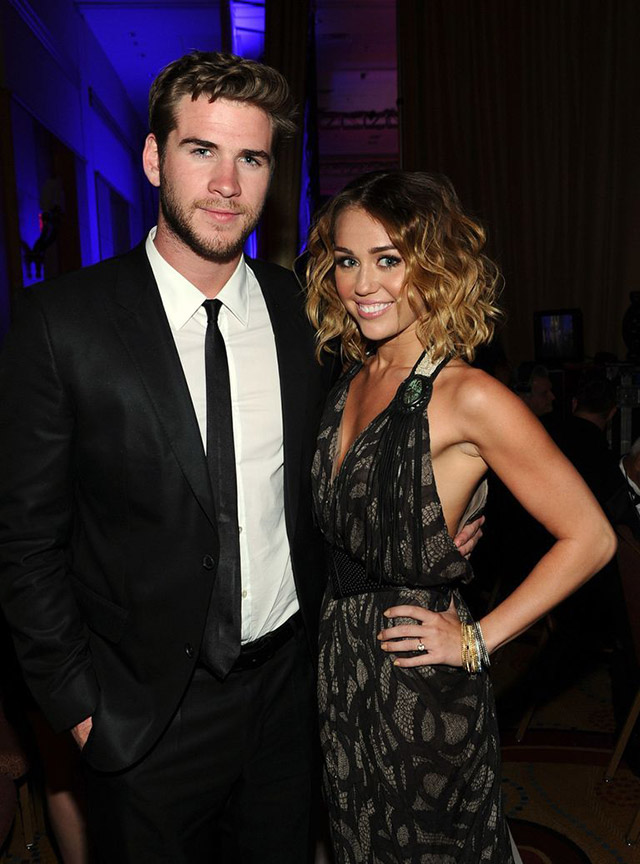 At first, she shut down the engagement rumors….
But then in June Miley told People, "I'm so happy to be engaged and look forward to a life of happiness with Liam." Here's the ring: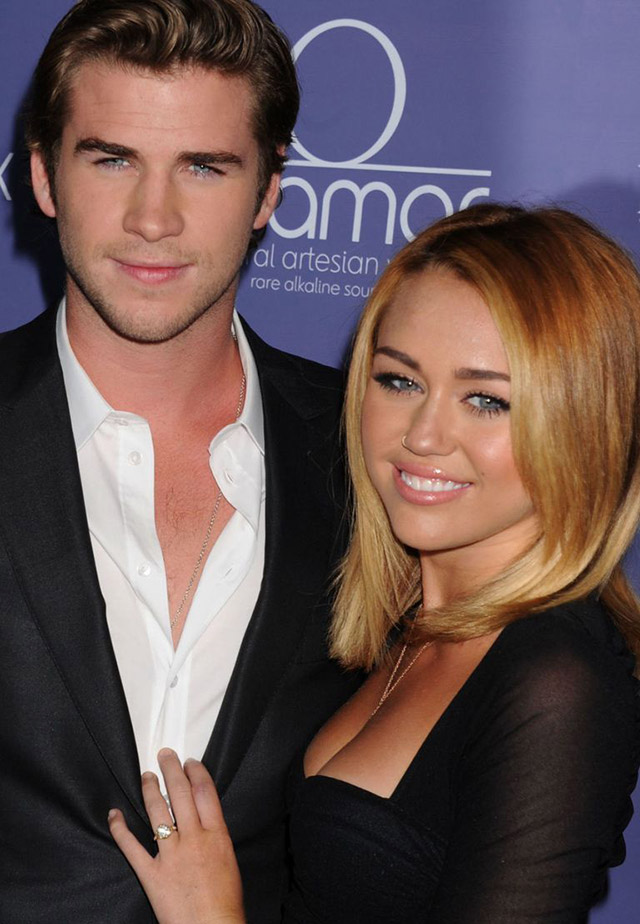 Pretty romantic, right? But check out their body language in this picture taken in August 2013: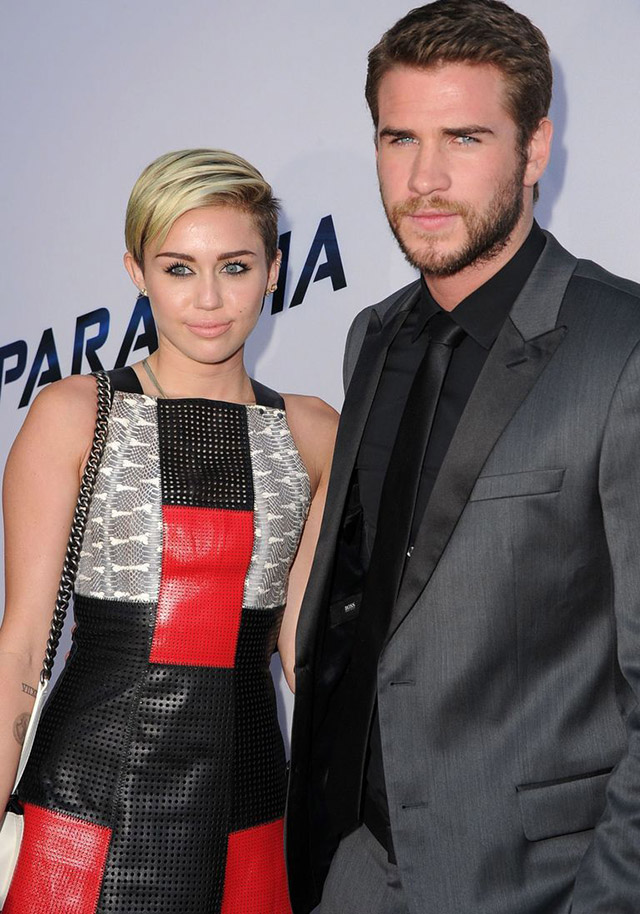 They broke off their engagement shortly after it was taken (in September 2013), and before long, Liam was spotted making out with Eiza Gonzalez.
Kellan Lutz: December 2013
Miley went ahead and rebounded with Liam's good friend Kellan Lutz right after their breakup, which…awkward. A source told Us Weekly that Kellan reached out, "the next day, they hung out," and that "they've been hooking up ever since." They even went to the Bahamas together. Okay, Miley!
Jared Leto: February 2014
This is kinda a weird one, but Miley and Jared were fully (by which I mean reportedly, lol) hooking up after her split from Kellan, and a source told Us Weekly that "She stayed over at his house in L.A. in early February."
Here they are in January, in case you're looking for vibes: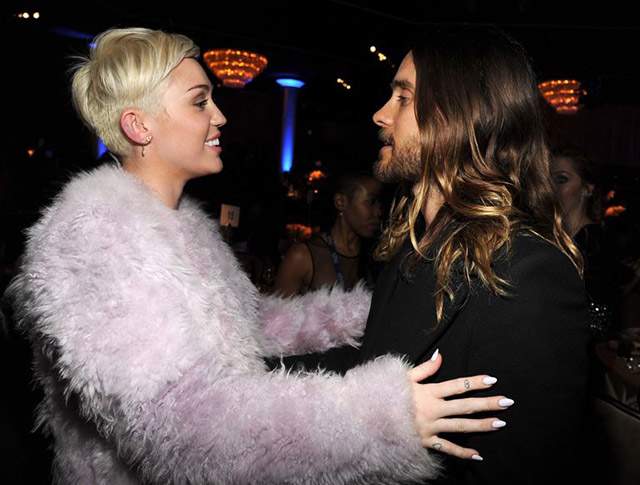 Mike WiLL Made-It: June 2014
There were a ton of ~rumors~ that Miley was dating producer Mike WiLL Made-It, but for what it's worth, he fully denied it (see the video below), so it looks like this is merely a case of the internet doing the most.
Patrick Schwarzenegger: November 2014
Miley started dating Arnold Schwarzenegger's son Patrick in November 2014 and they were spotted alllllll over each other: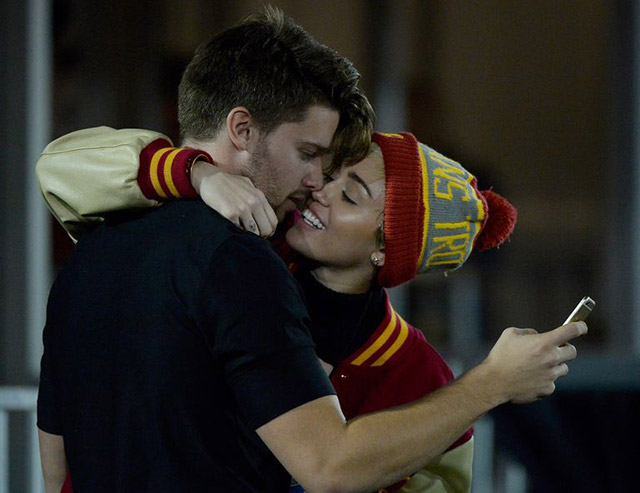 They even went event-official at a Grammys party in February 2015: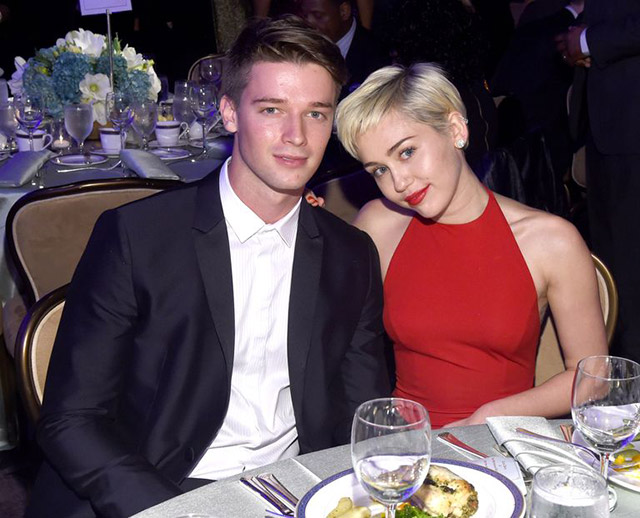 But then Patrick was spotted PDA-ing with someone who certainly was not Miley in March 2015—so it wasn't exactly a lengthy relationship. Though FYI, he hit Twitter and tried to deny anything sus was going on:
Stella Maxwell: Summer 2015
Miley and Stella prompted dating rumors in July 2015 after TMZ snapped pictures of them making out. Oh, and Miley also made an appearance on Stella's Instagram:
But in August, Miley told Elle UK that she considers herself pansexual and isn't in a relationship, saying, "I'm 22, I'm going on dates, but I change my style every two weeks, let alone who I'm with."
Liam Hemsworth Again: 2016 to 2019
Three years after their breakup, Miley and Liam caused fans to completely spiral when she was spotted with his family in Australia:
A source told People in January 2016 that Miley and Liam were engaged again and that the singer was "beyond happy," and by summer they were appearing on each other's Instagram timelines:
In May 2017, Miley released her love song about Liam called "Malibu," which, I gotta say, is pretty heartbreaking to hear these days:
In October 2017, the couple made a red carpet appearance for the first time in four years: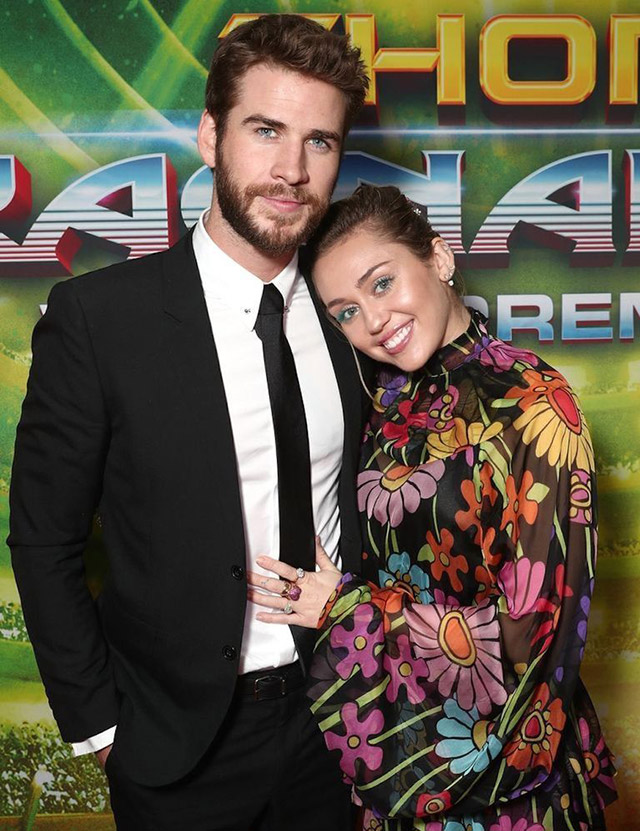 And in November 2018, the home Liam and Miley share burned down in the Malibu fires. They came out of the experience stronger than ever, and just a month later surprised everyone by getting married:
Buuuuuut in August 2019 (less than a year later!) Miley was pictured without her wedding ring:
And shortly after, her rep confirmed to People that she and Liam were officially done:
"Liam and Miley have agreed to separate at this time. Ever-evolving, changing as partners and individuals, they have decided this is what's best while they both focus on themselves and careers. They still remain dedicated parents to all of their animals they share while lovingly taking this time apart. Please respect their process and privacy."
Kaitlynn Carter: August to September 2019
Kaitlynn and Miley were spotted hooking up on the exact same day that Miley's rep confirmed her split from Liam Hemsworth. After that, their relationship went full-steam ahead.
The pair were spotted "basically having sex" at West Hollywood's Soho House, and Miley even got a tattoo that fans theorized was a shoutout to her Italian vacation with Kaitlynn:
Meanwhile, Kaitlynn was Miley's date to the VMAs…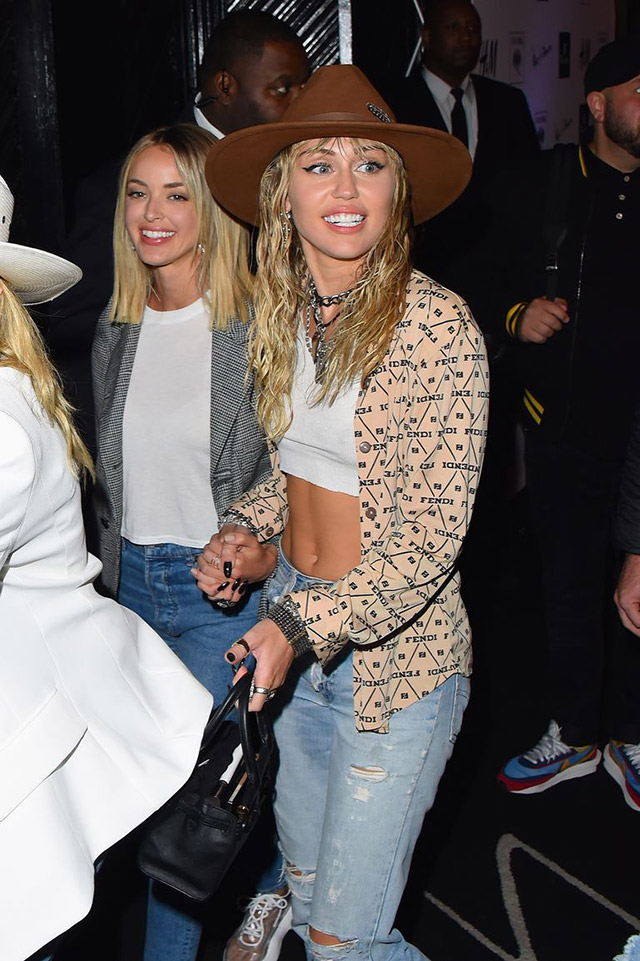 And they started officially living together. The pair were seen wearing matching outfits on September 15, but just a week later news of their split was announced in People with a source saying "Miley and Kaitlyn broke up. They're still friends. They've been friends forever and were there for each other when they were both getting separated, but they're just not in a romantic relationship anymore."
This way for a full timeline of Miley and Kaitlynn's relationship, 'cuz you know you want it.
Cody Simpson: October 2019 to Right Freakin' Now
Miley jumped into a pretty serious relationship with Cody Simpson days after her breakup with Kaitlynn Carter, and they went public with their PDA right away. Not only did they get caught making out at some place called Backyard Bowls Eatery (wow, romantic!!!!)…
Cody wrote a love poem about Miley:
And a freakin' song about Miley:
Oh, and they got tattoos together:
Again, this has all happened in the space of literally one month. Get a full timeline right this way, if your eyeballs can handle it!
***
This article originally appeared on Cosmopolitan.com. Minor edits have been made by the Cosmo.ph editors.