The Miss Universe Organization has an impressive 71-year history known to many, and each year delegates are invited to represent their respective countries. However, some of these Miss U reps are from nations that are first-time candidates, just like last year's Miss Universe Bahrain!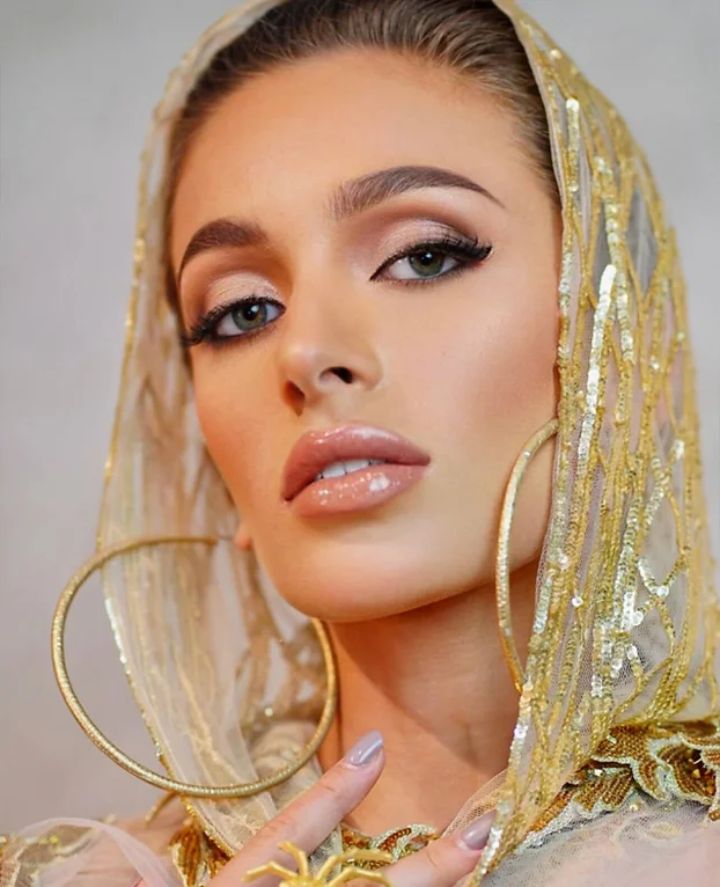 Yep, ICDYK, the Miss Universe Bahrain Organization held the second(!) edition of its national pageant in July 2022. As such a young org, 24-year-old Evlin Khalifa may have felt the pressure while competing, but she didn't let it overcome her courage and determination to win. Her Miss Universe website profile describes Evlin as "a pianist and a taekwondo artist who dreams that someday women from the Arab Region will have more international representation in media including Disney films, Hollywood shows, and on the MISS UNIVERSE stage."
ADVERTISMENT - CONTINUE READING BELOW ↓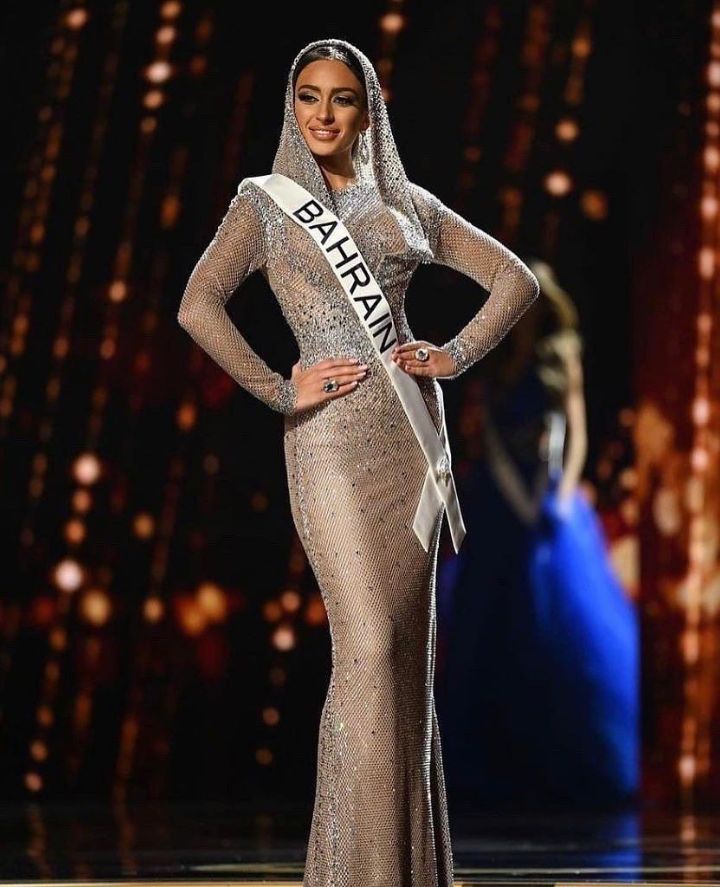 And in order to get that international representation, Evlin needed a strong team to help her make it to the end of the competition. A few days before coronation night, in an Instagram post lovingly captioned "For Filipinos", the beauty queen gave a long and heartfelt message to thank her creative teamfor their care and support.

"I always believe in gratitude. Without it, we will never appreciate the beauty of a glass half full / half empty. The moment you feel it in your core is the only way you can summon the Universe.

I also harmonize with the fact that the world is a beautiful, multicultural space wherein we cannot limit our borders to a single island, place or nation, I believe that working together and being global is the best way to love, to progress and move forward.

In Bahrain, it might be a new opportunity for us to join the greatest competition of its kind @missuniverse but the wind beneath my wings are undoubtedly the best in pageantry. And this post is dedicated to my undying GRATITUDE to my Filipino Team, without them - I can never call myself a queen. It's team work and I am so thankful to each and everyone who is part of my journey. You don't know how much I love you. Mahal ko kayo, to my walk trainer, my make up artists, my stylist, my designer - all Filipinos - especially to my ever supportive National Director who is a certified Filipino pride and my co National Director - both of them have given me their entire efforts, time and wisdom so I can stand on the Miss Universe stage as they help me become a true transformational queen.

Pilipinas, Maraming Salamat! Nagmamahal Bahrain!!"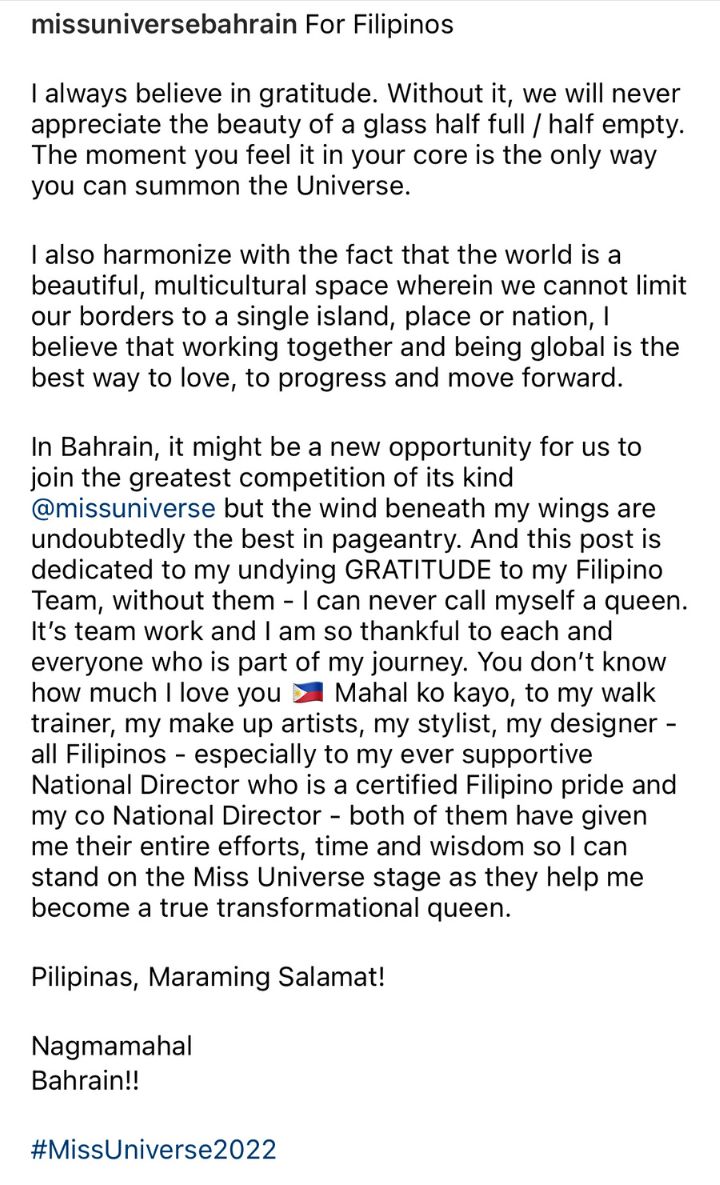 Among those tagged in the post were designer and Miss Universe Bahrain Organization Creative Director Furne One Amato, MUBH National Director Josh Yugen, and MUBH Head of Partnerships and Business Development Ian Borromeo. Fun fact: Miss International 2016 Kylie Verzosa is part of the MUBH Council as Head of Empowerment!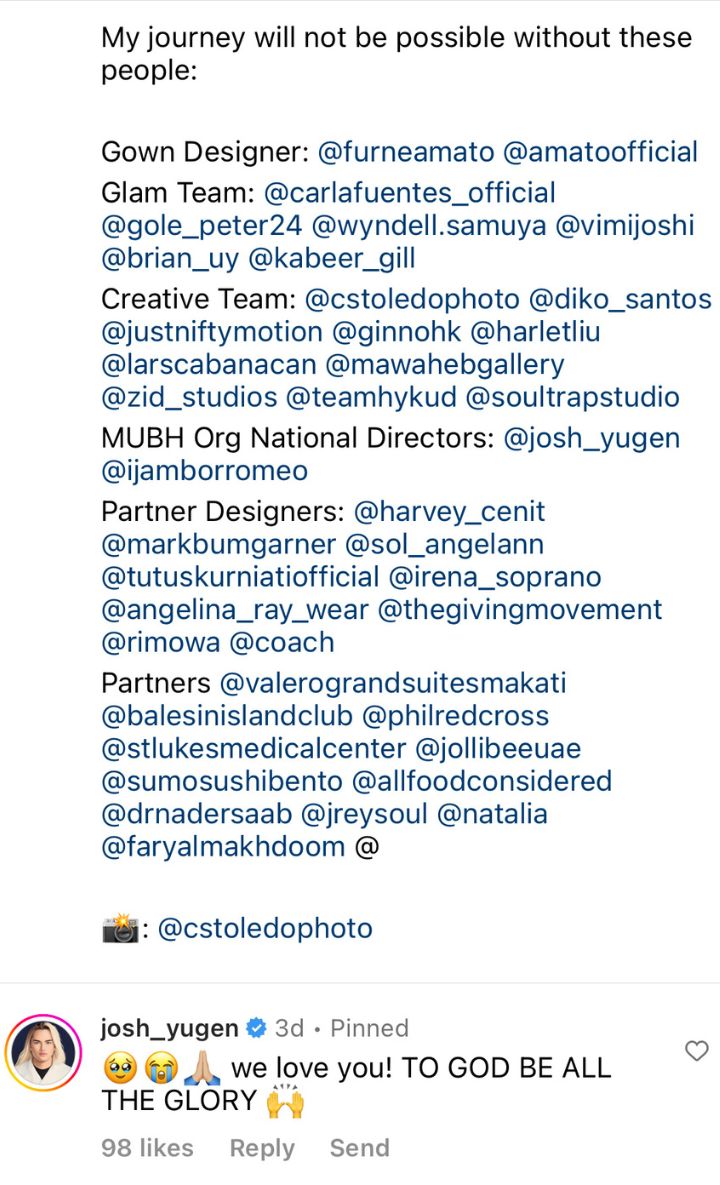 ADVERTISMENT - CONTINUE READING BELOW ↓
MORE FROM COSMO:
It's Official: Fil-Am Beauty Miss USA Is Miss Universe 2022
Miss Universe 2022: Top 5 Q&A Transcript
Miss Universe Organization Owner Gives The Most ~*Empowering*~ Speech About Change
Whoa! Miss Universe *Might* Launch Its Very Own Reality Show Soon