The Philippines might just be the beauty pageant capital of the world (let's claim it) and over the years, it's become a habit for Filipinos to name our contestants' signature walks! Leading up to the main event — the Miss Universe competition —  we put together all the walks coined by the public (or the contestant and team herself) as a look back at the history of Miss Universe Philippines titleholders.
Here, a rundown of the most iconic Miss Universe Philippines walks, from all the way back to 2010:
Michelle Dee (2023)
In an Instagram post, Ian Mendajar (a pageant coach whom the beauty queen has worked with for two years now) revealed that Michelle's winning strut was actually inspired by her very own mother, Miss International 1979 Melanie Marquez.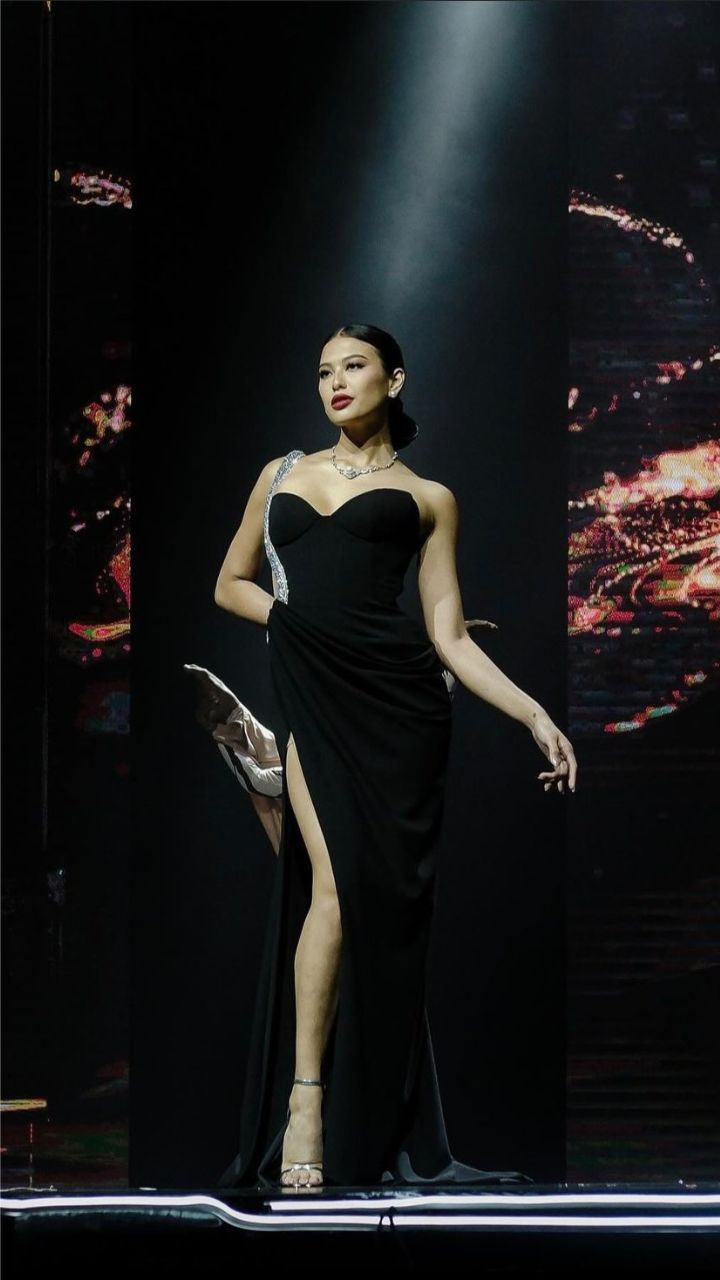 ADVERTISMENT - CONTINUE READING BELOW ↓
Melanie's signature "S" walk during her modeling days was incorporated into the routine and was married together with a touch of Michelle's recent roles Serpenta (Agimat ng Agila) and Freya (Mga Lihim ni Urduja). "We needed Michelle's personality and presence to shine, ensuring that her performance was nothing short of who she really is," Ian explained. We can't wait to see more of this pasarela in the upcoming competition! 
View this post on Instagram
Celeste Cortesi (2022)
Following in the footsteps (literally!) of her predecessors, netizens have assigned a name to Celeste's signature pasarela: Given that her name translates to "heavenly" in Italian, calling her strut the "Celestial Walk" makes perfect sense! And the public recently got a glimpse of it in a video shared by Miss Universe Philippines: "A head-turner once she walks into the room!" Agreed.
Beatrice Luigi Gomez's "Luigi Walk" (2021)
Bea Gomez actually changed her walk after winning Miss Universe Philippines! According to Bea, her new walk was "a different one—a better one than my usual walk." In a TikTok video by Real Pageantry, Miss Universe PH Creative Director Jonas Gaffud actually dubbed it the "Luigi Walk," to represent her fieriness that comes out when she struts.
ADVERTISMENT - CONTINUE READING BELOW ↓
Rabiya Mateo's "Hala Bira Walk" (2020)
Hala Bira is an Aklanon language meaning "dispense all means". Thanks to Rabiya's background in Tahitian dancing, she is able to powerfully sway her hips while walking. People have described the walk as "squeezing a lemon as you walk and someone pulling you up".
ADVERTISMENT - CONTINUE READING BELOW ↓
Gazini Ganados' "Phoenix Walk" (2019)
Gazini dubbed her signature strut the "Phoenix Walk" for two reasons. Firstly, she had been consistently styled wearing phoenix gowns during the Miss Universe Philippines pageant. Secondly, to the beauty queen it's more than just a walk: "It's like every time I'm on stage, I feel like I'm soaring, I'm flying. Just like the phoenix."
ADVERTISMENT - CONTINUE READING BELOW ↓
Catriona Gray's "Lava Walk" (2018) 
"Yung major important aspect lang sa mga catwalk is really the posture and then the face and then hips…and the posture's easy it's parang invisible string lang," Catriona said in July. "When you walk, you're giving an aura."
ADVERTISMENT - CONTINUE READING BELOW ↓
The beauty queen wowed us all when she added the now-iconic "slo-mo turn" to her walk during this year's Preliminary Competition! The walk was choreographed by Carlos Buendia Jr., who named it after Gray's birthplace—Bicol, and a reference to the iconic Mayon Volcano. "Glide, sway, pivot, erupt like a molten rock," he shared in an Instagram Story.
ADVERTISMENT - CONTINUE READING BELOW ↓
Rachel Peters' "Infinity Walk" (2017) 
"Her best assets [are] her legs. [They're] really long, so parang infinity na siya," declared catwalk trainer George Garrido (also known as "Mommy G"). The signature stride had Rachel move her hips to follow an "infinity symbol" or a figure eight, which definitely highlighted her long legs and statuesque figure!
ADVERTISMENT - CONTINUE READING BELOW ↓
Maxine Medina's "Alta Walk" (2016)
Maxine's signature walk required the beauty queen to roll her shoulders in perfect sync with the gliding of her hips—and she did it so effortlessly, too!
Pia Wurtzbach's "Tanim-Bala Walk" (2015) 
Comedian Vice Ganda coined the term when Pia guested on his show, saying, "Yung mata niya nanlilisik e, parang matalim 'di ba? Bakit 'di natin pangalanang tanim-bala walk 'yan?" It's all about keeping it fierce and Pia's smize was definitely a winning facial expression!
ADVERTISMENT - CONTINUE READING BELOW ↓
Mary Jean Lastimosa's "Camel Walk" (2014)
Perhaps coined after a popular jazz step of the same name—but also a possible reference to her Filipino-Saudi Arabian roots—MJ's "Camel Walk" requires one to have a precise and polished yet smooth swivel of the hips all the way down to the calves. It supposedly mimics the ostentatious walk of a camel's
ADVERTISMENT - CONTINUE READING BELOW ↓
Ariella Arrida's "Ariba Walk" (2013)
Ariella's sashay down the runway has one main focal point: The smooth glide of her hips. Since "arriba" translates to "up" or "above" in Spanish, Ariella explained, "When you glide, you feel like there's air always, and you're floating."
ADVERTISMENT - CONTINUE READING BELOW ↓
Janine Tugonon's "Cobra Walk" (2012)
According to Janine, what makes her walk different is the power: "'Yon yung palaging sinasabi sa akin ng trainer ko, e. Kailangan pag lumakad ka kailangan may power, yung aura mo lalabas so ayun, kaya siya distinct." It certainly is hypnotizing! Want to try it out for yourself? Do a "fast crisscross walk with a slight shoulder shake and a pivot" at the end.
ADVERTISMENT - CONTINUE READING BELOW ↓
Shamcey Supsup's "Tsunami Walk" (2011)
Shamcey revealed that the phrase came from a Spanish friend who told her to "walk like a tsunami" in order to blow the judges away. Binibining Pilipinas Universe and personality development instructor Abbygale Arenas de Leon shared that the walk required Shamcey to "detach" her hips from her body in order to execute a wave-like sway.
ADVERTISMENT - CONTINUE READING BELOW ↓
Venus Raj's "Pilapil Walk" (2010)
The Miss Universe 2010 fourth runner-up learned her signature walk from Jonas Gaffud and his pageant training camp, Aces and Queens. She used to practice her walk as a model on a pilapil, a narrow piece of land in a rice field.
Follow Lily on Instagram.
ADVERTISMENT - CONTINUE READING BELOW ↓
Follow Andie on Instagram.
READ MORE STORIES ON MISS UNIVERSE HERE:
Miss Universe-Philippines Celeste Cortesi Reveals The *Touching* Meaning Behind Her Winning Gown
ICYDK, Miss Universe Queens Pia Wurtzbach, Demi Tebow, And Iris Mittenaere Share A *Special* Filipino Connection