We know that Moira Dela Torre and husband Jason Marvin Hernandez waited two years to kiss for the first time because Jason promised her dad that they would have their first kiss on their wedding day. Now, Moira shares more of that story in a post dedicated to one of her two fathers, her Daddy John. 
"When I was 12, my Daddy John confiscated my phone for changing my boyfriend's name into a girl's name so I wouldn't get caught (I got caught). I will never forget the day he drove me to the lighthouse and told me the [bible] story of Jacob and Rachel, how Jacob waited even though it seemed unfair to the rest of the world. Waiting 14 years for the woman he loved only felt like days. [Daddy John] told me he wanted me to spend the rest of my life with someone like Jacob."
ADVERTISMENT - CONTINUE READING BELOW ↓
At their wedding ceremony, Moira "could almost read his mind" as her Daddy John watched her and Jason tie the knot. "We found me my Jacob. I love you, Daddy. Thank you for teaching me how to wait." The parallelisms end there, though—Moira says she only wants up to four kids, not the 12 sons that Jacob had. "P.S. Lord, max na ang four, please note, thank you."
Moira says her first kiss with Jason was "the first time my lips touched another's without feeling guilt or fear or insecurity. Just joy and peace and a pursuit I know will never ever end." Jason commented on her post, "I kiss you now, I kiss you five minutes from now, I kiss you later. I kiss you every day, okay?" Aww, you guys!
ADVERTISMENT - CONTINUE READING BELOW ↓
Recommended Videos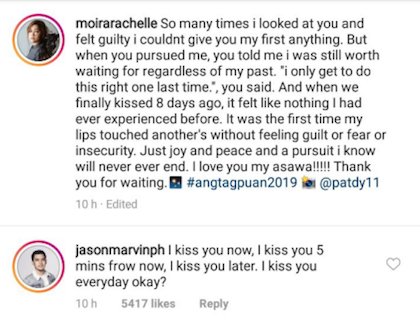 Follow Dyan on Instagram.
EXPLORE COSMO